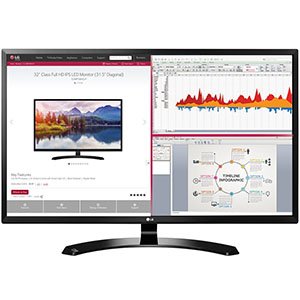 When you look for a large display 32 inch IPS monitor in the market, you are sure that you have to spend a good amount of money to get one. This isn't true anymore because LG 32MA68HY-P blows the competition out of water with its amazing price point and no compromise on quality. Now, you don't need to spend a fortune in order to fulfill your big screen dream. It is truly a product which offers great value for the money you spend on it.
There is no doubt that 32MA68HY-P is a great monitor but it is not suitable for everyone. If you are a gaming ninja or graphic designer who likes to play with different images, then this offering from LG is not for you. It is manufactured for those people who like to play casual games and want to spend their time doing some office work, programming or web browsing. This beautiful widescreen is for those precious eyes which are getting older with time and craving for clear text and vivid colors.
Let's review this computer monitor and see if it is good enough to find a place on your work desk.
Design
The design of LG 32MA68HY-P is a bit plasticky but it is manufactured diligently to keep its huge size in place. Its look is neither premium nor cheap. It lies somewhere in the middle and we can understand it completely given its cost. You can't expect premium finish at this price point. Rest assured, it is by no means a monitor which is going to break down easily and will do the job pretty well for you.
The stand has a curved design and it supports only tilt mechanism with 5 degrees forward angle and 10 degrees backward angle. Unfortunately, there is no option for height adjustment and rotation of the panel. Thankfully, this product has VESA mount compatibility which you can use to mount it on the wall or on the stand. We think that it has an ideal size to attach on the wall as you would be able to use it for entertainment purpose as well apart from work related stuff. The downside is that 32MA68HY-P has 200mm x 100mm rectangular hole pattern instead of the usual square VESA standard which is a bit difficult to find and they are more expensive than the latter.
Display
This 32 inch monitor has 31.5 inch diagonal screen size with IPS panel and full HD resolution. The use of In-Plane switching technology instead of lower quality VA or TN panel ensures that colors remain accurate even from 178° horizontal or vertical viewing angle. The use of IPS on large display real estate increases the cost of manufacturing but credit should be given to LG for keeping the price within reach of average person.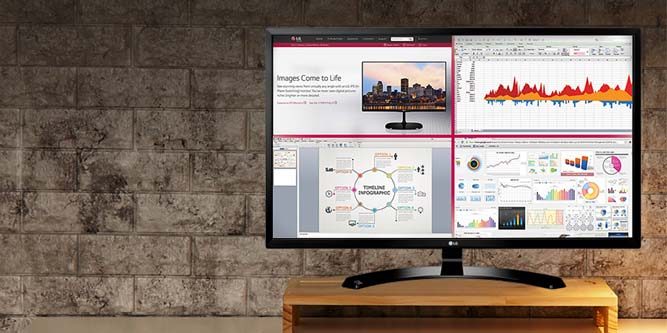 Its display has glossy finish which is really pleasing to the eyes but you should avoid placing it on a desk where sunlight or room light comes into play directly with the screen. It would produce glare and you would face visibility issues. When we checked its specs and found that it only has full HD resolution for a 32 inch monitor, we had our doubts about clarity of text and images but when we saw it live, all our suspicions disappeared. Colors and contrast on LG 32MA68HY-P look really sharp without showing any sign of blurring. It provides 68% coverage of CIE 1931 colorspace along with 250 nits maximum brightness level which is decent enough as long as you are not using it as professional graphic designer.
Performance
32MA68HY-P is a very good mid-range monitor in terms of performance. Its IPS panel boasts beautiful graphics which are going to please users who would like to use it for Internet surfing, office work, entertainment, editing spreadsheets and some gaming. Its 1920×1080 resolution also works flawlessly even on a big 32 inch size. You wouldn't notice any kind of smearing or dull images.
Its screen is all fine and dandy but it is not a monitor which you can use to play games at full throttle. Response time is 5ms with 60Hz refresh rate and there is no adaptive sync technology to combat input lag and stuttering. If you are a person who spend most of his time playing games, then these specs might not excite you.
The best thing about this monitor is its screen split feature. Why invest in a dual monitor when you have this option to improve you productivity? With screen split 2.0, you can display four windows side by side in fourteen different configurations. It has joystick type toggle button at the bottom which can be used to control on-screen display settings. If you don't want to use this button, you can also download On-Screen control software from LG which will let you adjust these settings with ease. If you are someone, who likes to spend a lot of time in front of monitor, then you can use its reader mode feature to reduce eye fatigue. It works by limiting blue light emission. LG 32MA68HY-P offers decent connectivity options with one HDMI, DisplayPort, D-sub(VGA) and two USB 2.0 ports.
Specifications
Display: 31.5″ LED with IPS Panel
Resolution: 1920×1080 (Full HD)
Viewing Angle: 178°(H)/178°(V)
Response Time: 5ms
Refresh Rate: 60Hz
Brightness(Max) : 250 cd/㎡
Contrast Ratio: Mega
Stand : Tilt -5°- 10°
VESA Mount Support: Yes
Ports: 1x HDMI, 1x VGA, 1x DisplayPort, 2x USB 2.0
Pros and Cons
Pros
Its 32 inch IPS screen is big enough to use alternatively as a TV.
IPS panel produces clear and vibrant colors from every viewing angle.
It is one of the cheapest 32 inch monitor you can find in the market.
32MA68HY-P is quite lightweight and you can set it up easily.
Cons
200×100 VESA mount holes are rare, therefore, finding suitable stand for this monitor will need some research.
Respone time and refresh rate is not great for gaming purpose.
There are no built-in speakers.
Conclusion
This product from the company is something which you are not going to regret after buying. It has all the basic ingredients of a perfect computer monitor. LG 32MA68HY-P is an ideal offering for casual usage and most importantly it offers excellent features at very low price. It is handy for every person but if playing games or doing graphic design is your bread and butter, then you might have to look elsewhere.
Check Price on Amazon [wp-review]