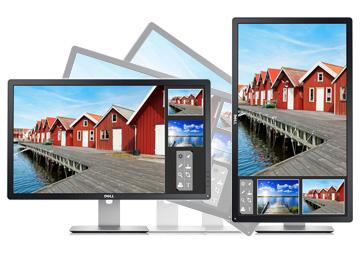 To the average computer user, vertical monitors may sound like a useless gimmick that is too awkward to serve any valuable purpose, but they are anything but. They are regular landscape monitors that can be twisted on a pivot to serve as landscape displays.
This immediately opens up an array of tasks that you can perform with more efficiency. Vertical monitors are more versatile than regular monitors and just as good.
They are great for reading, browsing websites, scrolling through social media, and coding. This is why many coders and programmers can be seen working on vertical displays in addition to regular ones.
They can also be used in other professional settings. For example, they can display notices or reminders in the office foyer. Restaurants can also use them to display menus and chef's specials. There is quite an expansive list of tasks that vertical monitors can perform better than landscape ones.
This is why more and more people are seeing the utility of a portrait display. All major operating systems now come with display rotation capabilities. Manufactures have also started to push out an impressive selection of displays that can be used in both landscape and portrait modes. We look at some of the best and considerably affordable monitors to get you started with vertical display.
Dell Ultrasharp U2718Q is a dream 4K vertical monitor for work, programming and graphic designing with HDR capabilities. Its thin bezels make it an ideal candidate for dual monitor setup. This mid-range product from Dell offers variety of features without compromising on quality, that is why it is one of the most popular product from the company.
Main Features
U2718Q 27-Inch Ultra HD screen boasts lifelike image quality with HDR10 support. HDR10 comes with 350 cd/m² brightness level which means that it is not true HDR which requires minimum of 1000 cd/m² brightness level but still it is good enough for most people specially those who would like to use it for work, programming or light photo/video editing. It has 99.9% sRGB coverage which means that it can hold its own for graphic designing jobs.
Its flexible stand allows vertical orientation which can help you view mode code if you are programmer or easily design posters if you are designer. With height, tilt, swivel, and pivot adjustment, this stand is a complete package.
Specifications
27″ 4K HDR IPS Display
350 cd/m2 Brightness
60Hz refresh rate
5ms response time
Ports: 1 x DP 1.2, 1 x mDP 1.2, 1 x HDMI 2.0, , 1 x USB Type-B, 4 x USB Type-A
VESA compatible for wall mounting
Pros
Factory Color Calibrated
Versatile and ergonomic stand
Really nice image quality
Wide 178-degree viewing angle
Multiple connectivity options
Cons
Its not true HDR10
No FreeSync technology
Refresh rate caps at 60ms
2. HP VH240a 23.8-Inch FHD IPS Monitor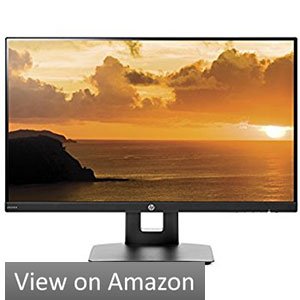 HP markets the VH240a as a business monitor. While it certainly is that, it's also so much more. This is a device that sits at the lower end of the pricing spectrum yet lets users avail all the benefits of a much pricier variant. For business and home users, this monitor presents itself as a complete package.
For an affordable vertical monitor, the VH240a does feel quite sturdy. When adjusting the display or rotating it, the operation is quite smooth and the stand does not seem finicky. Of course, one would expect this attention to quality from HP, but it's still nice to experience it on a lower-end monitor.
The monitor does have a couple of expected limitations. The DisplayPort is missing, and the refresh rate caps at 60Hz. However, these are limitations that don't take away from the monitor's value proposition.
Main Features
The HP VH240a's value proposition is its stunning bezel-less IPS display at a price that won't be too heavy on the pocket. The display size is about average at 24 inches, but the sharp and color-accurate picture quality really makes the content pop. The monitor's slim bezels also help with this and enhance immersion.
This vertical monitor would have been a great offering with only its display capabilities, but HP goes a step further with valuable additions. These come in the form of integrated speakers and a versatile stand that gives users control over viewing angles and height.
Specifications
23.8″ IPS Full HD 1080p display
Anti-glare display panel
60Hz refresh rate
5ms response time
Integrated 2W dual speakers
Ports: HDMI x 1, VGA x 1
VESA compatible for wall mounting
Pros
Integrated speakers
Sturdy and ergonomic stand
Sharp image quality
Wide 178-degree viewing angle
Cons
No DisplayPort
No FreeSync technology
Refresh rate caps at 60ms
3. Acer CB272 27-Inch FHD IPS Monitor with AMD Radeon FreeSync
When it comes to large displays, it is difficult to beat the Acer CB272 in price and performance. Granted, it lacks a few connectivity and customization features, but the display itself makes up for its structural shortcomings.
We mention structural shortcomings, but the CB272 vertical monitor is not an ugly device on any account. It features a round stand that takes less space than a traditional rectangular stand, and the bezels are virtually non-existent. The display, measuring at about 0.5 inches, is among the thinnest we have seen on any mid-range monitor.
This monitor would be great for media consumption and light gaming if not for the lack of a DisplayPort and USB ports. Also missing are integrated speakers, which isn't as much of a dealbreaker since most people connect external speakers anyway. Still, it's a feature many won't mind having.
Main Features
Like a lot of Acer's newer monitors, the CB272 comes equipped with AMD FreeSync technology. When this technology works alongside the impressive IPS panel, the result is a stunning color-accurate display. The 1ms response rate eliminates jitters in fast-moving graphics and manages to hold its own with several modern AAA titles.
The display also impresses with its low input lag, which comes in at a low 9ms. Despite its low refresh rate of 75Hz, the monitor's various display capabilities come together to deliver an entry-level gaming display. This is refreshing to see in a device that does not market itself as a gaming display and isn't priced as one either.
Specifications
27″ IPS Full HD 1080p display
AMD FreeSync technology
75Hz refresh rate
1ms response rate
9ms input lag
250-nit brightness
Ports: HDMI x 1, VGA x 1
VESA compatible for wall mounting
Pros
Affordable price for a powerful monitor
Great color reproduction
Wide viewing angle
Low input lag
Cons
No DisplayPort
No speakers
4. Dell P2719H 27-Inch FHD IPS Monitor
Dell P2719H is one of the best office monitor in 2023 with a large display. The larger viewing space gives professionals more room to multi-task without cluttering the workspace. This is thanks to its slim form factor and a compact base. Dell understands the monitor's appeal for multi-tasking and ships it with an Easy Arrange feature to manage multiple windows.
Since we are going up the pricing spectrum, users expect more control over connectivity, and the Dell P2719H vertical monitor does not disappoint. With a multitude of connectivity ports, this monitor gives users ultimate control over how they want to use the display.
Dell markets this display as an office monitor, so don't expect crazy graphics or gaming performance. Despite this, the display is sharp and produces vibrant colors. The IPS panels allow for much wider viewing angles, so you and your colleagues can work together on projects without anyone compromising on the view.
Main Features
The massive 27″ display that this monitor offers is made more impressive by the essentially bezel-less frame. The display really pops out because of the thin bezels and will feel larger than it really is. It can also be used in multi-display setups for seamless connectivity.
Although this is no gaming device, the monitor still features a minimum response rate of 5ms. This will reduce ghosting in graphical applications and allow for a smooth media playback.
Specifications
27″ IPS Full HD 1080p display
Compact bezel-less design
60Hz refresh rate
5ms response time
Ports: USB 2.0 (downstream) x 2, USB 3.0 (downstream) x 2, USB 3.0 (upstream) x 1, HDMI x 1, DP x 1, D-Sub x 1
VESA compatibility for wall mounting
Pros
Window management software makes multi-tasking easier
Many connectivity options
Wide viewing angle
Cons
Refresh rate capped at 60Hz
No speakers
5. BenQ GW2280 Eye-Care 22-Inch Monitor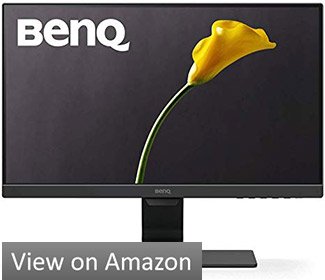 With incredibly thin bezels, an ergonomic design, and a surprisingly low price tag, the BenQ GW2280 is a rare find. It packs a few impressive features that you would not expect to find at this price.
The vertical monitor is sharp, to say the least. It astonishes customers with a great contrast and Full HD 1080p display. These two elements allow for a stunning display that can outperform some more expensive models. Despite being a TN panel, the display manages to be sufficiently vibrant.
A handful of users were found complaining about the monitor's display being too washed off in certain scenarios and working perfectly fine in others. Although the monitor has manual and auto display calibration which can be adjusted to get a better contrast, this issue could also be caused by other elements like unadjusted color settings of the graphics card.
Main Features
Unlike many other monitors at a similar price point, the BenQ GW2280 is a beauty to behold. Its slim bezels maximize viewing area, reduce distraction, and make for an immersive viewing experience. The slim bezels and low price also make it ideal for multi-display setups on a budget.
Another neat feature that you don't see in many lower-end monitors is cable management capabilities. This monitor gives users the option to tuck away cables nicely under the stand. This makes for an overall neat look, leaving your workstation looking clean.
Specifications
22" TN Full HD 1080p display
Adaptive brightness technology
75Hz refresh rate
1ms response time
250-nit brightness
Integrated speakers
Ports: HDMI x 1, DVI x 1, VGA x 1
VESA compatible for wall mounting
Pros
Fast response time for a smooth viewing experience
Sleek bezel-less design
Adaptive brightness and flicker-free display reduces eye strain
Neat cable management
Cons
Speakers are not very loud
6. Acer XFA240 24-Inch Gaming G-SYNC Compatible Monitor
The XFA240 is a mid-range gaming display from Acer. The company does a variety of professional and gaming displays that leave customers with very little to complain about. The XFA240 is one such display that changed the gaming experience for users. It is the first 144Hz monitor that has been certified for its G-Sync compatibility by NVIDIA.
This vertical gaming monitor with vertical rotation capability excels at delivering a smooth and responsive gaming experience. It comes with a 1ms response time, 144Hz refresh rate, and a nominal input lag of 6ms. AMD's FreeSync technology and G-Sync compatibility make it quite a steal at this price.
This monitor is structured around a TN panel, which helps keep the response time incredibly low. However, TN panels aren't known for their wide viewing angles and contrast ratios. This is one department in which the XFA240 lacks when compared to other monitors.
Main Features
The XFA240 features a simplistic design with a matte finish to reduce fingerprints. The stand is made of aluminum and feels quite durable. What is impressive about the XFA240 are the ergonomics of its design. The monitor can be tilted and rotated along its axis to extract more functionality.
The monitor can display content at a maximum brightness of 350 nits and a contrast ratio of 1000:1, which is to be expected of a gaming monitor. The 8-bit color depth also helps reproduce fairly accurate colors.
Specifications
24″ TN 1080p display with AMD FreeSync
NVIDIA G-Sync support
144Hz refresh rate
1ms response time
6ms input lag
350-nit brightness
Integrated 2W dual speakers
Ports: HDMI x 1, DVI x 1
VESA compatible for wall mounting
Pros
Smooth gaming performance due to low response time and low input lag
Ergonomic design with rotation capability
Affordable as compared to other displays with similar capabilities
Flicker-free backlight reduces eye strain
Cons
TN display means image quality and viewing angles are average
Limited connectivity options
Conclusion
The HP VH240a 23.8″ is a great choice if you don"t want to spend too much on a new vertical display in 2023. With a high response time, it might not be great for online gaming, but the crisp IPS display works incredibly well for everything else. If gaming is your thing, the Acer XFA240 24″ vertical monitor is the display to consider. Despite its limitations, it offers good value for money and delivers a smooth gaming performance and color reproduction with G-Sync compatibility.