The world of tech is always changing for the better, the brighter, and the sharper. And when it comes to high definition monitors, the statement holds more promise than ever. Remember when a few years ago, we went gaga over the full HD monitors – the 1080p, exulting about how good our movies and images looked. I'm not talking about a pre-historic time here, this is recent past and yet – they are, as it seems, already a passé. Welcome to a world of higher resolution monitors – the 1440p or the quad HD, or even 4k for that matter.
As we plan to sort out the best 1440p monitors, let's delve into what this resolution means. Apparently, the 1440p monitor aka WQHD or QHD monitor is extremely high definition monitor which falls somewhere between the full HD and the 4k. You'll find people (manufacturers, reviewers, yeah) calling it Quad HD – this is because the 1440p monitors come with a resolution of 2560×1440 … Quad HD… 4 times HD… 4 times 1280 x 720p – rings a bell?
1440p over other resolutions
Now, why would you prefer to buy a 1440p monitor today? How does it stand against other resolutions?
At this point, let us remind you not to confuse the resolution with the size of the monitors. For example, a 27-inch monitor, can come with a 720p HD resolution and look a bit dull, a 1080p full HD resolution and look sharper, or a 1440p resolution and look stunning. That is because one place where the 1440p monitors really bask in their superiority is the pixel density.
The most common question we get from users – is there a noticeable difference in the 1440p monitors over 1080p? We'll answer this in the affirmative. The increase in pixel density makes its mark, both in gaming and normal usage. We were testing a 27-inch 1080p against a 27-inch 1440p and found that there is a massive improvement in the images. Also, the 1440p offered a better viewing experience overall, considering we needed to sit in front of these monitors for a long time.
Most people in the market for 1440p QHD monitors are gamers and yes, almost all games will support this resolution. Moreover, this is a resolution that suits gamers best at this point, offering the most immersive experience in 2560×1440 as 4k games are not that popular as of now, and considering 4k monitors can cost a fortune at the present market. Once again, the 1440p offers a gaming experience better than most 1080p monitors, without burning a hole in your pockets.
Best 1440p Monitors 2017 Buying Guide
All QHD, WQHD or 1440p monitors are, of course, bestowed with a similar resolution of 2560×1440. So, what's the use of making this buying guide at all? Let's get into that first. There are many other factors to get that ideal gaming experience you're looking for, and the resolution of the monitor isn't only responsible for that.
The refresh rate and response time, for example, is an equally important factor because coupled with your graphics card, it is solely responsible for offering you the best FPS possible. This, in turn, keeps the input lag minimal making a setup for pro gamers. The ideal refresh rate you'll have to look for is 144Hz, while 1-4ms is the best response time.
Look out for these 2 terms – AMD Freesync & G-Sync – they are integrated features designed to make your gameplay experience smooth, preventing screen tearing.
Check the specifications of the display panel – this might be IPS panels and offer superior displays and good viewing angles. They might also be TN panels and offer better FPS and response time.
Look out for the connectivity that the monitors offer. Usually, all QHD 1440p monitors would have an HDMI port.
Also look at the specification of your PC before buying a 1440p monitor to check if it supports this or higher resolutions. We've found a couple of old PCs that doesn't. In case of this incompatibility, you may have to upgrade your PC.
Monitor
Display
Resolution
Panel
RT
Ports
ASUS MX25AQ
25"
2560x1440
IPS
5ms
3x HDMI, DP
ViewSonic VX2778
27"
2560x1440
IPS
5ms
HDMI, DP, mDP
Dell
S2716DG
27"
2560x1440
TN
1ms
HDMI, DP, 4x USB 3.0
Samsung S32D850T
32"
2560x1440
VA
5ms
HDMI, DP, DVI-D, 4x USB 3.0
Dell P2416D
24"
2560x1440
IPS
6ms
HDMI, VGA, DP, 4x USB 2.0
1440p WQHD monitors are usually expensive, and you need to plan out your requirements and preferences before buying one. We've compiled this list of 5 of the best 1440p monitors that are bestsellers in the present market.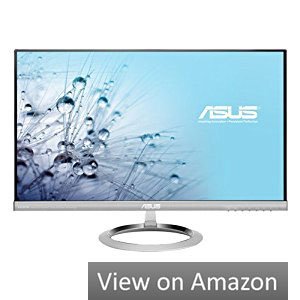 We've picked ASUS products for our monitor lists time and again, especially their Designo series. We've included the ASUS Designo MX34VQ in our lists of the best 34 inches ultra-wide monitors, as well as the best monitors with built-in speakers, the Designo MX279H is one of our favorite bezel-less monitors and we've reviewed it for our list of best HDMI monitors. These aren't random selections. The Taiwanese computer hardware manufacturer has won our trust votes again and again due to their premium hardware and attractive price ranges.
The specialty of the MX Designo series is the refined look and feel of the monitor. You get a screen with really thin bezels that disappear when the scene is dark or the monitor is turned off. The base stand looks stunning, similar to a hollow ring or a sundial and the whole structure comes with a brushed metal finishing. It is a minimalistic design that looks premium in any surrounding, be it on your office desk or the living room.
The MX25AQ is 25-inch Wide Quad HD aka WQHD screen with a resolution of 2560×1440. The 1440p resolution AH-IPS panel offers an excellent PPI ratio which results in really sharp and bright images. This isn't anything out of the way for ASUS though. They've hardly ever compromised with displays and performances of their monitors. Other parts of the display include a 60Hz refresh rate, 1000:1 static contrast ratio and 178 degrees viewing angles. The color consistency on ASUS MX25AQ is another area where the monitor excels and it offers a true 8-bit color depth without any dithering.
The WLED backlight provides a great sRGB color coverage. It uses the Direct Current technology that provides a flicker-free experience. The panel also offers a decent 5ms response time. Moreover, ASUS offers an Eye Care Technology with the monitor with TUV Rheinland certified blue light filter that prevents eye fatigue in case of longer usage.
Apart from flicker free display, gamers can rejoice about the feature called GamePlus ASUS offers with this monitor. This offers them an option to add a hard-crosshair to the screen, and also an additional timer.
Coming to connectivity, this QHD monitor comes with 3x HDMI port, 1x Display port and 3.5mm audio jack. However, you may not need the audio jack at all because the monitor comes with a set of built-in speakers. These are 2x 3Watts Bang and Olufsen ICE powered speakers that are designed to provide a richer audio experience with the speaker itself. ASUS also provides the AudioWizard program to customize the audio experience. This offer 4 preset audio profiles – 'Gaming', 'Movie', 'Music', and 'User'.
The monitor does not offer VESA compatibility. The base stand only lets you tilt the monitor to your preferred angle. However, given its design, this product will look better on your desk, rather than mounted on a wall.
To conclude, this QHD monitor is great buy at this price range. For general day to day usage, work/ office, movies or images, we'll say it's one of the best you can buy right now. However, we'll note the 60Hz refresh rate and 5ms response time of the monitor, which would let us say that this isn't 'THE BEST' for pro gamers.
Pros
Premium, minimalistic design with brushed metal feel.
Quad HD resolution in a 25-inch display – offers great pixel density resulting in sharp images.
The AH-IPS display offers great picture clarity and color reproduction with 8-bit color depth.
WLED backlight with flicker free technology.
ASUS Eye-care technology that prevents blue light responsible for eye fatigue.
Inbuilt speakers with presets that offer a rich audio-experience.
Cons
60 Hz refresh rate isn't the best for pro gamers.
5ms response time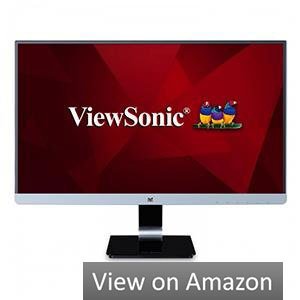 Talking about computer hardware giants of the present market, we won't always include ViewSonic. Founded in 1987 with their headquarters in California, they've almost entirely dedicated their business to displays – ranging from CRT displays, LCDs, projectors, plasma or other high definition screens. They've recently been winners of 'PCMag's Reader's Choice Award for Computer Monitors' not once but twice. This made us look into ViewSonic's ranges and include this 27-inch WQHD frameless monitor VX2778 in our list.
For about the same price as ASUS MX25AQ, you get a 27-inch WQHD screen with this monitor which is the main added advantage. With the standard resolution of 2560×1440, it comes to about 109ppi, which is pretty good. However, the bottlenecks that we've associated with the previous entries are applicable here as well. The company has packed the IPS panel with a 60Hz refresh rate and 5ms response time. Now, these are not really an issue if you're a regular user or occasional gamer. However, 1440p monitors are usually targeted at pro gamers and if you are one, you'd soon realize these are not the specs to boast of.
This VX2778 QHD monitor offers slim bezels, with stunning edge to edge display. The control panel below the screen, as well as the back of the monitor, comes with a matte silver finish giving a premium look and feel. The rectangular base stand looks similar to the monitor in shape and is minimalistic, making an aesthetic completeness about the whole thing. The stand offers adjustable forward/ backward tilt.
Owing to the PLS panel which is similar to IPS in functionality, you'll surely get a crisp display with wonderful viewing angles. ViewSonic offers a PLS panel technology which offers best-in-class screen performance with good visual clarity that serves everything from office use, to graphic design or home entertainment. It offers a standard 178 degrees viewing angles with 80M:1 dynamic contrast ratio. The panel is capable of 8-bit color reproduction and the company claims that it can cover 100% of the sRGB color gamut, which is remarkable at this price range. This can serve as a real boon to the graphic designers or image editors out there.
Coming to the connectivity, ViewSonic has done a decent job offering 1x HDMI port, 1x display port and 1x mini display port. There is also an audio output with this monitor although it comes packed with dual speakers integrated with the monitor. There is, however, no USB port.
VX2778 WQHD is a decent buy at this price range. The panel with 100% sRGB coverage makes it a great buy for graphic designers or editors. However, pro gamers would grumble about the throttling refresh rate. With the absence of FreeSync, this might cause some disturbances in FPS while playing games at ultra-settings.
Pros
27-inch WQHD display is a great option for professionals or movie enthusiasts alike.
PLS panel that offers 100% coverage of the sRGB gamut making it an ideal monitor for graphic designers or professional photographers.
Looks aesthetic with really slim bezels and matte silver finish.
Cons
60Hz refresh rate and 5ms response time – not the ideal specs for pro gamers.
No USB ports.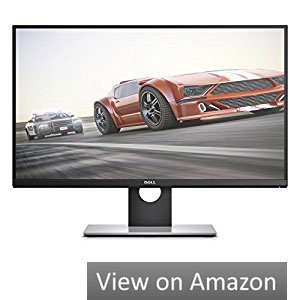 It takes some confidence to list a monitor on Amazon and include 'Gaming' in the title. This is because it will almost always increase the buyer's expectation regarding the hardware or the specification of the monitor. You can do gaming on any monitor, but not all monitors are gaming monitors. Moreover, when it comes from the house of Dell, you can be pretty sure that they're not false boasting about it.
Priced at about $200 more than both the previous products on this list, Dell S2716DG QHD beast is 27-inch of awesomeness for a pro gamer. It comes with a similar resolution of 2560×1440 like the other quad HD monitors but is packed with a 144Hz refresh rate coupled with a 1ms response time which is nothing but paradise for gamers who'd compromise nothing for that encapsulating, immersive gaming experience with zero lags or screen flickers.
The fastest possible response time and the 144Hz refresh rate is pretty difficult to achieve on an IPS panel and would shoot up the cost to an extreme point. Dell has achieved this by offering a TN panel with this monitor. When compared to an IPS in terms of display clarity, color reproduction or viewing angles, TN panels are somewhat lesser, any day. But clearly the gaming aspects are prioritized here, and the monitor is solely made for the pro gamers, so we really cannot complain. The bigger proof about it is the integration of G-Sync – Nvidia's technology to negate any sort of screen flickering in gaming.
The display or the color reproduction isn't unpleasant at all. In fact, they are truly vivid and unless you're really a monitor nerd, you'll hardly find an excuse to grumble about the display. It offers 1000:1 contrast ratio along with 350cd/m2 brightness. We'll suggest you tweak these settings to your requirements and not go along with the optimal OSD settings. After a bit of customization, the colors look really bright and even the grays and blacks were dark. Dell offers 160 degrees vertical and 170 degrees horizontal viewing angles with this monitor. These aren't bad specs on paper however, we've seen minor washing out while viewing the screen from above. Owing to the TN panel, this isn't unusual though.
Dell has also paid considerable attention in connectivity with this monitor. Apart from the HDMI port, display port, audio output and headphone jack, you get 3x USB ports. This is about everything you can expect in a monitor in terms of connectivity.
This QHD monitor is also great in terms of look and feel. There isn't any special 'gaming look' on the monitor but it looks premium with slim hard plastic sides that include really thin bezels which blend when the monitor is turned off. The rear has glossy plastic and bulks towards the center. The stand, which looks rather innovative with the hole, offers full ergonomic flexibility. You can tilt, swivel or pivot this monitor. It is also VESA mountable.
Overall, this is a perfect WQHD monitor for gamers with specification that'll give them that extra edge. Moreover, it has all the added functionalities that you expect from a monitor of this price point and doesn't disappoint at all.
Pros
27-inch WQHD display along with 144Hz refresh rate, and 1ms response time – offers an extraordinary, immersive gaming experience.
Great connectivity options.
Full ergonomic flexibility and VESA mountable.
Slim, really aesthetic display.
Cons
None really, except the fact that it is expensive.
Over the years, Samsung has been a leader in consumer electronics – that includes a range of smart devices or computer components. The company has their own range of monitors, and their VA panels are popularly used by other manufacturers. However, the S32D850T is a high-end screen from the house of the South Korean tech giants.
When it comes to display resolutions, the world is slowly moving towards 4K. But as it stands, the surmounting prices of 4K screens are not really affordable for everyone. Moreover, you don't get 4K content all around the internet. Even a few games don't support 4K resolution. This 32-inch WQHD screen from Samsung acts as an interim for users who are eager to upgrade from a Full HD screen but aren't too fond of the huge 4K screens. It offers a sensible solution at a tempting price point.
At 32-inches, this WQHD monitor is pretty large, with a resolution of 2560×1440. This would offer you with a panoramic gaming experience. Samsung has used their own VA panel in this one and it offers 3000:1 contrast ratio. However, VA panels aren't great in responsiveness and this is the case with this monitor too. The 5ms response time from a monitor at this price isn't great. It isn't ideal for gamers and although minimal, you'd notice some input lags. The image clarity and color reproduction are good. Samsung has stated a 100% sRGB coverage on the monitor, however owing to the VA panel, you could expect a bit less than the ideal. The blacks, however, are really dark and impressive.
The monitor comes with split screen and PIP viewing for multi-screen usage. If you plan to use this on your workspace, you can easily multitask on this monitor as the 32-inch screen size provides good multitasking experience.
The S32D850T offers a wide range of connectivity with a display port, HDMI port, DVI-dual link support and 4 USB ports. Moreover, there is also a USB super charging port that promises to charge mobiles faster than normal 2.0 ports.
The monitor comes with a plain look. The bezels are quite visible, unlike the previous bezel-less monitors we've reviewed. The lower panel with the controls comes with brushed metal finish. The monitor isn't too broad but you cannot call it slim. It weighs a massive 12Kg which isn't something we liked. However, the overall form factor is really sturdy.
You can buy this monitor if you need a bigger display. Given the attractive price, this is a great choice for office spaces or your drawing room entertainment. However, do not expect the best gaming experience from this one.
Pros
Massive 32-inch screen with 1440p resolution.
Split screen and PIP for multitasking.
Great connectivity.
Cons
VA panel is a compromise on display and response time isn't great either.
Not suitable for gamers.
Really heavy form factor.
5. Dell P2416D 24″ Monitor with QHD Screen
Dell P2416D looks quite similar to the other Dell monitor we've reviewed on this list – the Dell S2716DG. If you have no constraint regarding your budget, we'll advise you to buy the 27-inch screen because it offers a more immersive gaming experience. However, this 24-inch QHD monitor from Dell can serve well too as it comes with the same 1440p resolution. This is a more budget option, which is why we've included this on our list. Moreover, if you're someone who's not too fond of large screen, this is the option you can go for.
Given to the identical resolution – 2560×1440, on a smaller 24-inch screen, this monitor has an even better pixel density. It covers 99% of the sRGB gamut, which makes it a great monitor for photographers or video editors. The 178 degrees viewing angles, as well as the 16.7 million color support, contrast, and brightness, are great for this price. However, the compromise has been made on the refresh rate. Unlike the Dell S2716DG, this WQHD monitor comes with a 60Hz refresh rate and 6ms response time, which is not ideal for gaming. The absence of G-Sync should also be noted here. This lets us conclude that you cannot really compare the two monitors together in terms of gaming.
Apart from that, Dell does a similar job on both the monitors. Coming to connectivity, it offers 4x USB ports apart from the usual VGA, HDMI and display ports and you can connect almost anything to the display.
If you're looking for a budget option that offers a 1440p resolution, this monitor is a steal at this price. The IPS display with anti-glare offers a great viewing experience. However, gaming isn't going to be that great on this one.
Pros
Great IPS display with a QWHD resolution.
Adjustability – You can tilt, swivel, pivot or adjust the height of the screen. Offers both portrait and landscape modes.
Great connectivity.
Attractive price point.
Cons
The 60Hz refresh rate and 6ms response time is a compromise.
Not ideal for gaming.
Conclusion
We've listed the best 1440p QHD monitors that are bestsellers in the present market. A QWHD or QHD monitor is usually expensive, and of course, not everyone needs it. We've made this list keeping in mind the pro gamers mostly. We've tried to include monitors from all price ranges. If you've no budget constraints the Dell S2716DG looked like the best option to us. However, the others surely perform well considering their price points. With the world of tech not entirely ready for 4k as of yet, these 1440p monitors can be your best bet.