Console gaming on a monitor is evolving for good with the introduction of new technologies. HDR monitors are catching the imagination of the people as they provide out of the box experience to the gamers. It is one of the main reasons that the new Xbox One X and PS4 Pro also support this feature. These "High Dynamic Range" products provide you better colors and contrast and as a result you get more immersive and realistic experience while you are playing games. It is the next big thing and it is the best time to invest in this new technology.
Issue is that at the time of writing, there are very limited options of true HDR gaming monitors in the market. Many companies have announced that they are going to release these gems in first or second quarter of 2018. This list of best console gaming monitor for Xbox One X and PS4 Pro will be updated as soon as those items are released. We have already added a few top contenders in this list.
Basic things you should know are that PS4 Pro does not support 1440p resolution. Images displayed will be downscaled to 1080p and there is no support for HDMI 1.4. Therefore, if you own PS4 Pro, you should look for a monitor with 4K, HDCP 2.2 and HDMI 2.0 capability. If you own XBOX One X, both 1440p and 4K options would work for you but you should go for the latter if you have the budget. It is compatible with AMD FreeSync technology and it is also getting HDMI 2.1 in coming days through firmware update.
| Monitor | Display | Resolution | Panel | RT | Ports | |
| --- | --- | --- | --- | --- | --- | --- |
| LG 27UK650-W | 27" | 3840x2160 | IPS | 5ms | 2 HDMI 2.0, DP 1.2 | |
| Samsung C32HG70 | 32" | 2560x1440 | VA | 1ms | 2 HDMI 2.0, DP, 2 USB 3.0 | |
| Dell U2718Q | 27" | 3840x2160 | IPS | 5ms | HDMI 2.0, DP, mDP, 4 USB 3.0 | |
| ASUS VP28UQG | 28" | 3840x2160 | TN | 1ms | 2 HDMI 2.0, DP 1.2 | |
| LG 32UD59-B | 32" | 3840x2160 | VA | 5ms | 2 HDMI 2.0, DP 1.2 | |
| Samsung U28E590D | 28" | 3840x2160 | TN | 1ms | HDMI 1.4, HDMI 2.0, DP 1.2 | |
Best Gaming Monitors for Xbox One X and PS4 Pro
We did thorough research before picking these beasts. Hopefully, you would be able to find a product which perfectly suits your needs.
1. LG 27UK650-W 27-inch 4K UHD IPS Monitor with HDR10 and AMD FreeSync
This is our best pick for console gaming on PS4 Pro and Xbox One X. This model is recently released and it is one of the few HDR10 compatible models in the market. This monitor and your new console are going to compliment each other really well because of 4K resolution, 99% sRGB coverage and HDCP 2.2 support.
LG 27UK650-W is a beautifully designed product with very thin bezels and 3-side virtually borderless display. The arc-line stand does a good job in keeping this monitor sturdy. It comes with tilt, height adjustment and pivot functionality. The display is IPS which will make sure that you enjoy playing games from any viewing angle.
AMD FreeSync and 5ms response time does a good job in eliminating screen tearing and stuttering during gameplay. It is equipped with advanced gaming features like black stabilizer to provide better details in dark scenes and dynamic action sync for smooth experience. It has 2 HDMI 2.0 ports and 1 DP 1.2 port. Both ports support HDR and HDCP 2.2.
Pros
Picture quality is really nice.
Combination of 4K and HDR makes it an ideal choice for both PS4 Pro and Xbox One X.
It supports FreeSync over HDMI port.
Cons
This monitor doesn't have built-in speakers.
2. Samsung C32HG70 32-Inch HDR QLED Curved Gaming Monitor
This is a very nice choice for your Xbox One X. It is equipped with mind-boggling quantum dot technology which delivers up to 1 billion accurate colors on the display. It offers 2560×1440 QHD resolution on 31.5 inch curved VA panel. This monitor comes with HDR, therefore, it will make sure that you get breathtaking images and you don't miss even minute details while playing games.
Samsung C32HG70 design with black and metallic grey finish is quite pleasing to the eyes. The curve of the display is well thought out and immerses you in every action which is happening on your computer screen. There is blue led ring on the back which adds more coolness to the design. You can turn it off when you don't feel the need for it. The dual-hinge stand is capable of swivel, height adjustment, tilt and pivot. You can also mount it on the wall when required.
This monitor has AMD FreeSync 2 support along with 144Hz refresh rate and 1ms response time. These are just outstanding specs for any professional gamer. These will definitely make your console gaming experience smooth and any kind of latency or input lag will become a thing of past. If that was not enough, there are factory calibrated game modes too for any genre.
Maximum brightness level is 350 cd/m2 but it can peak to 600 cd/m2 when HDR feature is on. There are decent connectivity options in C32HG70 with two HDMI 2.0 ports and one DisplayPort. Two USB 3.0 ports are also present in which one offers fast charging.
Pros
Large screen size, WQHD resolution, HDR and AMD FreeSync is a nice combination for Xbox One X.
Very easy to set up and you don't need to do any color calibration out of the box.
1ms response time and 144Hz refresh rate keeps tearing and ghosting away.
Stand is perfect with tilt, height adjustment, pivot and swivel capability.
Cons
It is suitable for Xbox One X only because of WQHD resolution. PS4 Pro will downscale images on this monitor to Full HD resolution.
Cords in the package are short in size.
Stand is large so it takes a bit of space on your desk.
This Dell 27 inches IPS monitor offers outstanding visuals with 3840×2160 4K resolution and HDR10. It eliminates the borders with InfinityEdge and fills the length and breadth with content. Due to the higher dynamic range, the monitor displays an array of colors. The quality of the monitor is outstanding as it is one of the best in terms of clarity. Colors, shadows, and details are displayed with amazing clarity before the eyes.
The stand is thin but can very well hold the weight of the screen. It facilitates you with tilt, swivel, pivot and height adjustment. Bottom right of the monitor comprises of OSD buttons which can be used to switch on and off the screen beside navigating through the menus. It provides number of connectivity ports with one HDMI 2.0, DP, mDP and four USB 3.0 ports.
Dell U2718Q has the capability to display billions of colors in the 27-inch area. HDR automatically comes into play when you connect it for video gaming to PS4 Pro or Xbox One X. It also works seamlessly with Blu-ray players. Our only gripe is lack of adaptive sync option and average refresh rate. Each monitor is factory calibrated so you don't have to go through the menu yourself and change the settings yourself.
Adding anti-glare coating makes the monitor ideal for the eyes. You can continue watching movies and playing games without the dangers of harmful reflection. Even if people open the windows during bright sunshine, the picture quality of U2718Q is not affected.
Due to large screen, the UHD content is displayed with superior resolution. A contrast ratio of 1300:1 and maximum brightness level of 350 cd/m² improves the visibility of the images to a significant extent. Due to calibration up to 99% of sRGB, the clarity of the pictures is absolutely stunning. It is a very good mid-range 4K monitor for Xbox One X or PS4 Pro with support for HDR.
Pros
UHD resolution along with high dynamic range provides gaming experience which is easy on the eyes.
Dell UltraSharp U2718Q has an aesthetic thin bezel design which is ideal for multi-monitor setup.
Stand is quite flexible with many orientation choices.
It provides many connectivity options such as HDMI 2.0, DP, mDP and multiple USB 3.0 ports.
Cons
Adaptive sync support is not present in in this monitor.
Average refresh rate of 60Hz and response time of 5ms will not please some professional gamers.
4. ASUS VP28UQG 28 Inch 4K FreeSync Gaming Monitor
Gone are the days when Ultra HD monitors created a hole in the pocket because the latest offering from ASUS has reduced the price significantly. Although the search for graphics card hasn't ended, the situation is becoming brighter for the gamers. This product from the company certainly brings light of hope for the gaming ninjas.
Its UHD panel with 3840 x 2160 resolution and 157PPI outputs sharp and stunning graphics. Maximum luminance can go up to 350 cd/m². It uses TN panel so extreme viewing angles aren't great but they still aren't as bad as we have noticed in some other monitors. Visuals do look crisp on it while playing games or watching movies and we don't have any complaint as far as display performance is concerned. Thankfully, it comes with AMD FreeSync and 1ms response time. It will really help in fighting issues like motion blur and screen tearing.
There is a 5-way OSD joystick on the back which provides easy access to on-screen display options and GamePlus menu. With GamePlus, gamers can practice and improve their gaming skills. It has features like crosshair, timer, FPS counter and display alignment.
There are 8 preset modes included into the product. The Eye care technology of Asus plays an important role in reducing blue light and flickering on the screen. You can watch games for long hours on the screen and still your eyesight may not get affected by strain and other ailments.
When it comes to connectivity, this monitor provides two HDMI 2.0 ports and one DisplayPort. The stand of this product is a bit wobbly and provides only tilt support. It does have VESA mount support if you want to mount it on the stand or on the wall.
VP28UQG is definitely a very good choice for X1X or PS4 Pro. Some users who reviewed this item after using it with the latest Playstation and Xbox One X said that it works really well with it. Although, it lacks HDR support, it still offers 4K, 1ms response time and FreeSync over HDMI or DisplayPort. Therefore, if high dynamic range feature is not a deal breaker for you, this will be an excellent pick for you.
Pros
It has bright 4K display with crisp images and text.
ASUS VP28UQG is an excellent affordable option for console gaming.
AMD FreeSync and fast response time reduces any kind of input lag during gameplay.
GamePlus is a great tool to improve your expertise.
Cons
HDR is not supported in this monitor but it is your best bet if you can't wait few months for new 4K HDR entrants to come into the market.
Base is a bit flimsy and gives you ability to only rotate the screen.
5. LG 32UD59-B 32-Inch 4K UHD Monitor with FreeSync
The product from LG has catapulted to the pinnacle of success. It is bundled with lots of attributes to ensure seamless viewing of the movies and games. The monitor is instrumental in covering 95% of DCI P3 color space. It is equivalent to the standard followed by the film industry. The images on this VA panel belong to cinematic theater category as they are displayed in variety of colors. RGB color space under the new technology is filled with red and blue colors. Compared to sRGB, the DCI has 25% larger gamut of colors.
Real-time pictures attract the attention of the people. LG performance in delivering high-quality visuals is a boon for not only the conventional users but also gamers. HDCP 2.2 compatibility with the monitor ensures that ultra HD content plays on Blu-ray disc, games and streaming services without any difficulty. You can watch the videos in 4K and marvel at the quality of the pictures and the text.
Presence of AMD FreeSync is an icing on the cake for the users. It is specially beneficial for Xbox One X users. Difference between the frame rate of graphics card and the monitor refresh rate causes tearing and stuttering, however, the above-mentioned technology eliminates the issue. If users are playing heavy duty and high-resolution games, the fluid movement of the video catches the attention. Due to the absence of time lag, people will enjoy the experience. Dynamic action sync is also included which offers fast-paced RTS gameplay to the gaming enthusiasts. They do not experience an iota of time lag. Due to the absence of input lag, users do not face interruption during high voltage scenario.
The black stabilizer is the latest technology included into the eclectic mix. It plays an important role in making the images brighter in the dark scenes. The capability is a boon especially when you have to find the hidden enemies in the virtual world. The downside for some people is that there is no HDR for crystal clear Xbox One X and PS4 Pro console gaming. If you can live without high dynamic range, then you would surely enjoy playing games on both consoles.
The stand of 32UD59-B comes with height adjustment facility. Users can either raise or lower the monitor according to their desires and preferences. It doesn't have any other option like tilt or pivot but you can mount it easily because of VESA support. There are two HDMI 2.0 and DP 1.2 ports to fulfill your connectivity needs.
OSD calibration is accomplished by accessing the black stabilizer, game modes and the dynamic action buttons on the central pad. Gaming modes are similar to image presets which helps in reducing the lags by a factor of 50%. As the time decreases, you will not notice trails on the screen especially when the objects are moving at a fast pace.
Pros
32 inch screen size with 4K resolution is an ideal size for console gaming on PS4 Pro and Xbox One X.
HDCP 2.2 works flawlessly on both HDMI and DP ports.
Screen split ensures multi-tasking and boosts your productivity.
The combination of AMD FreeSync and dynamic action sync helps in reducing input lag and tearing.
Cons
5ms response time and 60Hz refresh rate is not great.
HDR support is absent.
Stand does not provide tilt and pivot support.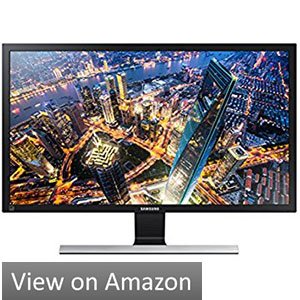 This offering from the company delivers sharp graphics with 4K resolution. The product imbibes wonderful gray scale performance coupled with speedy pixel response. It has TN panel with 170° horizontal and 160° vertical viewing angle. Luminance level mentioned in the specs is 370 cd/m² which means that you would be able to to do gaming on PS4 Pro and Xbox One X in quite bright environment.
It is housed in a black cabinet and with 0.75-inch bezels. The monitor is equipped with anti-glare coating that is non-reflective. Instead of having hosts of buttons, a single jog button is situated on the back side of the product to change the settings. Single button on Samsung is more intuitive to control the displays. People do not have to deal with a plethora of buttons as it happened in the past. Base sports minimalist design with nicely finished plastic and steel to make the product durable.
The monitor can be tilted from -2° to +15° however you may have to use both hands to accomplish the task. There are two HDMI ports on the back. One is version 1.4 whereas the other one is 2.0. You need to make sure that you 2.0 port to get 4K content at 60Hz. It also has DisplayPort 1.2 which also let you view games and movies at 60Hz refresh rate.
Jog button plays an important role in manipulating the settings and adjusting the menus. Picture menu includes not only brightness but also contrast, sharpness and magic angle settings. The last option provides optimal picture based on the viewing angle of the users.
If you want customized colored images, use the red, green and blue saturation level adjustments. In addition, use 6 colored and gamma temperature settings to get the desired picture on the screen. 4K images are sharp, versatile and look amazing on 3480×2160 resolution. Highlight, shadows and other details are clearly displayed. The accuracy of the pictures is comparable to other top-end models. Red and green colors are quite near to the benchmark coordinates. Skin tones of the players look surreal while rapid pixel response offers ghost free imagery to the users. It comes with AMD FreeSync and 1ms respone time, therefore, your console gaming ride will be very smooth.
Eco saving attribute of the monitor makes it indispensable for the users. In this mode, it consumes only 19 watts of power. Compared to the other brands, the offering from Samsung is more energy friendly.
Pros
Monitor imbibes clear images with razor-sharp resolution and high brightens levels.
AMD FreeSync along with fast response time minimizes input latency and removes image tearing and stuttering.
Menu to change settings is very intuitive.
Price is quite cheap for people who are on a budget.
Cons
Height and swivel adjustments are not available.
Only one HDMI has support for 60Hz.
It lacks HDR feature.
Conclusion
The above list contains some really nice choices for console gaming monitor on Xbox One X and PS4 Pro. We know that the above list could use some more HDR monitors but we have discussed already that market has very limited 4K HDR monitors at the moment. We still added some best options here after detailed research. When new high dynamic range monitors for PS4 Pro and Xbox One X will come into the market in coming months, we will update this list with more good options.