Whether it be for gaming, streaming videos, or browsing the internet, how great your computer is at delivering its features makes or breaks the experience of using it. Since computers are constantly being upgraded to include better and helpful features for users, for all those of you who have been stuck with the same monitor for a while, we are here to tell you that it is time to upgrade.
However, choosing the best 32 inch computer monitor is not an easy task. The market is flooded with an abundance of options, which make selecting the best monitor quite an ordeal. Just because you are bound to find a monitor in any computer shop you go doesn't mean it is worth the money.
Top 32-Inch Computer Monitors
Are you overwhelmed by the number of options which are available when selecting the best 32-inch computer monitor? Don't worry. We are here to help you sift through products and ensure that you choose the best item from the lot. Here are the top eight products on the market.
| Monitor | Display | Resolution | Panel | RT | Ports | |
| --- | --- | --- | --- | --- | --- | --- |
| LG 32MA68HY-P | 32" | 1920x1080 | IPS | 5ms | HDMI, VGA, DP, 2 USB 2.0 | |
| Samsung C32F391 | 32" | 1920x1080 | VA | 4ms | HDMI, DP | |
| BenQ PD3200U | 32" | 3840x2160 | IPS | 5ms | 2 HDMI, DP, mDP, 5 USB 3.0 | |
| Samsung SF351 | 32" | 1920x1080 | VA | 5ms | 2 HDMI | |
| LG 32UD59-B | 32" | 3840x2160 | VA | 5ms | 2 HDMI, DP 1.2 | |
| HP Pavillion | 32" | 2560x1440 | IPS | 7ms | 2 HDMI, DP 1.2 | |
| Acer XB321HK | 32" | 3840x2160 | IPS | 4ms | HDMI, DP 1.2, 4 USB 3.0 | |
| HP Omen | 32" | 2560x1440 | VA | 5ms | 2 HDMI, DP 1.2, 3 USB 2.0 | |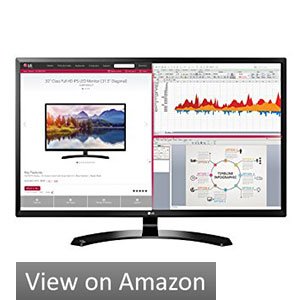 Are you looking for an affordable monitor that can be used for professional needs? If so, you might find the LG 32MA68HY-P to be an excellent choice.
Main Features
This 32-Inch HD IPS monitor features quite a lot of viewable area. When compared to a 24-inch monitor with an aspect ratio of 16:9, you will realize that this IPS monitor manages to deliver 70% more display area.
The full HD display along with the IPS panel ensures that anything displayed on the screen is clear and enhanced, regardless of how off-angle you are viewing the monitor.
Some monitors are quite hard to operate, which takes the fun out of using them as users find themselves spending too much time getting the monitor to work rather than actually using it. Those of you who despise such inconvenience might prefer the on-screen control option of this IPS model. This setting feature is easy to operate and makes the monitor comfortable to use.
One of the best features of this 32 inch monitor is the inclusion of a screen split 2.0. This characteristic allows it to display as many as four different windows simultaneously as well as 14 configurations. Hence, all the multitaskers out there are bound to find this HD monitor useful in getting different things done at the same time.
With LG 32MA68HY-P, the choice of using it either as a desktop monitor or as a TV is entirely yours. The latter is achieved by the fact that this LG model can be effectively mounted on the wall.
Pros
The included reader mode makes using the monitor for working sessions comfortable.
It is affordable.
The reflective surface of the monitor aids in enhancing the brightness of the screen.
Cons
Its resolution is too low for a 32-inch monitor, leading to a grainy output.
The on/off button's quality can be improved.
Everything always seems better when it is being viewed on a curved screen. Even if you take this feature out of the equation, Samsung has truly outdone itself when it comes to the C32F391. With a collection of features that normally are not provided together, this monitor has been successful in standing out from the crowd.
Main Features
The 32 inch monitor from Samsung comes with FHD resolution which is nice but not extraordinary in this age of 4K resolution, but we are not going to blame them as its price is a steal. It has VA panel which does a very good job of presenting accurate colors.
The design of the monitor has been lauded by the masses. The inclusion of an 1800R curvature screen has been delivered to ensure that users get an immersive viewing experience via this monitor. The curve is designed after taking inspiration from the human eye and strives to make viewing comfortable, which it has succeeded in doing.
Yet another feature of the design is its ultra-slim profile. When it comes to thickness, the monitor measures less than 0.5 inches and, hence, will barely take any space in your room. When you add this sleekness to the circular stand provided, you will agree that the CF391 looks quite sophisticated.
With a wide viewing angle, a contrast ratio of 5000:1, gaming mode and an HDMI output, this monitor offers an array of value-added features. The quality of the display is such that you can expect to see vibrant and clear images regardless of how bright or dark the scene is.
Pros
You can open multiple documents and apps on a single screen.
It is aesthetically pleasing.
It is easy to operate.
The monitor is durable.
Cons
The resolution is low for the size of the monitor.
The jog button is a hassle to use.
3. BenQ PD3200U 32″ 4K Designer Monitor
While there was a time when ultra HD monitors took a lot out of your pocket, with the recent influx of quality monitors in the market, you can now easily enjoy value-added features without having to spend a lot of money.
Main Features
This award-winning monitor is equipped with a dual view function. This allows you to simultaneously work in modes like darkroom and sRGB. The fact that the monitor performs the function of two screens has been a source of convenience for many.
This 32 inch monitor has IPS technology and an optimum pixel response rate of 4ms. This rate is workable for viewing pictures and videos as well as gaming. However, the latter might not be true for hardcore gamers.
The various display modes you can enjoy include darkroom, animation and CAD/CAM. This variety of modes ensures that users are provided with a detailed and enhanced viewing experience. Additionally, the keyboard, video, mouse switch aids in displaying the tasks of two PC systems. All you need to do is use this set of keyboard and mouse.
The manufacturers of this product care about your eye and have made the display to include low blue light as well as a technology which is flicker free. This guarantees that your eyes don't experience discomfort regardless of how long you use the monitor for.
Along with a 4K display and an IPS technology, the product also includes an ergonomic design. You can adjust the height, tilt, and pivot of the monitor as per your desire.
Pros
The screen displays vivid and bright output.
The dual screen allows for multitasking.
Excellent value for money.
Cons
Touch sensitive controls are not as responsive as we would have liked.
4. Samsung SF351 Series 32-Inch FHD Slim Design Monitor
Samsung is known for its quality and consistency in performance. The SF351 manages to uphold this legacy by delivering an abundance of features and a performance that is likely to satisfy most gamers.
Main Features
Aesthetics are important regardless of what you purchase. While some of you might purchase a monitor on the basis of its functionality, the fact remains that it must complement your other gear as well as the vibe of the room. Samsung gives a lot of attention to the style of its products, and this 1920×1080 resolution monitor is no different.
It has an ultra-slim design with a thickness of less than 0.4 inches. Therefore, you can expect to remain productive with the 16:9 aspect ratio and look great while doing so. Furthermore, its 5ms respone time along with game mode is quite nice for casual gaming. You will barely register the lag. The motion blur of the monitor is minimum, so fast-moving scenes will look real and thrilling.
This 32 inch monitor comes with two HDMI connectivity ports as well as a Windows 10 certification. This ensures that not only can you enjoy the latest features of Windows, but you can also attach the monitor to an external device easily.
The viewing panel of this FHD monitor is as wide as it can get. With a 178-degree angle viewing option, you are bound to experience a clear and vibrant display regardless of which position you are viewing the screen from.
The monitor also has Samsung's eco-friendly technology embedded in it. By reducing the energy consumption of the monitor, Samsung has succeeded in playing its part in making an environmentally friendly and sustainable product.
Pros
The monitor is high quality and durable.
It does not crash or lag.
It is a solid product with cheap price.
Cons
The color accuracy of the monitor can be improved.
5. LG 32UD59-B 32-Inch 4K UHD LED-Lit Monitor with FreeSync
A 95% color gamut, a stand whose height can be adjusted and a UHD 4K monitor – these are just a few of the many features delivered by the LG 32UD59-B. It serves to be an excellent addition to the 32-inch monitor range provided by LG.
Main Features
If you feel that the resolution of most of the monitors mentioned is this list is low, maybe you'll prefer the 3840×2160 4K UHD display of this monitor. When we say that it has a 95% color gamut, we mean that you can expect this monitor to encompass 95% of the color space. This ensures that you are provided with a wide range of colors.
Additionally, to ensure that you can get the most out of the product, LG has made it compatible with HDCP 2.2. This feature means you can stream videos from 4K streaming platforms as well as game consoles and disc players.
Moreover, the included AMD FreeSync technology plays a crucial part in preventing the tear and lag that may occur between the frame rate of your graphics card and the refresh rate of the monitor. Thereby, all the avid gamers out there will experience fluid and fast movement regardless of how heavy-duty the game is.
This 4K 32 inch monitor is also backed by a Black Stabilizer that keeps the visibility of the display screen intact, even for dark scenes. This is achieved by the ability of the stabilizer to convert the dark setting into a brighter one. This feature will come into quite a use during gaming since it guarantees that you are never caught off guard.
Pros
The onscreen controls make operating the monitor convenient.
The screen split aids in multitasking.
The adjustable viewing angle is a source of great comfort to users.
Cons
Some might find the output to be too bright for their liking.
6. HP Pavilion 32-Inch QHD Display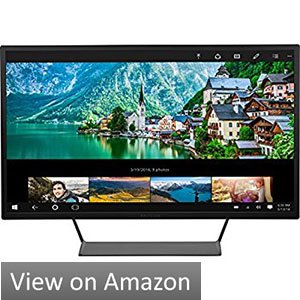 It is impossible to have a list of the best 32-inch computer monitors and not include an HP product. HP has been delivering quality computer gear for years now and is associated with quality and premium performance. This 32-inch QHD display is an example of HP's commitment to quality.
Main Features
HP has taken a lot of steps to make sure that this monitor provides immense convenience to users. One way it has done so is by providing an array of devices the ability to be connected to the monitor. This is achieved through the inclusion of dual HDMI and display port. Therefore, you can bid the need for adapters goodbye.
The product has a response rate of 7 ms and a resolution of 2560 x 1440 pixels. This QHD display along with its 10000000:1 dynamic contrast ratio allows the monitor to deliver vibrant and vivid images to users. This makes viewing photos on the monitor a nostalgic and memorable experience.
The design of the product is quite open. The open-wedge stand not only allows you to conveniently store your tablet and phone underneath the monitor when using it, but it also gives the monitor a stylish look which you are bound to appreciate.
The wide viewing angle of this 32-inch QHD monitor is enough to satisfy the masses. The panel has a WVA panel with a LED-backlit display and a brightness of 300 nits. Also, the product is accompanied by a one-year warranty. This is less when you consider the guarantees provided by some other brands, but at least, it is a start.
Pros
The contrast ratio is optimum.
The response time is satisfactory for average users.
The high resolution of the display makes this monitor a great platform to view videos and photos.
There were no dead pixels in this monitor.
Cons
You can't adjust the monitor vertically.
7. Acer Predator XB321HK bmiphz 32-Inch IPS Nvidia G-Sync Gaming Monitor
Ask any gamer and they will tell you that generally there is a trade-off between getting a 4K monitor and the smoothness of the performance the given product will provide. However, Acer manages to be an anomaly in this regard.
Main Features
One of the best things about this monitor is the flicker-less technology it contains. Individuals, especially gamers, often find themselves staring at the computer screen for extended time periods. This causes strain on the eyes which is likely to affect your performance. With Acer, you can let go of this worry. The fact that the display does not flicker automatically reduces the pressure exerted on the eyes, thereby ensuring comfort.
Moreover, since this 32 inch gaming monitor has an IPS display, it doesn't matter which angle you are viewing it from. The quality and clarity of the display will remain intact regardless. With a 0.185 pixel pitch and a 4ms response rate, the Acer IPS monitor has managed to be the ideal gear for all gamers out there. This is guaranteed by the fact that the monitor can cater to a high speed of data transfer along with a high bandwidth connection.
Rest assured that the lack of features in the monitor will not be the reason for your poor performance in a given match. It provides users with all the connection ports needed. This includes four USB ports so that you can easily connect your mouse, mobile, headset, and keyboard.
Pros
The monitor can tilt from -5 to 25 degrees and rotate up to 90 degrees, thereby providing users with a lot of adjustment options.
Since it uses mercury-free backlit lighting, the monitor consumes less energy.
The 4K resolution is perfect for gamers.
8. HP OMEN 32-Inch QHD Gaming Monitor with AMD FreeSync
A QHD panel, 2560 x 1440 resolution, a 10000000:1 dynamic ratio and various other features are delivered to users with the HP OMEN to provide them with the ultimate experience. Let's just say, the product lives up to the claims made by the manufacturer.
Main Features
The 32-inch gaming monitor has succeeded in providing up to 77 percent more pixels than a full HD display. Hence, with this QHD monitor, you can expect a much better performance and crisp quality output. Additionally, the refresh rate of 75 Hz along with a 5ms response time is fast enough to make sure that you are able to react to what is displayed on the screen in real time. The feature also prevents the occurrence of motion blur.
Furthermore, HP OMEN has taken considerable steps to eliminate lag and stutters in the performance of the screen. This is achieved through the AMD FreeSync technology. This technology syncs the refresh rate with the GPU and eliminates screen tears. Display Port 1.2 along with two HDMI ports are enough to connect the required devices to the monitor.
The high dynamic ratio aids in delivering satisfactory clarity and richness in both videos and photos. For further convenience of the users, the product includes versatile viewing where you can easily adjust the view by tilting the screen from -5 to 21 degrees.
Pros
The monitor is very stylish.
The ultra-wide display is ideal for photo editing and gaming.
The finish of the product is exemplary.
Cons
The colors of the screen are not as good as some of the other IPS monitors.
The default brightness is too high.
There are various things you should consider when selecting a monitor.
Things to Look For in a Computer Monitor
Here are a few factors you need to look for if you wish to ensure that you make a wise purchase. This holds true regardless of which size of monitor you are opting for.
Reasonable Price
A simple inspection through an online or physical computer shop will be enough to indicate the extent of price variations among different monitors. You will find both premium and low-priced products.
The prices are mainly set according to the type, features and size of the display. Hence, while you can find a comparatively cheap monitor if you opt for a 22-inch product, such a price range is generally unheard of for a quality 32-inch monitor. Those of you who wish to use a big screen should mentally prepare themselves for spending a little more money than usual.
Also, within this high price range of 32-inch monitors, you will find both basic and high-end products. The basic ones will have enough features to keep an average computer user satisfied, while high-end models are made after keeping the requirements of graphic designers in mind.
For those of you who wish for features like a USB port, a full HD display, and an adjustable stand along with other add-ons, be prepared for the extra money spent. However, always make sure that the price being charged is justified by the features. Surprisingly, there are a lot of products that charge an unreasonably high price. It turns out there isn't a trade-off between price and quality every time, so beware.
Optimum Response Rate of Pixels
Pixel response rate refers to the amount of time that elapses between the transition between either black to white or from one shade of gray to another shade. This rate is measured in milliseconds and the higher it is, the better the monitor is for video streaming and gaming.
All those of you who wish for the best monitor for their gaming adventure should choose a product which has a fast response rate, for example, 1-millisecond speed. If you are constrained by a budget, a monitor with a rate of up to 6 milliseconds will also suffice. However, there will be a minute lag, which will not be too apparent unless you are a hardcore gamer.
Unless the lag time is 25 ms, you are good to go.
High Resolution
The number of pixels your chosen monitor can display at a time plays an integral role in the quality provided by the PC. This is known as resolution. When you hear that a monitor is equipped with high resolution, it normally means around 1920 by 1080 pixels. In layman terms, the monitor can display around 1080-pixel resolution horizontally and 1080 vertically. Most 27-inch monitors are equipped with this. There has been a recent influx of WQHD and UHD monitors. These are ideal for graphic designers or individuals looking for detailed image viewing.
Selecting a high-resolution monitor guarantees that the graphics of the displayed videos and games will be up to par. Again, the higher the resolution of the screen, the higher the price of the monitor.
Pick a Size
One thing you will notice when buying computer monitors is how many choices you have to make. Apart from setting a budget, we believe the decision to select the ideal size is the most important factor of all. This greatly reduces your options, which is a good thing when you consider how many choices there are for each size.
Desktop monitors range between 15 to 34 inches in size, which is measured diagonally. The idea of having the biggest possible monitor may seem lucrative, but it is important to base this decision on factors like space and usage. For instance, if you are looking for a computer merely for browsing the internet, you don't necessarily need a 32-inch monitor. Instead, a 21-inch monitor will also suffice. Also, the bigger your monitor is, the higher the cost.
If you are not constrained by space and are on the lookout for a monitor which you can use to play games or stream videos, there is no reason why you shouldn't invest in a 32-inch computer. For the ultimate theatre experience, go ahead and get yourself a curved screen or a dual screen. For those of you who plan on doing so, ensure you select an optimum aspect ratio, maybe 21:9.
Curved vs Flat
You will also be required to choose between curved and flat monitors. Both of these types of monitors have their strengths. While a curved monitor makes for an ideal viewing experience, regardless of which position you are looking at the screen from, it does come at a significantly high cost.
Meanwhile, a flat screen is likely to be much cheaper than a curved screen, but you might not be able to effectively view the screen from all angles, which might diminish the use of the monitor for you.
At the end of the day, which type of monitor is best for you depends on what use you will put it to. We advise you to select a curved screen if you wish to stream movies and videos on the monitor. However, if you are merely looking for a monitor for general computer-related use, a flat monitor will suffice.
Look for Warranty
Guarantees provided by the manufacturers not only serve to make the investment convenient and cost-effective, but they also say a lot about the durability of the product. Most brands do provide their products with warranties. Your job is to select one which is equipped with an extended lifetime warranty. This will greatly reduce your long-term expenses on the monitor.
Why Should You Choose a 32-Inch Computer Monitor?
Most of you might think that a 32-inch monitor is too luxurious or impractical to have. While this might be true if you face budget and space constraints, for those of you who don't, here are a few situations where a 32-inch monitor will be perfect.
Gaming
Do you consider yourself to be an avid gamer? Do you wish to enhance the experience by making it seem as real as possible? Well, nothing will help you achieve this better than a large screen. Also, the stakes seem much higher when you are playing on a giant screen, like that of a 32-inch monitor. For all those of you who are looking for the perfect adrenaline rush, there is no better size than 32 inches.
Video Streaming
Who says only TVs are meant for watching your favorite shows? In reality, the world is moving away from broadcast TV with the arrival of streaming services like Hulu and Netflix. While there are various HD TV sets that can connect to the internet, a 32-inch monitor allows you to do the same. You can use it as a TV as well as a computer monitor. This multipurpose nature of a 32-inch computer monitor is bound to satisfy the masses.
Conclusion
All of the eight computer monitors mentioned above have been successful in delivering the required features at a justified price.
When it comes to choosing the best 32-inch monitor, we preferred the HP Pavilion 32-Inch QHD Display. This is because while many other products failed to deliver a resolution that goes well with the gigantic size of the monitor, HP Pavilion prospered in this aspect. When you add the high dynamic contrast and sleek design into the mix, you are likely to feel satisfied with the performance of this product.
Remember that your choice can be starkly different from ours. It all depends on what your preferences and requirements are. Analyze your needs and budget constraints and decide whether you need a curved or flat screen. After making the key decisions, sift through these eight products accordingly.
Purchase the best 32 inch computer monitor from a sea of products and make sure the price is justified. Watch it all on the big screen.