HP has introduced some great monitors in the market in the last few years and HP 24ea 24 inch monitor is one such product. The best thing about it is its cheap price with no compromise on its features. You are getting a beautiful design, great screen and decent performance at a price tag which will be in the range of many people who are on budget. That is why, company describes this offering as impossibly thin and irresistibly priced.
There is no point on spending thousand bucks on a monitor which is slightly better than this product. Before buying anything, you first need to assess your needs and budget. This offering from HP is going to fulfill both of these requirement for most of the people. 24ea is not targeted towards professional gamers and designers. If you are someone who spend most of the time doing any one of these two things then this monitor might not fit your requirements.
Keeping all these things in mind, we are going to review HP 24ea and after reading this review you can decide if this is that one product which is worthy of its place on your home desk or office workstation.
Design
This 24 inch model or 23.8 inch to be exact comes with beautiful thin bezel design. In terms of looks, it is almost as good as some other bezel-less monitors we have reviewed such as Dell UltraSharp U2415 and ASUS Designo MX279H. When you open the package, you are greeted with silver front and white back. It is extremely lightweight: 3.07 kg (with stand) and 2.69 kg (without stand). Moving 24ea monitor on your desk wouldn't take much effort.
The stand of this metal has open square design. It is manufactured from two separate pieces of metal but these can be easily attached. Although, its shape is unusual but it sill provides sturdy base and you wouldn't notice any wobble while using it even when you are adjusting OSD settings by pressing buttons at the bottom of the display. This stand has a tilt angle of -5 degree to 25 degree. It lacks any rotation or heigh adjustment option. We are fine with no rotation option but the lack of height adjustment can be a problem in multi-monitor setup.
Display
The 23.8 inches display of HP 24ea is really pleasing to the eyes with IPS panel and full HD 1920×1080 resolution. We were relieved to know that the company chose IPS display over some lower quality VA or TN panel. At this price point, some companies go with lower quality screens to save some extra bucks but credit should be given to HP for choosing a high quality display. Thanks to the IPS panel, you get 178 degree viewing angle with accurate details and vibrant colors.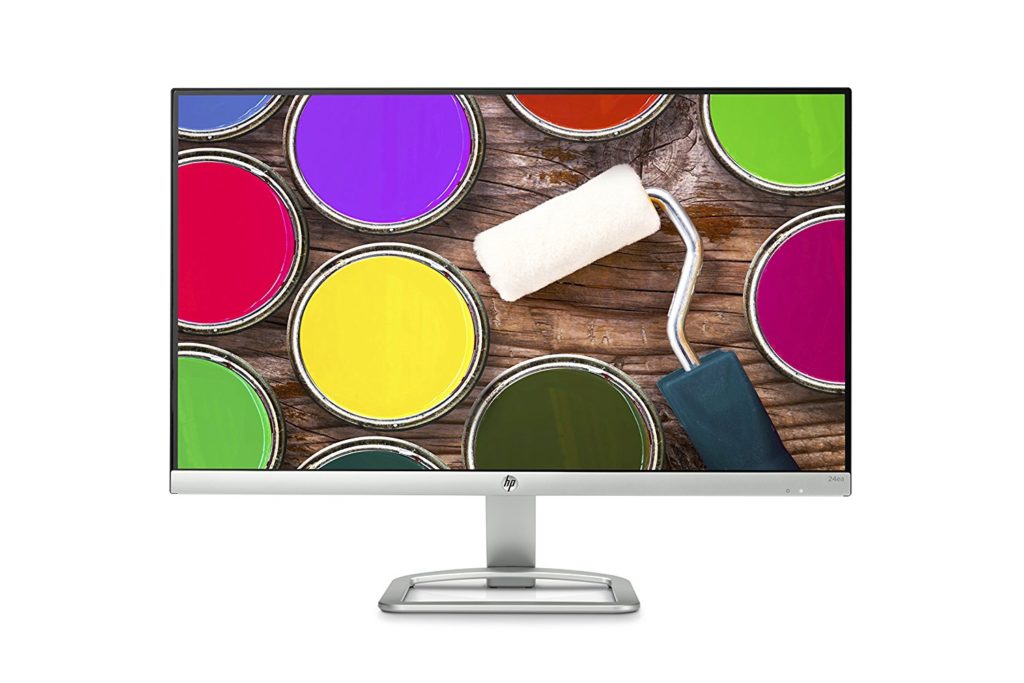 Brightness of this monitor is 250 nits and it comes with 10 million to one dynamic contrast ratio. This combinations results in crisp and clear image. We think that maximum brightens level could be increased to 300 nits because many companies these days are producing products with 300-350 nits brightness level. The aspect ratio is 16:9 which is the norm in most of the monitors these days. It will provide good experience while watching movies. The screen has anti-glare coating which will help in avoiding any glare when you sit in a lightened or sunlit room.
Performance
Hp 24ea has a response time of 6ms G to G with overdrive and 60Hz refresh rate. These specifications tell us that this product isn't manufactured keeping in mind professional gamers. If you belong in that category, then this monitor might not be for you. If you are a casual user who want to do some office work, web browsing, watching movies and playing games from time to time then this is a great choice.
Performance-wise it doesn't disappoint you because you get perfect bang for you bucks. On 64-step Grayscale test, its panel displays every shade of grey. The amalgam of accurate colors, 10 million to one dynamic contrast ratio and perfect grayscale makes it a decent choice for photographers and photo editors as well.
24ea has OSD settings buttons which are located at the bottom of the screen. With these buttons, you can open HP's My Display Wizard menu. In the menu, you can change contrast, temperature of colors, brightness level and greyscale according to your requirements. Quick View menu allows you to choose from five video presets. These video presets are movie, photo, gaming, text, and HP Enhance+. You can also create a customized version of it which will save settings according to your preference.
HP 24ea is one of the few monitors in the market with built-in speakers. It has 1.5W per channel speakers which sound decent but these are not very loud. If you are non-audiophile or don't want wires cluttering your desk, then these might be good enough for you.
24ea doesn't have VESA mount compatibility out of the box. You have to buy separate adapter in order to mount it. Although, that adapter only costs you a few bucks but we feel that HP could have added this functionality because this is a zero frame bezel-less monitor. One of the reasons to make such monitors is to use them in multi-monitor environment and lack of VESA mount capability defeats that purpose. You can overcome this shortcoming of HP 24ea by buying a bracket kit so this issue shouldn't be a deal-breaker for you.
Specifications
Display: 23.8″ LED with IPS Panel
Resolution: 1920×1080 (Full HD)
Viewing Angle: 178°(H)/178°(V)
Response Time: 6ms with overdrive
Refresh Rate: 60Hz
Brightness(Max) : 250 cd/㎡
Dynamic Contrast Ratio: 10,000,000:1
Speakers : 1.5W per channel
Ports: 1x HDMI, 1x VGA
Pros and Cons
Pros
Excellent design with thin bezels which is great for multi-monitor setup.
You get vivid and accurate colors on this display.
Cons
Stand lacks height adjustment capability.
6ms response time with overdrive and 60Hz refresh rate is not going to attract professional gamers.
No VESA mount compatibility. You need to buy separate adapter brackets.
Conclusion
Hp 24ea is a great buy as long as you are not a professional gamer or high-end graphic designer. Its design is eye-catching and screen colors are vivid. We would have loved to see VESA mount support out of the box and height adjustment for stand but these two features are not a must for every person. There is also a workaround for lack of VESA mount compatibility. Apart from these two things, HP 24ea performs well in performance area as well. We are sure that most of you would be pretty happy after buying this excellent monitor.
Check Price on Amazon [wp-review]