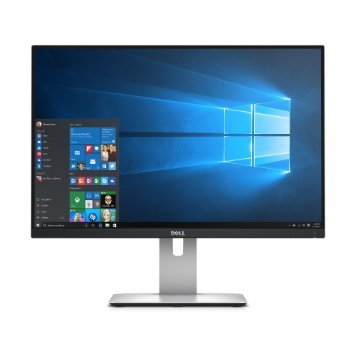 Dell is a clear leader when it comes to number of worldwide shipments of PC monitors. Dell's UltraSharp series has played a definite role in maintaing that lead. UltraSharp U2415 monitor is part of this series and the company has sold thousands of units of this model. This didn't happen because of some sheer luck. It was a result of combination of many factors. These factors were excellent design, magnificent display quality and features rich product without any compromise on quality. Consumers got all these qualities with affordable price tag and, as a result, sales volume of UltraSharp U2415 increased tremendously.
We are all praise for this offering from Dell but many of our readers might not know that what is so special about it? We are not saying that this product comes without any flaw. Like almost every other electronic equipment in the world, this one also has one or two shortcomings but they are small issues. Many people would find after reading this review that these issues are not deal breaker for them. Let's review Dell UltraSharp U2415 and see what this great monitor has in store for us.
Design
U2415 has an ideal size of 24 inch. Not everyone has space or budget for 27 inch monitors. 24″ is a perfect choice for most of the people. It is a thin bezel monitor with only 6.9mm thickness. This narrow bezel design really helps in increasing productivity if you are using these in multi-monitor setup. When these monitors will be placed side-by-side, you will get borderless experience.
It has a stylish black and silver outlook. Controls are present on the bottom bezel which is about 18mm thick. You can find four OSD control buttons and power on/off at the bottom right of the screen. These buttons are touch-sensitive. These are quite responsive and you wouldn't mind using these instead of physical buttons.
The stand of this monitor is really nice. It is silver in color and provide sturdy support to the display without any noticeable wobble. Stand and base are manufactured from matte plastics. With quick-release system, you can quickly attach and detach it. After removing the stand, screen can be mounted to VESA-compatible wall attachment or desktop arm. You can tilt it 21 degrees backward and 5 degrees forward. Display can be swiveled up to 45 degrees in either direction. It can be rotated up to 90 degrees clockwise if you want a portrait display. Height can be adjusted too if needed. All in all, you can tilt, swivel, rotate or adjust height without much fuss. This is the kind of flexibility you look for in a computer monitor.
Display
This 24 inch monitor comes with world class IPS display. Use of in-plane switching instead of cheap TN panels is a great choice as it exhibits much more clear images with accurate colors. The factory-calibrated IPS panel provides you beautiful vertical and horizontal viewing angles up to 178°. The display offers maximum brightness of 300 cd/m2 and 2 Million:1 Dynamic contrast ratio. It comes with 99% sRGB gamut coverage which means that you would get good image quality on this monitor.
Backlighting is uniform with no bleeding problems but please keep in mind that it can be an issue in some of the units shipped by Dell. Its screen has anti-reflective coating which prevents it from glare, smudges and fingerprints.
Dell released this model after releasing U2414H few months back. Design of both models is almost similar. The main difference is screen resolution.U2414H came with typical full HD resolution( 1920×1080 ) and 16:9 aspect ratio but UltraSharp U2415 comes with WUXGA resolution( 1920×1200 ) and 16: 10 aspect ratio. It means that you get more vertical resolution with this model. It also has slightly taller screen of 24.1″ than U2414H 23.8″. The mix of slightly larger display with extra vertical resolution provides great experience while playing games and web browsing.
Performance
Although, this monitor comes with 8ms response time in normal mode, we didn't notice any latency or input lag while playing games on it. Usually, monitor with low response time can be a candidate for ghosting or blurring issues but this isn't a case here even in fast-paced games. The refresh rate of this monitor is 60Hz which can be an issue for some pro-gamers but we feel that this refresh rate is perfectly acceptable at this price range.
OSD(On-Screen Display) settings are not deal-breaker for many people but after using it some might want to see some improvement in it. It is great that Dell introduced capacitive buttons instead of physical ones in this machine but they should light up when you touch them. Using them in the dark can be an issue. Responsiveness of these buttons is nice but it can be improved a bit.
Second problem is that input selection menu doesn't have auto-detect option. This means that if you are using a desktop and want to connect your laptop to the monitor, you need to use capacitive buttons again to manually switch the input.
Another issue is lack of 16:9 scaling support. You get only 5:4 and 4:3 scaling support with it. If you connect a device with UltraSharp U2415 which outputs 16:9 aspect ratio then, you will get result on your monitor in 16:10 aspect ratio and as a result you will see black bars at the top and bottom.
U2415 comes with great connectivity options. It has two HDMI(MHL) ports, one DisplayPort and one mini-DisplayPort. With USB 3.0 Hi-Speed Hub, you get 1 USB upstream port and 5 USB downstream ports. One of the downstream ports acts as USB 3.0 charging port to charge USB supported devices.
Specifications
Display: 24″ LED with IPS Panel and 6.9mm bezel
Resolution: 1920×1200 (WUXGA)
Viewing Angle: 178°(H)/178°(V)
Response Time: 8ms
Refresh Rate: 60Hz
Aspect Ratio: 16:10
Brightness(Max) : 300 cd/㎡
Dynamic Contrast Ratio: 2 Million:1
Ports: 2 HDMI, DP, mDP, MST, 5 USB 3.0 Downstream (1 with battery charging) and 1 USB 3.0 Upstream, 1 Audio Line out
Pros and Cons
Pros
Excellent bezel-less design which is perfect for dual-monitor or multi-monitor setup.
Factory calibrated settings are very good and performance is really nice.
There is no latency or input lag while playing games.
Beautiful IPS display with accurate colors and flicker-free backlighting.
Stand is capable to tilt, swivel and rotate. You can also adjust height.
Cons
You can scale it to 5:4 and 4:3 aspect ratio only. 16:9 scaling is not supported.
OSD doesn't come with AutoDetect feature.
Capacitive OSD buttons don't light up on touching them. This can be troublesome in dark rooms.
Conclusion
Dell UltraSharp U2415 is an awesome monitor with beautiful design, vivid display and smooth performance. It is close to perfect machine but a few tweaks in OSD would have made it a perfect product. Still, OSD issues are not going to be an important factor for most of the people in their buying decision as these problems aren't something which make U2415 unusable. These are minor issues for most of the buyers and you can live without them. When you see that this product ticks almost all the boxes you want to see in your monitor, then you will not think twice before buying this wonderful offering from Dell.
Our Rating
[wp-review]