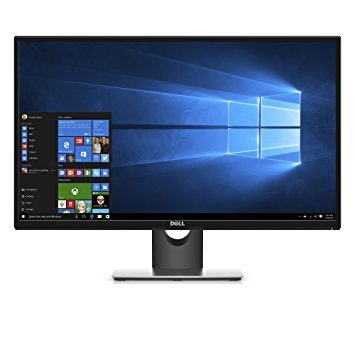 There is no doubt that Dell is at the forefront when we talk about manufacturing world class computer computer monitors. They just know what their consumers want from their products and design them according to their needs. If we start talking about their qualities and achievements, we might need another post but we are here to review their latest monitor which is Dell SE2717HX RVJXC. At the end of this review, you would be able to decide that whether it is another quality product from the company or is it an anomaly in their almost perfect monitors.
Before we proceed further, we are going to tell you about the target audience of Dell SE2717HX RVJXC. When we check its price and its 27 inch screen size, we can comfortably say that this is a monitor which Dell targeted to the people with budget. This is by no means a professional or gaming monitor. We are not saying that you can't do professional work on it or can't play games but if you are buying it solely for any of these purposes then this might not be the product you are looking for. It is good enough product for casual gaming, web browsing, entertainment and graphic designing.
Now that you have clear understating about its target audience, let's review Dell SE2717HX and see if it is a product worth buying or not.
Design
The design of this monitor is quite similar to the popular Dell UltraSharp Series. Its thin and glossy bezel adds a touch of class to the overall look and fell of the machine. It has screen size of 27 inch which is preferred by many people because it sits very well between large 34 inch or small 21 inch screen.
The back of this monitor is beautifully crafted with curved-back design. Piano black color on the back looks really pleasing to the eyes and takes its style to the whole new level. Like most of the other Dell offerings, its stand is also sturdy and don't indicate any wobbliness. The stand is silver in color and has a circular hole in it. It is not capable of height or swivel adjustment but it has tilt mechanism and you can tilt it at -5/+21 degrees. It is not VESA mount compatible so you will have to buy separate adapter bracket if you are planning to mount it.
Four physical OSD buttons are present at the bottom right side of the display. These buttons can be accessed easily if you want to make any changes to the display settings. Apart from lack of VESA mounting holes and limited stand capability, we are very happy with its design.
Display
The display of Dell SE2717HX RVJXC monitor produces bright and crystal-clear colors. The use of full HD 1920×1080 resolution along with IPS panel further enhances its excellence. Because of IPS panel, images and text are visible clearly from almost every possible front angle. If you want to know about it statistically, you would be pleased to know that this IPS panel will allow you to view clearly up to 178 degree horizontal and vertical viewing angle without any distortion in colors. Black levels are nice and it produces sharp images.
This Dell monitor comes with 16:9 aspect ratio, 16.7 million colors and 8000000:1 dynamic contrast ratio. It has matte screen which is great as it would help in reflecting sunlight or lighting. This display is powered with ComfortView technology which reduces blue light emission from computer screen. Your eyes would feel comfortable and as a result you can use your computer for longer time period.
Performance
Response time of 6ms and refresh rate of 60Hz is decent but it is not very good if you are a professional gamer. There are two things which we would like to mention in terms of performance if you like playing games. Firstly, this monitor has the capability to boost refresh rate to 75Hz if you are playing game on it from external device via HDMI cable connection. Secondly, it comes with AMD FreeSync technology which reduces issues like lag and ghosting. See? It is not all doom and gloom for gamers.
Our only gripe about SE2717HX RVJXC is lack of connectivity options. It has only one HDMI and VGA port. Multiple HDMI ports or DVI and DP ports would be great but we also have to say that even one high definition media interface is enough for some people. If these two connectivity options will fulfill your purpose, then you can go ahead and buy it without any hesitation.
Specifications
Display: 27″ LED with IPS Panel
Resolution: 1920×1080 (Full HD)
Viewing Angle: 178°(H)/178°(V)
Response Time: 6ms
Refresh Rate: 60Hz with VGA and 75Hz with HDMI
Aspect Ratio: 16:9
Brightness(Max) : 300 cd/㎡
Dynamic Contrast Ratio: 8000000:1
Ports: 1x HDMI, 1x VGA
Pros and Cons
Pros
Glossy thin bezel design and piano black back provides classy touch to the monitor.
75Hz refresh rate with HDMI cable connection helps in playing games without any lag.
AMD FreeSync reduces screen tearing and input lag for smooth gaming experience.
Dell ComfortView technology reduces eye fatigue.
Excellent price for a monitor with IPS panel and FreeSync technology.
Cons
Stand has only tilt function. You can't swivel or adjust height.
Connectivity is limited with only HDMI and VGA port.
There is no VESA mount support so you need to spend some extra bucks for separate adapter.
Conclusion
Dell SE2717HX RVJXC is not a perfect monitor and it does have some shortcomings but these shortcomings are not alarming. These can be dealt with and shouldn't effect your buying decision much. You have to look at the brighter side. There are some great things which you can associate with this monitor. When you take into account 27 inch screen, IPS panel and FreeSync technology along with the price, it wouldn't be wrong to say that it is a perfect deal for the people with budget.
[wp-review]