It is common knowledge that Apple sells a lot more portable MacBooks rather than desktops, but the one problem that is common to all the MacBooks is that most of them have a display size of less than 15 inches. It is a given fact that you have spent a premium amount of money on your Pro or Air Macbook, but if you are not able to use it for your design related activities, then the entire product becomes a waste. However, if you can use an external display to your portable MacBook, then it would be able to work out in your benefit.
Selecting the external monitor for your MacBook Pro or Air can be a bit of a problem since there are a lot of variants in the market. Well, we will help you explore how you can go about selecting from amongst the best products in the market in 2020 and 2023.


| Monitor | Display | Resolution | Panel | RT | Ports | |
| --- | --- | --- | --- | --- | --- | --- |
| LG 34UC98-W | 34" | 3440x1440 | IPS | 5ms | 2 HDMI, DP, 2 USB 3.0, 2 Thunderbolt 2.0 | |
| LG 27UK850 | 27" | 3840x2160 | IPS | 5ms | 2 HDMI, DP, 2 USB 3.0, USB-C | |
| Dell U3818DW | 38" | 3840x1600 | IPS | 5ms | 2 HDMI, DP, 6 USB 3.0, USB-C | |
| HP ENVY 34 | 34" | 3440x1440 | IPS | 6ms | HDMI, DP, 2 USB 3.0, USB-C | |
| Acer H277HU | 27" | 2560x1440 | IPS | 4ms | HDMI, DP, 2 USB 3.0, USB-C | |
| Dell U2414H | 24" | 1920x1080 | IPS | 8ms | 2 HDMI, DP, mDP, MST, 4 USB 3.0 | |
| ASUS PA329Q | 32" | 3840x2160 | IPS | 5ms | 4 HDMI, DP, mDP | |
| Samsung S34E790C | 34" | 3440x1440 | VA | 4ms | 2 HDMI, DP, 4 USB 3.0 | |
| BenQ BL2711U | 27" | 3840x2160 | IPS | 4ms | 2 HDMI, DP, DVI-DL, 4 USB 3.0 | |
| LG 34UM88-P | 34" | 3440x1440 | IPS | 5ms | 2 HDMI, DP, 2 USB 3.0, 2 Thunderbolt 2.0 | |
| ASUS MX239H | 23" | 1920x1080 | IPS | 5ms | 2 HDMI, D-Sub, DVI-D | |
Why You Should Buy External Monitor For Macbook Pro or Air?
The 16 inches or less screen size in your Apple notebook is not sufficient in case you have multiple tabs open on your browser all the time or you attempt to make use of split screens very frequently. You will be able to benefit a lot from having an additional monitor or set of monitors that will enable you to use a lot more space while at the same time enable you to conduct all your activities without any problems whatsoever. Honestly, it is always a good idea to have an additional display lying around so that you get the precise amount of design related features that you are looking out for.
Are Two Displays Better than One?
For most people, having two displays in their computer can seem to be an alien concept, and it is not something that they would want by their side. However, instead of being overwhelmed with this concept, which might sometimes look unnecessary, there are a lot of benefits that you could possibly get when you make use of an external display for your MacBook Pro and Macbook Air. For example, you can make use of the closed clamshell mode, a feature which was introduced way back during the introduction of the PowerBook G4 in the market. It enables you to make use of your MacBook Pro even when it is closed. However, what you would need is to have an external keyboard as well as a mouse, given the fact that your Mac will have its display lid down. This feature also works perfectly on Air notebook.
After that, all you need to do is to connect your portable Mac to your display, use the power supply and you are good to go. You will be able to work with your Apple laptop just like a desktop. What is more, you can take specific advantage of the different applications and split screen facilities that you would want with your new monitor and start working on it without any kind of problems.
Types of connectors
Over the years, there have been different type of connectors that have been used for displays, and all of them can be found in the monitors that can be used for the external monitor capability for your MacBook Pro.
Features to Look for in an External Display
These are some of the most important features you must look for before buying an external Macbook Pro or Macbook Air monitor of your choice in 2022 and 2023.
Aspect Ratio and Screen Resolution
Screen Size
Monitor and Panel Quality
Response Time
Viewing Angle
Brightness
Contrast Ratio
Budget
It is always ideal for you to have a higher resolution so that your display will be able to work better. In case you're looking to work with high definition video, then you need a minimum of 1920 X 1080 pixels. There are various displays that can offer much less, but that would mean that your high definition video would not be displayed in the native resolution. There are many displays that are over the 1080 pixels, and that should be the bare minimum that you are looking out for. The aspect ratio is also a very vital factor, and it refers to the proportionate understanding between the width and the height of the monitor at hand. Most of the displays, with the 16:9 or the 16:10 aspect ratios allow for a very wide display that can be used by Apple for its portable range.
The size of the screen is a very important factor, and it is basically dependent upon your budget as well as the work that you would have to do with the monitor. You do not want to make use of a 30 inch display if you are using it in a very small desk. Likewise, making use of a 19 inch monitor becomes too small for people working in design. The ideal size of the screen would be 24 inches with 1080 pixels. Anything bigger and you would not need it for quite some time.
When you are looking to choose the type of display that you would want to get, there are various models at hand. You could go for LED or the IPS display which is extremely common nowadays. However, there is a lot of confusion between the LED, IPS as well as the LCD monitors at hand. It is basically the lighting tubes and the primary mode of display that is in contention at this given moment. LED backlighting is amongst one of the best things that can provide you with a uniform backlight display without any problems. This will enable you to avoid any kind of dark patches or anything of that sort. Whereas, the IPS or the in-plane switching is relatively new concept and has been used in the recent iPad and iPhone.
However, unlike the traditional LCD display, that has a very limited viewing angle, the IPS display allows you to view the monitor from all angles and with all types of colors in its full glory. The benefit of using the IPS display is that the range of colors is excellent, and you would get more consistent and accurate results.
This is actually the time taken for the change of the pixel from one color to the other. It is normally measured in milliseconds, and the slower the response time, the higher is the chances for you to suffer from motion blur. Therefore, for the people looking at high definition video or a gaming, using a monitor with a very quick response time is a very important factor to consider. This is a very important feature which you should consider before buying an external monitor for your Macbook.
The viewing angles are extremely important, unless you are making use of the IPS display. The wider the viewing angle, the better would it be for you to have a look at the image from any angle that you would want. Moreover, the viewing angle when seen from the bottom to the top and vice versa will also be excellent to look at.
The brightness is a simple concept whereby you would get to see the amount of light the display produces, and how your video would look at that given moment. So, if you are editing videos on your external Macbook pro or looking to watch movies, then you need a higher brightness ratio to work in your favor.
The contrast ratio is basically the luminance of the brightest color in contrast with the darkest color within that range. However, it means that you would need a very good contrast ratio so that you do not have to face any kind of problems or any issues while looking at the picture at hand.
At the end of every discussion, you have to realize that budget plays a very important part in your selection of the external monitor for MacBook Pro or Air. Although it may be better for you to use multiple displays, but your budget will be able to dictate the amount and the quality of product that you would need to buy given your present condition. However, most of the companies have brought out budget friendly, excellent external monitors for MacBook Pro and Air that will not only perform to the best of its abilities, but will also look good.
Now you must have a complete knowledge of what things you need to look for in order to buy an external Mac Monitor. In order to make your life even more rosy, we are going to list and review some of the best external monitors for MacBook Pro and Air. Have a look at this list and get the one which perfectly suits your needs.
1. LG 34UC98-W 34-Inch 21:9 Curved UltraWide QHD IPS Monitor with Thunderbolt
LG has wide recognition as a company that has brought about stupendous products in the market for any category in the electronics sector. Their latest offering, the LG 34UC98-W 34-Inch with Thunderbolt is amongst one of the best products that you could find when it comes to external monitors for your MacBook Pro. It is definitely amongst one of the most popular choices for the professional designers as Mac monitor. It continues to mesmerize a lot of people who are hopeful to extract the maximum benefit out of their MacBook.
Some of the most obvious features such as the 34 inch curved IPS monitor that comes with the 21:9 ratio definitely provides for wonderful viewing. It is an ideal size for those who suffer from neck and upper back pain because large screen size ensures that you have an ergonomic posture most of the time. The monitor also comes with its own thunderbolt 2.0, which makes it super-fast in order to extract the maximum benefit out of the data transfer. There are two separate thunderbolt ports. The incredible data speed of up to 10 GB per second in each terminal is a wonderful addition to the device. The speeds are much faster than USB 2.0.
The USB 3.0 is also included within the monitor in order to provide quick charging facilities. You can quickly charge the battery with the help of the connected device, and this port also helps you to charge compatible devices much faster than the ones found in the USB 2.0 feature.
There is also the height adjustable stand which provides for a tilt stand feature. This is a great feature for people who want to design on Mac for a long time. With the PIP mode of the screen split, one will be able to get multitasking done effectively without causing any kind of strain to their current work schedule.
Pros
An amazing 34 inch curved monitor that has the IPS screen for the longevity and excellent throughput.
It has the sRGB rate of over 99%, and is properly calibrated with the color codes for excellent design work.
It comes with a height adjustable stand making it easier for people to work without any issues.
The latest screen split 2.0 which has PIP mode provides proper multitasking capabilities to the monitor.
It also comes with a dedicated gaming mode which consists of custom Modes for great onscreen gaming experience.
Cons
A few customers have experienced that there is a single line going through the screen after a few months.
Dead pixels after using it a few months have become a constant feature in this product.
2. LG 27UK850-W 4K 27 Inch IPS Monitor With HDR10 – Best USB-C Monitor for 2019 Macbook Pro
If you own a 13″ or 15″ late 2016 Macbook Pro with touch bar, then this monitor from LG will be a perfect candidate because it has a USB-C port which you can use to connect these models. Once connection is established, LG 27UK850 will act as an external display as well as battery charger for Mac.
The 4K UHD (3840 x 2160) resolution along with 27 inch IPS panel produces mesmerizing colors. Best thing about this model is inclusion of HDR10 technology which means that you will be able to enjoy more realistic images with better colors, contrast and brightness. sRGB of this USB Type-C monitor is more than 99% which is a testament of its color accuracy. These qualities make it an ideal buy for professionals and graphic designers. Some other important features of this monitor are on-screen control to quickly adjust monitor settings, split screen 2.0 to display multiple windows and FreeSync technology for gaming without any tearing or stuttering.
USB Type-C port in 27UK850 is capable to show external 4K video, data transfer and laptop or mobile charging. Apart from this, it also provides 2 x HDMI 2.0, 1 x DisplayPort and 2 USB 3.0 ports.
Pros
Ideal external monitor solution for USB-C based 2016 Macbook Pros, 12 inch Macs and latest Macbook models.
4K resolution, IPS panel and HDR10 results in breathtaking display.
Multi-functional stand is capable of tilt, height adjustment and portrait mode pivot.
Many connectivity options are available
Cons
There is no swivel option
There is no auto-input detection
3. Dell U3818DW 37.5″ Curved IPS Monitor – Best USB Type-C Monitor For Large Screen Lovers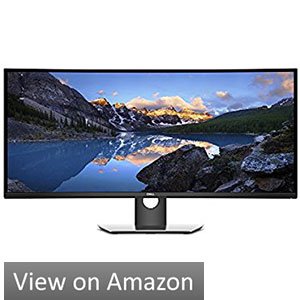 This product from the company is one of a kind with large 37.5 inch curved display and 3840 x 1600 resolution. There is no compromise on quality from Dell as it uses IPS panel along with factory calibrated 99% sRGB coverage. Presence of these excellent features will ensure that you get vivid and accurate colors even from extreme viewing angles. It has maximum brightness level of 350 nits which is quite nice. The response time of 5ms with 60Hz refresh rate is decent enough for smooth office, design and professional job.
When this much screen real estate is involved, you can easily go wrong with the design. Thankfully, this is not the case here as it has a well-thought design. Its borderless InfinityEdge display immerses you completely on what is happening on your computer screen and you don't get easily distracted by your surroundings. Unlike some other large size monitors, its stand is very sturdy and it is capable of height adjustment, tilt and swivel.
When it comes to connectivity, Dell U3818DW has got you covered with multiple options. The most pleasing part is USB Type-C aka USB-C port. With this port, you can easily connect your 2016-2017 Macbook Pro to it as an external monitor and you would be able to transmit power, audio and video without any problem. You can even charge your new Macbook Pro laptop as it is going to charge it at 100W. There are two HDMI 2.0 and one DP 1.2 ports too with HDCP 2.2 support. If these were not enough, you also get four USB 3.0 downstream and two upstream ports.
The two 9W integrated speakers are powerful and they are better than many other monitors with integrated speakers. On software side, you get Dell Easy Arrange which improves your multitasking and productivity by opening multiple screens at the same time. It also has a KVM feature which let you display and edit and content on two different PCs simultaneously with single action on keyboard, video or mouse.
Pros
You can easily charge and connect this monitor with 2016-2017 Macbook Pro because it has USB-C port.
Large 37.5 IPS display improves your productivity as you can multitask on it with ease.
ComfortView reduces strain on eyes by limiting blue light emission.
It has high quality speakers.
Cons
Price is on the higher side but it is a bit justified because of big and costly In-Plane Switching panel.
There is no adaptive sync technology for gamers.
4. HP ENVY 34 Inch Ultra WQHD Curved Monitor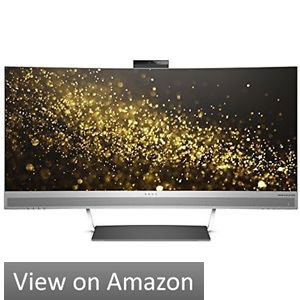 HP ENVY is one of the most popular series from the company. This USB-C external monitor for 2016 Macbook Pro has 34 inch IPS screen with beautiful curved design and Ultra WQHD resolution of 3440 x 1440 pixels. Its immersive screen comes with excellent color contrast and attractive picture quality. It is a very good choice for a person who loves big screen and want to use his Mac on a large canvas without any hiccup.
Response time of this monitor is 6ms with overdrive and refresh rate is 100Hz which are just above average specs for gamers. They shouldn't be too disheartened though if they have AMD graphic card because this HP ENVY 34 inch monitor has AMD FreeSync technology which will help them to avoid issues like input lag or ghosting
It has integrated Bang & Olufsen speakers which are decent but they are not very loud. If you are audiophile, you might need to invest in external ones or you can also use your Macbook speakers. Another great feature of this HP offering is 720p Privacy Webcam which you can pop up only when you want to use it. When you are not using it, you can tuck it back into the monitor. It is a nice way to keep hackers away from your webcam. It has 1 x Display Port, 1 X HDMI, 2 USB 3.0 and 1 USB-C port.
Pros
Visually stunning design and display with eye-catching colors.
Pop up privacy webcam is an intelligent way to get rid of hackers who are looking to take control of your camera.
AMD FreeSync technology provides peace of mind to the gamers.
It is VESA mount compatible.
Cons
Speakers are nice but they could be more loud when you consider the fact that HP had large space to integrate speakers.
You can't adjust the height of this monitor.
5. Acer H277HU kmipuz 27-Inch IPS WQHD 2560 x 1440 Display
Acer is a company that has thrived upon providing quality products to its dedicated customer base. In the latest Acer H277HU kmipuz 27-Inch IPS Display, they have been able to bring forward a product that is not only world class, but continues to rule the roost and would do so for a long time. It has one of the best possible qualities that a monitor can have and provides some of the best and crisp looking pictures with a wonderful display facility that brings about enough changes to make it a wonderful product in the hands of the user.
In terms of features, it has the IPS screen that provides extremely good longevity and durability, and has become a norm for most good quality external monitors for MacBook Pro. Moreover, the display resolution of 2560 X 1440 is good enough for most design applications, and continues to help people understand the benefits in the use of such a wonderful product.
It has a response time of 4 ms, which is extremely good and very much a necessity for the people that also take to gaming and watching high-quality videos. After buying this, you would definitely use this machine most of the time instead of your Macbook Pro or Air. The display technology is LED which looks pretty wonderful, particularly during work in a dark place. The screen size of 27 inches is good enough for most of the design work to be done and does not create any kind of display related problems.
Thanks to the IPS panel, it has a viewing angle of 178°, which makes it ideal for the people to work without having to strain their neck. The refresh rate of 60 Hz is also a welcoming addition, as well as a necessity for anybody looking at a good quality monitor. This is one of the best purchases for the people who have 12 inch retina MacBook Pro, and will definitely help them to undertake any kind of designing work that they would want without any issues whatsoever.
Acer H277HU is only able to charge 2016 Macbook models when you connect them with USB 3.1 Type-C port and doesn't show any output on the monitor screen. You can buy HDMI to USB-C adapter to make it work.
Pros
The monitor has a response time of 4 ms, making it one of the best monitors in the market with an affordable price range.
It comes in a smaller package therefore it is quite light and easily transportable.
The stand is adjustable in terms of height for the user.
It is ideal for the people making use of 12 inch MacBook Pro retina displays.
USB 3.0 support provides you with blinding data transfer speeds.
Cons
USB-C port on this monitor only charges 2016 Macbook Pro. It doesn't output anything on the display.
A little problem with this monitor is the height adjustment. Adjustment angle in the stand is pretty small, and might create a bit of a problem for the people with a humongous height.
Dell happens to be amongst those companies that have not only been able to create a niche for themselves, but they are amongst one of the behemoths of the computing world. They have been able to create products that are appreciated across the world, and are now one of the most coveted in the market. So, with their latest offering, which is the Dell UltraSharp U2414H 23.8″ Inch Screen LED Monitor, they have a product which is a sure shot winner when it comes to finding the best external monitor for MacBook Pro.
Some of the features of this Dell monitor include full HDMI display port which makes it a wonderful screen that enables you to get the product and view the display result in its full glory. This is a very good choice for Mac specially Macbook Air. The certified display is also extremely good-looking, and with an energy Star of 6.0, this is an efficient product as well.
The product has a display ratio of 1920 X 1080 pixels, which is more than ideal for the people looking at competitive gaming or even some basic design. Of course, this is not the high-end product that you would want to think about in terms of the display ratio, but it does have its own advantages.
This product is also energy efficient, coming with an energy rating of 6.0 stars. Therefore, you would be able to make use of this product even with a lower voltage, which would be particularly helpful when you are using it in a power consuming situation. This product would also support 100mm VESA mounts.
Pros
This monitor comes with the full HDMI facility in order to provide wonderful external viewing source for your MacBook Pro.
It comes with energy Star rating 6.0, making it a very power efficient model in your hands.
Cons
A few complaints for this monitor has been that the LED backlight starts bleeding, and the monitor is slightly smaller and can only go up to 1080 pixels.
7. ASUS PA329Q 32″ 4K/UHD 3840×2160 IPS HDMI Eye Care ProArt Monitor
Asus has been in the forefront of revolution when it comes to gaming devices, and there new model, the PA329Q 32″ Ultra HD 4K Eye Care ProArt Monitor is amongst one of the best products that you can find in the market. Not only does it have good enough resolution that can tackle any kind of gaming, but it can also enable you to proceed with excellent video editing capabilities with the help of your monitor.
The best thing associated with this Monitor is 4K Ultra high definition viewing which is equivalent to 3840×2160 resolution. This is a dream monitor for gamers, graphic designers and media enthusiasts. With 3840×2160 resolution, you can get the most out of your Macbook Air or Pro laptop.
It contains about four HDMI 2.0 input ports. With PA329Q, you get a true color reproduction of 99. 5% which has been factory calibrated in order to provide for excellent color accuracy. You also get the standard 2020 colors. The ProArt technology for calibration is amongst the best in the market and provides for uniform compensation with the 14 bit LUT or the look up table.
This monitor has been compatible with almost all hardware calibrators in the market, and comes with the capability of saving the color parameters in different profiles directly onto the monitor. That way, you can make use of this monitor in different computer systems without worrying about changing the system every time.
The design is ergonomic, and consists of height adjustment stand as well as swivel and pivot features that will make proper gaming and designing possible with the help of this monitor. It will be an ideal choice for your Mac laptop specially if you own retina Macbook Pro.
Pros
The product is a 32 inch monitor which has 4K display, providing for excellent viewing in the monitor and not coming across any problems whatsoever.
The ProArt calibration techniques are in-built into the system so that there is no need for looking at compensation by using different systems.
It is compatible with almost all hardware calibrators in the market, enabling you to save the profile of the color parameters separately within the monitor itself.
The height adjustments as well as an ergonomic swivel function makes it extremely good to take care of all your design needs and gaming entertainment features.
Cons
This monitor costs a lot, particularly for people looking at a budget external monitor for their MacBook Pro or Air.
No USB hub is present.
8. Samsung S34E790C 34-Inch WQHD Curved Cinema Wide External Mac Monitor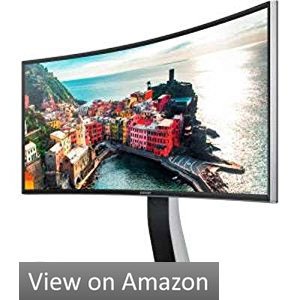 Samsung is extremely famous in the electronics sector. They have been able to provide excellence in terms of electronic gadgets that are being sold all across the world. However, the best thing about having a Samsung product is that you get the finest of quality in your hands without any issues or problems. Amongst all the other things that you can possibly think of in terms of good quality electronics, Samsung products already have them. This is the reason why people have a lot of trust on Samsung products, and the Samsung S34E790C Cinema Wide display is no different. This is a product that is amongst one of the best monitors for the MacBook Pro, and its capabilities are comprehensive and to the best in terms of needs of the customers.
This curved WQHD Cinema Wide monitor comes with a 21:9 curved panel, making it extremely good to look at and futuristic in design. It also enables you to get a lot more screen space within the least possible space required in the furniture.
TrustedReviews reviewed this product and concluded that this is a perfect product not only for games and movies but also for day to day tasks.
The Samsung S34E790C's curve feature is far from essential, but it adds a sense of immersion to games and movies while at the same time offering a great setup for day-to-day work.
With this, you get a quad high definition 3440 x 1440 resolution which is almost as good as 4K display. This is an excellent feature to have in any external monitor. WQHD resolution provides excellent gaming and designing experience for your MacBook Air or Pro.
The monitor also comes with the economic design, making it pretty easy to view when you are working for a prolonged period of time. It also consists of the height adjustable stand with that tilt functionality that makes it all the more important to look at. So, when working for long periods of time, one need not to worry about any problems in regards to the product.
The monitor comes with USB port, four in number so that it can be easy to connect any external data, or even hard drive in order to get them in your computer. Overall, the use of the USB port can also enable this monitor to turn into your television in case you are watching movies.
The best part about using the Samsung S34E790C is that it has a picture by picture split screen multi viewing source, which makes it phenomenal in terms of graphic design work that can be done on your MacBook Pro.
Pros
This product comes with the curved panel, which makes it extremely proficient in getting the best possible viewership without any compromises whatsoever.
You get quad high definition resolution with this product which makes it an extremely good monitor for you to use with your MacBook Pro.
It contains four USB ports, so that you can go for seamless data transfer without worrying about any problems whatsoever.
It provides for a split screen capability, thereby enabling you to put forward some of the best design related work without any issues.
Cons
The support system for the monitor is not good enough in comparison to most of the other models in the market.
Backlight bleeding is a frequent problem with the Samsung S34E790C.
9. BenQ BL2711U 27-Inch IPS UHD 4K LED Monitor 3840×2160 Display
BenQ is a stellar company that brings about a glorified change in how people perceive electronics to be a dying media. It is in fact a robust production house that is not only going to provide you with some of the best looking electronics within your budget, but also enables you to enjoy everything at your disposal. The new BenQ BL2711U 27-Inch IPS UHD 4K LED Monitor comes with 3840×2160 resolution. After using this monitor for a while, you would realize that this is a product that is at par with some of the best in the market.
This Macbook Pro monitor has 27 inch display, and boasts 4K Ultra high definition technology that comes with 100% sRGB color compatibility. It also has IPS technology, which provides for optimum look in that product. When you will connect your Macbook Pro with this BenQ offering, you would find that text on this monitor is crisp and colors are gorgeous. It is unlike some other displays in the market who have fuzzy text and images. It is not a bad choice for Air series as well but in most cases Full HD or WQHD monitors are recommended for them.
It has also been certified by SolidWorks, therefore you can conduct any kind of CAD or CAM models, along with animation mode and video editing with the best possible design oriented feature as well. Graphic arts should no longer be a problem for you as you will be able to get precise design and detailing done with the help of your monitor.
BenQ BL2711U has been very thoughtfully designed in order to provide for a large-sized display that has a double aspect ratio. It also contains the picture in picture as well as the desktop partition mode which is a phenomenal factor in terms of getting the product within the ideal setup.
With eye care protection technology, you would be able to focus on the computer screen for longer periods of time. It also contains the very recent Flicker free technology and has extremely good blue light modes that make it a gorgeous product by your side. This BenQ product has spectacular ergonomics, which maximizes the design in terms of convenience and comfort.
Pros
It has 4K UHD quality viewing pleasure. With ultra high definition resolution, you would be able to enjoy games, movies and graphic designing.
It has been certified to work on the CAD and CAM modes; therefore, providing for phenomenal animation mode, video editing as well as graphics work that can be done with pinpoint accuracy.
You get eye care protection with this, which leads to the concurrent flicker free technology. It also has the low blue lights mode which enables working in front of the monitor for long hours.
Cons
A common complaint in this product is that the controls are extremely clunky, and needs to be pushed quite a few times in order for it to work properly.
10. LG 34UM88-P 34-Inch 21:9 UltraWide QHD IPS Monitor with Thunderbolt
LG is without doubt one of the best known companies that can promote and provide you some of the best looking products for your computing leisure. It has by far one of the best-known reputable monitors in the market, and with the introduction of the LG 34UM88-P 34-Inch UltraWide QHD IPS Monitor with Thunderbolt, one can say that they have been able to introduce a product that is amongst the best in the market. Of course, there is a lot of competition, but this product from LG wins hands down.
The primary feature of this monitor is that it is an ultrawide QHD display that also has the IPS technology ingrained into the model. This way, people will be able to get the best possible viewing interface without any problems. It also has over 99% sRGB, making it context for any kind of design that involves a lot of colors. With 21:9 aspect ratio, 75Hz refresh rate and FreeSync technology, it is an excellent candidate for gaming monitor as well.
This Macbook monitor also comes with 2.0 thunderbolt ports so that seamless integration and transfer of data can be done without any kind of problems. It has USB quick charge facility that enables appropriate charging to be done without consuming a lot of power. The monitor is pretty efficient, and is also provided with a five-star energy rating. There are on screen controls in the monitor so that you need not always go into the computer to control the viewing interface.
Pros
This monitor comes with the ultra-wide IPS display that is excellent to look at, and also consists of QHD viewing with aspect ratio of 21:9.
It has sRGB of over 99%, making it a considerably good product that you would want by your side.
The monitor also has 2.0 thunderbolt ports, two in number, which makes it appropriate for excellent and lightning fast data transfer without any problems.
It also contains the USB quick charge facility to extract the maximum benefit out of this product.
There are on screen controls in this monitor so as to maximize the usability even without your Macbook Pro or Macbook Air.
Cons
After use for about six months or so, the monitor starts developing a line of red pixels, which is basically due to the problem with bad cable.
11. ASUS Designo MX239H 23″ Full HD External Monitor For Macbook Pro or Air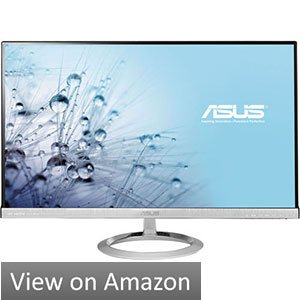 Asus is not a company to be trifled with, and with this new monitor, they have been able to provide a legacy behind them that is unparalleled in the monitor segment. It is with this new Designo series that they have been able to put a precise monitor with a sundial design that looks exceptional, and works like the beauty it is. It is one of the best contenders for external monitor to be used with MacBook Pro or Air. The edge to edge frameless design provides for excellent ultra-wide viewing angles with 178° of incredible visuals by your side.
It is a 23 inch monitor that is full high definition, and also comes with IPS technology so as to make it a robust product. ASUS Designo has a wonderful design that is award-winning in terms of ergonomics and consists of a sundial design making it a worthy purchase on your part.
ASUS Designo MAX239H has excellent video intelligence technology that has been automatically optimized in order to provide the best possible image quality, brightness, contrast and color and sharpness. It has a smart contrast ratio that changes dynamically between the display contrasts in order to provide lifelike images. The output result you will get after connecting your retina Macbook Pro will surely impress you.
You will also get the rapid replacement warranty of three years with a two-way free shipping. There are separate HDMI and VGA port inserts in this monitor, making it a versatile product that you would want by your side.
Pros
As a monitor, the 23 inch full HD feature in this product is amongst one of the best that you can find in the current market scenario.
It has IPS technology along with a wide 178° viewing angle making it ideal as an external monitor.
The monitor also comes with a studio; amplifier as well as sound optimization technology that can provide for premium immersive audio features without any issues whatsoever.
It has double HDMI and VGA ports as separate inputs.
Cons
There is the absence of height adjustment in the monitor, and it does not contain any Mount.
No USB hub is present which some users might want.
Conclusion
In effect, we have provided you with some of the best external monitors that can be used for your MacBook Pro and Macbook Air. There is a lot of information that you need to look at when selecting external displays, so it is always worth focusing upon the information that is provided to you in this guide. It is always important for you to check up on the reviews and recommendations, be it from the online stores or even from your near and dear ones before you purchase the product.
So, go ahead and purchase the best external monitor in 2022 and 2023 for your Mac that seems to be the likely candidate to find a place in your workspace.