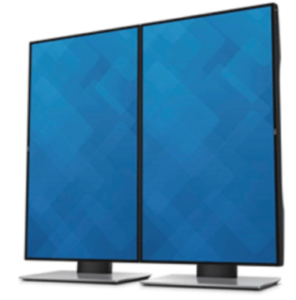 There comes a time in every computer user's life when they outgrow their displays. Many users accept this limitation, cramming windows in the limited space they have and training themselves in the art of quickly switching between them.
Many computer users don't realize that switching to a dual monitor setup isn't as expensive as it once used to be. It offers users more freedom to spread out and do more with greater ease and efficiency. It also makes for a more immersive experience, whether you are consuming media or playing a game.
For users with no prior experience, shopping for the right monitor for a dual screen setup could be a bit complicated. There are some important considerations, which we will discuss briefly at the end of this article. There is also the matter of price. We tested a number of monitors that meet the criteria of dual screen setups and shortlisted five of the best that you should definitely consider.
1. Dell U2718Q – Best Overall Dual Setup 27-Inch Monitor
The U2718Q from Dell's Ultrasharp line is a premium 4K HDR IPS LCD monitor. Dell markets it as a professional display for designers and content creators. It is a sleek and beautifully designed monitor that will look just as great on an office desk as it will as part of a gaming setup.
The base of the Dell U2718Q measures 11.5 inches wide with a depth of 7.9 inches. This is a bit on the wider side compared to some displays, but it is still compact enough not to take too much space on the desk. It balances the screen well, and its metallic finish goes nicely with the monitor's overall aesthetic.
The monitor is ergonomically designed with great adjustment options. It can be used in both landscape and portrait modes. This gives it an advantage over other displays by increasing its usability in a dual screen or multi-screen setup. The bezels are ultra-thin at 0.3 inches, which aids in dual setup. Its an ideal product for coding, graphic designing or any other work you want to throw at it.
At the back of the display are generous options for connectivity. One HDMI port, one DisplayPort, one mini DisplayPort, three USB 3.0 ports, and an AUX headphone jack line up on the sides of the monitor's back panel. It should be noted, however, that HDR is only supported with an HDMI connection.
With support for 10-bit colors, the monitor delivers vibrant colors and color-accurate results which is ideal for eye-catching dual monitor setup. The display comes calibrated to cover almost the entirety of the sRGB color gamut, which delivers a sufficient range for professional design work.
However, as soon as users switch to HDR, the situation with color accuracy changes. Although the monitor does support HDR10, this is hardly of any use due to the absence of a sufficient color gamut or contrast to enhance the viewing experience. The display is also not bright enough for HDR viewing.
Pros
Thin bezels
Generous connectivity options
Can be used in landscape and portrait modes
Fast response time for FPS gaming
Ergonomic stand
Accurate color reproduction
Cons
HDR is software emulated only
Performance deteriorates in HDR
AMD FreeSync is absent
2. Alienware AW2518HF 24-Inch Dual Setup Gaming Monitor
Alienware has made itself into one of the top authorities in gaming hardware through a mix of groundbreaking performance and unparalleled reliability. This 24-inch display with a blazing refresh rate is meant for FPS gamers who want the performance of Alienware at a considerably lower price tag.
The base of the monitor has a very small footprint. It comes in a unique tripod design that does not take a lot of space on the desk. Despite this design choice, the stand does a good job of keeping the display stable. The base of the stand has clips, so you can conceal any cables for a neater aesthetic.
Everything about Alienware AW2518HF build emanates quality. From the metal tripod to the metallic matte finish that covers the rest of the body, this is a beautifully crafted monitor with signature Alienware accents on the back. The bezels are ultra-thin and blend well with the display.
Being a gaming monitor from Alienware, it does not disappoint with connectivity options. The monitor features two HDMI ports, one DisplayPort, four USB 3.0 ports (one of which allows fast charging), and an AUX headphone jack. All these ports hide underneath the monitor panel.
Sitting underneath a matte anti-glare coating is a 240Hz TN display panel. The colors are sufficiently vibrant for a TN panel, and it delivers some great brightness and luminance balance. For avid FPS gamers on a budget, this is a great buy as it comes with FreeSync and offers a low input lag of just 3ms.
Although the display does not disappoint, hardcore gamers will be able to tell that this is a budget offering with some evident limitations. The TN panel with its average image quality might deter some users, but it has a fast response time, which will give gamers an edge in battles.
Pros
Fast response time
Low input lag
Sleek build
Ergonomic display stand
Plenty of connectivity options
Supports AMD FreeSync
Cons
A bit costly for the performance offered
TN panel offers an average image quality
3. Dell SE2719H – Best Budget Monitor for Dual Setup
The Dell SE2719H is another great pick for a dual monitor setup in 2023. In fact, it is one of the best if you are operating on a budget. In essence, this is a barebones but capable monitor with decent viewing angles and minimal bezels, so windows will flow seamlessly between multiple monitors.
The stand is just what you would expect from a monitor at this price. It is stable but has a considerable footprint. At 10 inches wide, it will take some space on your desk. It also only offers tilting capabilities, but this is to be expected from a budget monitor. There is also no VESA mount for wall mounting.
The design is simple yet elegant. Despite the low price, Dell delivers a clean and sleek product that will look classy on any desk. The surface has a black glossy finish, which goes well with the monitor's aesthetics. The monitor has slim bezels on all sides except for the bottom.
As we mentioned, this model is pretty barebones. This is especially evident in the connectivity options it provides. The monitor only comes with one HDMI port and a VGA port. There is no DisplayPort available, which many newer models now come with. There are also no USB ports present.
The SE2719H isn't a gaming monitor, and it doesn't claim to be. The display has a resolution of FHD 1080p with a refresh rate of 60Hz and a response time of 5ms, which is fairly standard. This is a monitor designed for office use, as the color accuracy isn't the best and the screen isn't as vibrant as you would want it to be. However, the monitor's display limitations don't take away from its value. It still performs quite well for media consumption and even standard gaming. The display offers a good contrast rate of 1000:1. It is only in FPS gaming that some avid gamers might find its performance to be underwhelming.
Pros
Affordable
Slim bezels
Good build quality
Decent viewing angle
Clear display
Cons
Limited connectivity
Color accuracy is not great
4. Acer SB220Q Bi 21.5-Inch Monitor
Although Acer doesn't advertise it as such, the SB220Q is a great budget gaming monitor. It falls easily in the affordable range for many and delivers an impressive gaming performance at this price. Its slim form factor also makes it an excellent fit for dual and multi-monitor displays.
For most of its monitors, Acer goes with a round display stand. This design choice does much to reduce the monitor's footprint. However, depending on the desk and where you would be placing it, the round base could be annoying for some. This display also comes without VESA compatibility.
The SB220Q is a budget monitor, so don't expect a premium build. Acer does, however, do a good job of making it look premium with a combination of gloss and matte finishes. Where the monitor's design particularly excels is its thickness. The monitor is ultra-thin, measuring at a nominal 0.24 inches.
Acer has had the good sense to use an IPS panel. The panel has two strengths: an accurate color reproduction and a large viewing angle. The display delivers vibrant colors and consistent shadows that enhance the viewing experience, whether you're streaming a movie or playing a game.
This model only offers basic connectivity, which is to be expected. It also isn't a huge dealbreaker as it does come with an HDMI port, which remains the mostly widely used connectivity option. Also present is a VGA port. However, a DisplayPort would have been a valuable addition for gamers.
We mentioned the monitor's gaming prowess earlier. The SB220Q offers a decent refresh rate of 75Hz, which is higher than many budget monitors. It also delivers a low response rate of 4ms, which helps reduce blur and ghosting in games. Pair this with FreeSync, and this is a solid budget dual monitor setup.
Pros
Affordable
Decent gaming capability
Higher than average refresh rate
Good viewing angles
Accurate color reproduction
Cons
Limited connectivity options
No VESA compatibility
5. HP VH240a 23.8-Inch Monitor
The VH240a from HP is another affordable monitor that is great for a dual screen setup. It has an FHD display and delivers a reasonable quality at this price point. It won't blow you away with its vibrant colors, but it won't prove to be a disappointment either. The monitor is great for work, programming and casual gaming.
HP has designed this monitor with a beautiful matte finish all over. Like many other monitors of this type, it comes with a rectangular base that has a considerably large footprint. This would not have been a huge problem had the stand been flat, like we have seen in some of our earlier recommendations. For users with sufficient space on their desk, this probably won't be an issue.
Everything else about the stand impresses. It is exceptionally ergonomic with numerous adjustment options. These include the ability to raise or lower the screen, tilt it, and even rotate it for use in portrait mode.
HP did do some cost-cutting with the connectivity options it offers. The monitor only comes with a single HDMI port and a VGA port. There is also no 3.5mm line-out for audio, but there is an audio jack. The monitor also comes with integrated speakers that produce a decent sound quality for normal use.
With a 178-degree viewing angle, the IPS display produces vibrant and consistent colors, regardless of the viewing angle. The monitor does need some manual calibration to produce the best colors, but adjusting the settings is easy, even for new users.
Gaming on the VH240a isn't exceptional, but it will perform well without any considerable annoyances. The monitor has a refresh time of 5ms and an input lag of 11ms, which is reasonable. It won't give you an edge in FPS games, but it won't be a limitation either.
Pros
Good value for money
Wide viewing angle
Accurate color reproduction
Integrated speakers
Extensive adjustability options
Conclusion
When selecting a monitor for your dual display setup, it is important to consider a few things. You want monitors that are easy to connect to your system so that you're not messing around with adapters. Hence, consider the available ports and select a monitor that offers the relevant connectivity options.
Bezels are another important consideration, as is evident from our recommendations. The thinner the bezels, the more immersive and seamless the viewing experience is going to be on your dual monitor setup.
Each recommendation above packs tremendous potential. The Dell U2718Q is the best monitor for a dual screen setup in terms of the value you get for the money. However, if budget is a consideration, both the Dell SE2719H and the Acer SB220Q offer tremendous value, with the latter providing an impressive gaming performance.