"Game over" does not just appear on our screens when it is the end of a trial, an accomplishment of a level or when hopping on to another upgraded version, but it is the start, a fresh beginning to a different dimension of enhancements and creation.
Yes, you have got it right. It is about the magnificent reconditioning of the well-known digital animation world, also known as advanced computer gaming. Portable, Ultra memory storage, wide screening, excellent built-in hard drive, extreme VR support are some of the core properties that make gamers to drool on to the latest manufacturing strategies.
What can be more satisfying than having your hands on your favourite controllers? Recently, the latest versions of most famous PlayStation (PS5) and Xbox Series X and S were launched which have become the talk of the town since past few days.
Microsoft Xbox Series X gaming console is going to let you enjoy games in 4K upto 120fps whereas Series S is targeting 1440P at 60fps. When it comes to Sony PS5, it boasts resolution up to 4K with 120 frames per second support. Our top picks of 2021 below are curated keeping in view these steps. We will keep it up to date with new great monitors which comes to market complimenting these specs.
1. Asus VP28UQG 28 Inch Console Gaming Monitor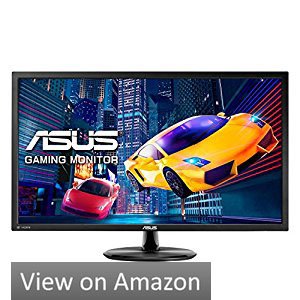 In this modernized era where people are passionate about technology and driven innovation whenever we talk about reliable manufacturers, Asus always comes to our mind. Asus has marked themselves as best leaving all other companies behind. Serving form past several years the items that they compose and sell have proved to be highly resistant and supportive with reasonable prices. The gaming monitors that Asus has been composing highlight a standard which is quite well-known among passionate gamers. Like all other advanced console gaming monitors that they have launched Asus VP28UQG 28 inch monitor is one of the most populous amongst all. It is designed with the special endurance which is specifically for the gamers to enjoy the full-fledged experience of PS5 and Xbox series X and S easily.
Talking about the features of Asus VP28UQG we will have a look at its appearance first which is quite sleek and gives us a modernized idea about this gaming monitor. The display size is about 28 inches with 4K UHD 2160p resolution which will go well with your Xbox Series X or PS5. It comes with 60Hz refresh rate which means that you may not be able to fully use 120Hz FPS capability of your console but its not bad when you think that there are limited options out there featuring both 4K and 120HZ in a monitor. In addition to this, the display colour is 1037.7 M 10 bits and the maximum contrast ratio is 1000:1. All this allows an adaptive sync/ freesync supportive graphics source to dynamically display refresh rate. Another interest provoking thing is 5 Way OSD joystick delivers intuitive monitor controls so you can access features such as ASUS Game Plus on the fly. Asus also has a rapid replacement three-year warranty service.
Pros
Solid gaming performance.
28 inch screen that gives enjoyable gaming experience
Excellent three-year replacement warranty along with two-way free shipping is provided with this product
Supports AMD's Free Sync technology
Affordable price
Cons
The height of the monitor can't be adjusted
Slightly skewed colour accuracy
Lacks USB ports and speakers
2. LG27GN950-B 27 inch UHD Nano IPS 144Hz Display Monitor
LG is known for its excellent quality in different parts of the world. It is not just a name but a trademark which has built belief on the customers for over 60 years. They made sure that each machinery they make is splendid. Talking about the monitors that LG has manufactured are also admirable as the performance is always up to the mark be it gaming or general usage. From the time LG has started manufacturing console gaming monitors it has been quite challenging for other companies to survive in the market. Also, LG manufactured the world's first 4K Nano IPS 1ms gaming monitor which can support Xbox series X, S and PS 5 like no other monitor can. Let's list down its features so that you can get to know about it more.
Initially, we will be telling you about the outlook of LG27GN950-B monitor which is classy black. It comes with a screen that gives you the choice to adjust the height of monitor as per your convenience. LG27GN950-B is one of the best creations so far. It is designed with 4K UHD resolution and the display is 27 inches that gives Goosebumps to gamers.
The Ultra gear technology is astonishing as it delivers an unpanelled massive experience. Adding to it, Nano IPS supports express high-fidelity colour for reproducing vivid screens while VESA display HDR600 delivers dynamic contrast and colour scheme. As perfect gaming experience comes with incredible speed so LG27GN950-B will not lack in this as well. The monitor can re-imagine every scene with vivid responsive IPS screen at 16:9 screen ratio. Moreover, it displays realistic, true colour, enhanced contrast, clarity and detail while delivering ultra-fast 1ms response rate. It offers buttery-smooth performance thanks to its G-SYNC compatibility, 144Hz refresh rate, low input lag. This Monitor is capable enough to handle any gaming console whether its Playstation 5, Xbox X or Xbox S.
Pros
Adjustable screen
It has 4K UHD resolution
VESA display HDR600 which delivers dynamic contrast and vibrant colours
Rapid response rate
Plenty of features including Freesync up to 144Hz
Cons
Slightly high in price
Design lack swivel option
No HDMI 2.1
3. AOC CU34G2X 34 Inch Curved Frameless Immersive Gaming Monitor
The company that has never failed to provide the best gaming monitors did not disappoint us this time as well. The name is undoubtedly AOC which has continued to raise the standards for design and performance. Coming towards the marvelous innovation which is also manufactured by AOC is the CU34G2X 34 Inch, curved frameless immersive gaming monitor. As the name suggests it is 34 inches curved and frameless which is one of the most dominant and attention provoking element of this monitor.
Continuing the elaboration, CU34G2X monitor has a display of 34 inches with ultra-wide Quad HD resolution(3440 x 1440) and VA panel that provides wide viewing angles and wonderful colour displaying. After the display, the most important thing which matters is the speed. The company designed it in such a way that it has a rapid response speed of 1ms and 144Hz of refresh rate with adaptive sync and ultra-smooth competitive gameplay. Moreover, it is free- sided frameless with 1500R curvature specially designed for the gamers to provide them with massive entertainment. The height of the monitor is adjustable making it easy for the users during extended gaming sessions. Not just this, but the manufacturers are kind enough to replace any damage one time within a year.
Pros
Adjustable stand
Excellent contrasting
Blur reduction up to 144 Hz
Rapid 1ms responsive rate
Extended colours
Economical prices
Cons
Low light output
HDR doesn't look much better
4. LG32GK650F-B 32 Inch QHD Gaming Monitor
Yet another monitor and LG continue to maintain its tradition to stand out of the crowd providing the spectacular quality and innovative experience for us. The manufactures remain the same, but the products are always admirable and aspiring for many. When it comes to the LG32GK650F-B we can say that this monitor is simple yet amazing because the features are truly incredible.
Firstly, we will be telling you about the physical appearance of LG32GK650F-B monitor. The colour is classic black and it is designed with great simplicity for the customers. Its sleek frameless design makes it look more like a TV screen. As we come towards the display it has a QHD resolution (2560 x 1440) for the gamers to enjoy the thrilling and immersive gaming experience. It might be an ideal candidate if you are low on budget and planning to buy Xbox Series S. Freesync technology reduces the tearing and stuttering that occurs between a graphic card's frame rates. Rapid monitor refresh rate enables smoother motion and less stuttering while playing. LG32GK650F also has the advanced gaming features that include dynamic action sync, action while black stabilizer revels the enhanced detail in dark screens and the crosshair feature enhancing FPS games. Lastly, LG32GK650F-B is virtually borderless which means that it has ultra-thin bezels on three sides of the streamlined display. This makes the display more virtually borderless adding a glossy look to the monitor. It does not come with a damage replacement warranty.
Pros
Economical Price
Comes with AMD free sync
Rapid refresh rate
Virtually borderless
Streamed lined display
Cons
Does not have an adjustable stand
No speakers
Slightly skewed greens
BenQ is the company which believes that the design and technology function best when they are served according to a real need and the want of the people. As we have been informing you about the best console gaming monitors BenQ did not step back in this concern as well. BenQ has manufactured many gaming consoles, but today we will be talking about BenQ EL2870U 28 Inch 4K monitor. It is marked as the best one since the time it has launched and has a 5 star rating all over the internet. The customers who have been using it claim, that it has enough endurance to run gaming stations like PSP5 and Xbox series (S and X). Continuing further, let's talk about the features of this excellent quality console gaming monitor more.
BenQ EL2870U 28 Inch 4K monitors is one of the best console gaming monitor that comes with high resolution of 4K 28″ LCD TN (3840×2160) display screen which acts an attractiveness element in this console. The manufacturers of this monitor favored the customers by adding an eye comforting technology for extended gaming sessions. The first thing which counts in this concern is the proprietary brightness adaptive feature that adjusts the brightness for feasible viewing. The second one is the low blue light zero flicker ability that prevents headaches and eye strains.
BenQ EL287OU 28 Inch 4K monitor has the buttery hindrance free gameplay as well. For smooth gaming, AMD freesync is present to overcome the problems like tearing and broken frames but it supports up to 60fps only. HDR is also present for greater brightness and contrast levels producing clearer images. This console gaming monitor can even have HDMI and the display port input for multi-device connections. The experience of playing the game along with the thrilling sound quality is crucial. BenQ EL287OU monitor does not lack in that as well. It has built-in speakers x 2 along with a headphone jack. Moreover, it consists of an integrated cable management system which steadily hides the cables inside the monitors stand and the connectivity technology is HDMI 2.
Pros
Supports HDR content
Low input lag
AMD FreeSync
Affordable price
All-purpose Monitor
Cons
Normal colour performance
Few port options
TN panel
Weak built-in speakers
Not fully adjustable stand
When we think about the world's leading companies with the supplying rate increasing each year having better conduct and reliance Dell always comes into our mind. It is one of the most popular brands of digital electronics from the last 10 decades that has made a significant revolution. The reason why this company kept growing without any downfall is that the manufacturers are extremely conscious when they compose a product be it a general appliance or a console gaming monitor. Gaming monitors that Dell has launched are popular among the gamers as they have proved to be sustainable and comfortable for hindrance free gaming. So we will be telling you about the one of the best console gaming monitors for PS5 and Xbox series (S and X) that Dell has manufactured.
Dell S-series S2719DGF 27-Inch screen LED-lit gaming monitor is the one that we have been talking about. As the name already suggests it is Dell S- series with 27 inch screen. Initially, the thing that needs to be discussed is the display which is most important of all. It has 2560 x 1440 QHD resolution with 144fps support that gives sharp experience and tear-free graphics. The refresh rate is as rapid as 155Hz and AMD freesync for super-smooth visuals is present as well. Another significant feature of Dell S-series S2719DGF is that it gives blazing fast and responsive gameplay with 1ms response time. Furthermore, the gamers can enjoy vivid edge to edge gameplay and crisp QHD resolution which is almost two times more than the full HD. Taking about the brightness of this monitor it goes up to 350 candela per square meter that is suitable enough the long term gaming sessions. This was all about the features of this amazing monitor which leaves one astonished while looking for a perfect gaming monitor.
Pros
144Hz refresh rate with 1ms response time
Supports AMD FreeSync
The rapid response rate of 1ms
Movable and adjustable stand
Affordable price
Cons
Low contrast ratio
No HDR support
Typical TN panel fading at extreme off centered angles
Does not have DisplayPort cable
Conclusion
To sum it all up, we can say that there are six elaborated choices for all types of customers. Each company that is mentioned above has a history of splendid products form the last several decades. The manufacturers have put in their hard work and skill manship to prove that each gaming monitor is extraordinary in its way. From most affordable to least all are given above with their specifications and features for you to choose according to your taste. As PS5 and Xbox series X and S launch is just around the corner so now is the chance for you to select the best console gaming monitor for your massive entertainment. We tried our level best to help you out so you can get to know about the monitors that are available in the market. If you are in a hurry don't forget to look at the pros and cons of each monitor which will give you an expanded overview. We hope that you look at the choices in front of you keenly enough and purchase the one that suits you for your entertainment needs. You deserve the best.