The good old saying 'Size doesn't matter' might be ideal for some contexts intricate for your heart, but trust us – if you're a hardcore gamer, or someone looking for a superior display for your computer, you'll mess up with your choice if you go by that saying. You would not want to loose your hard earned money by following that saying.
Yes, size DOES matter when you're selecting your monitor. The bigger it is, the better… or as we talk about the 34-inch stuff here, can we say 'the wider it is, the better?' Let's find out!
| Monitor | Display | Resolution | Panel | RT | Ports | |
| --- | --- | --- | --- | --- | --- | --- |
| Acer Predator | 34" | 3440x1440 | IPS | 4ms | HDMI, DP, 5 USB 3.0 | |
| Dell U3415W | 34" | 3440x1440 | AH-IPS | 5ms | HDMI, MHL, DP, mDP, MST, 6 USB 3.0 | |
| LG 34UM58-P | 34" | 2560x1080 | IPS | 5ms | 2 HDMI | |
| VIOTEK GN34C | 34" | 3440x1440 | VA | 4ms | HDMI, DVI, DP | |
| Samsung S34E790C | 34" | 3440x1440 | VA | 4ms | 2 HDMI, DP, 4 USB 3.0 | |
| HP Envy 34c | 34" | 3440x1440 | SVA | 8ms | HDMI, MHL, DP, 3 USB 3.0 | |
| ASUS MX34VQ | 34" | 3440x1440 | VA | 4ms | 3 HDMI, DP | |
| LG 34UM68-P | 34" | 2560x1080 | IPS | 5ms | 2 HDMI, DP | |
The UltraWide Experience
You must be wondering at this point, why is there such a fuss over this particular dimension – the 34-inch monitor. So let's answer that question first.
As you may have perceived, modern computing involves a lot of multi-tasking. This necessitates running multiple windows on your screen, simultaneously. Even modern versions of the popular operating systems are built keeping that in mind, which is why Windows 10 was instantly preferred by users– there's the snap assist where you can arrange two windows side by side, the corner snap which takes this a step further by offering the ability to snap four windows together on the screen.
When you take a closer look at this rise of the need for multitasking, you'll be aware of one primary complication that surrounds it – the screen size. You can take full advantage of these multitasking features only if your screen is of the right size. We can oversimplify this by stating that bigger monitors support multitasking – and that won't be entirely wrong.
The main issue or hindrance you'll face in multitasking is a smaller monitor. Here, the display is already small and snapping multiple Windows, say four of them as mentioned above, would render each individual window so small in size, that you'll hardly be able to read anything on it, or end up straining your eyes.
The simplest solution is, of course, a larger monitor but there's always a limit to how large a computer monitor can be. If you're thinking about those colossal 65-inch TV's at this point, let us tell you it is not really pleasant experience, especially if you have to sit in front of that for longer periods.
The next solution is a multi-monitor setup. These can be very effective when you need a lot of information displayed on your screen at the same time. But the obvious disadvantage here is the ugly bezels between the screens that are totally a let-down. Moreover, setting this whole thing up isn't a child's play and can be really messed up.
To solve these problems, manufacturers have started releasing UltraWide monitors. These super cool screens ditch the traditional 16:9 aspect ratio that monitors usually come in and offers a wider 21:9. That means, depending on the size, you're looking at screen resolutions of around 2560-pixels or 3440-pixels wide by 1080p or 1440p high, with screen sizes varying from 29 to 34 inch. That is a ton of horizontal working space without those bezels interfering or disrupting your UltraWide experience.
So Why 34 inches?
Remember we said how UltraWide monitors range from 29 to 34 inches and beyond? So why do we prefer the 34-inch monitor? Let's dig into the advantages that helped us come to this decision.
So why would you primarily buy an UltraWide screen – for multitasking or gaming right? That's where you truly experience how these monitors have an edge over traditional 16:9s. Smaller UltraWide monitors might not lead up to this true experience. It is not really an upgrade if you switch from a traditional 32-inch 16:9 screen to a 29-inch UltraWide Screen. On the other hand, 34-inch UltraWide monitors serve that purpose remarkably and contribute to a true UltraWide experience.
Best 34 inch Monitors 2018 – Buyer's Guide
Now that the basics are said, let's move on to the more complex part of the process – how to determine which is the best 34 inch monitor out there? Now, this is a complicated job. Especially with so many options in the market, and also the new developments that are made every day by large manufacturers, to be ahead of the curve.
With all these confusions still at large, we've prepared a list of 34 inches monitor which we think are your best bets in the present market. The list has been prepared after thorough research, keeping the essential points of differences that give some products an edge over the others.
Let's discuss some of those points before heading on to the list.
Budget
Curved Display
FPS, Refresh Rate & VSync
UltraWide monitors (similar to the multi-monitor setups) are a costly affair. You cannot shell out 100 dollars and expect to get a top notch screen for an ultimate experience, so let's not be unrealistic here. While budget monitors in the $100-150 ranges can be fantastic deals while you're in the market for usual 16:9 monitors, the scenario is totally different for 34 inches UltraWide monitors. Here we are looking at a range that starts around $350-400 and goes all way up to $1000 range if you're looking for the ultimate choices.
Remember the old times when CRT monitors had screens curved on the outside? Latest research proved that they really messed it up! Even flat screens, with all their viewing experience propaganda, hasn't totally been on the point too. Seoul National University Hospital had conducted research that revealed TV and monitor displays should be curved on the inside. Only that way, the screen can respond to the natural curvature of the human eyes, matching its field of view and offer a new ergonomic ideal. It also reduces eye-strains in the case of continuous viewing, compared to flat screens. Now how is that for an innovation in technology?
If you're a hardcore gamer, FPS, refresh rates and sync – these are probably the alphabets that make up your language. Even if you are someone who plays a lot of media on your PC, you know how substantial these can be.
The FPS (Frames per Second) is the technology that is effective in achieving the illusion of natural motion, on your screen. While FPS is more dependent on your CPU and GPU, your monitor surely plays a part. This is where the refresh rate comes in. The refresh rate is measured in frequency (Hz) which is the number of times per second your monitor can refresh (redraw) the screen.
Lower FPS and refresh rate can both ruin the day for you if you're looking for a remarkable gaming experience. Any anomaly such as FPS being higher than refresh rates usually result in glitches like screen tearing.
VSync (Vertical Synchronization) is another technology which prevents screen tearing by making your GPU synchronize its action with your display. Although it limits your frame rate to the refresh rate of your monitor.
You have to carefully note all 3 points mentioned above to be able to buy the best 34-inch monitor, or you'll end up spending a lot without actually experiencing the true aura of an UltraWide display.
With all that said, let's head on to the list.
1. Acer Predator X34 34″ Curved UltraWide QHD Monitor
You'll probably not find any list of computer monitors without a couple of entries of Acer products. The company has been producing great monitors over the years. The Predator, from the house of Acer, is a flagship gaming monitor. Yes, we call it an absolute gaming monitor right away because its specs suggest that for gamers, this is a beyond HD monitor of their dreams!
Coming to specifications, the Acer Predator X34 comes with a 34-inch curved display with the 21:9 aspect ratio. It boasts a native resolution of 3440×1440 which is quad high definition. It has a refresh rate of 60Hz, but it can be overclocked up to 100Hz. Coming to connectivity it sports 1x display port and 1x HDMI port.
The design is striking, with the width of the bezels reduced to an inch or lower. This is important as an UltraWide monitor is supposed to be made for a multi-monitor setup in the first place. The lower bezel also sports the word 'Predator' in a font that is really appealing to a gaming-mind.
The Acer Predator is an example which rightfully separates a gaming monitor from a normal monitor. With the WQHD resolution, Gsync, 100 Hz refresh rate, and DTS audio, the UltraWide package carves a niche for itself amidst all the competition.
Lying underneath all the technical extravaganza is a beautiful IPS display sharp colors. It also bears the ability to display 1.07 billion colors. It also offers a contrast ratio all way up to 100 million: 1 and displays one of the darkest blacks you'll find. The entire picture looks really uniform and beautiful in the 34-inch wide screen.
The flicker free LED backlit and the 4ms response time even adds up to the gaming performance the display felicitates. The monitor also incorporates Nvidia's Gsync technology. Remember we discussed how that helps to smooth out the glitches?
To conclude, the Acer Predator 34-inch computer monitor could be a gem for hardcore gamers or media editors or creators alike.
Pros
One of the best 34 inch gaming monitor
Striking design
Great color contrast & display with a great IPS panel
Quad HD resolution
Nvidia Gsync
Cons
Limited number of ports
Audio could be better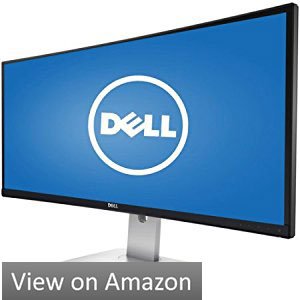 Dell is another unavoidable name when it comes to listing computer monitors. With the UltraSharp U3415W, Dell has joined the race for the best UltraWide monitors. We'll be bound to say that this beast has one of the best performance among the 34-inch monitors we've reviewed.
Acer has impressed us with the specifications. Similarly the Dell UltraSharp sports a 34-inch WQHD screen, which is curved and provides a fantastic panoramic view. Underneath we have an LG AH-IPS display with a resolution of 3440×1440. The panel also supports 1.07 billion colors, with 1000:1 contrast ratio. Coupled with that, we have a 5ms response time with a 60Hz refresh rate.
When it comes to design, the Dell UltraSharp is quite similar to usual Dell monitors. Although, the monitor sports extremely thin bezels on both the sides, which is gray in color and a thicker black panel below. The panel border is only about 0.67 inches in size and completely disappears when the monitor is switched off.
The monitor comes with robust adjustable stands, which is typical of modern Dell monitors. It allows you to tilt the screen up to 5 degrees forward and 21 degrees backward. The monitor also comes with VESA compatibility.
Coming to connectivity, the monitor has 1 HDMI port, USB 3.0 hub and a 3.5mm audio output. The monitor comes packed with 2x 9W inbuilt speakers, and if that's not enough for you, the audio jack will come handy.
The AH-IPS panel offers a good output with the ViewSonic brightness and the picture quality is on par with similarly priced monitors. The color reproduction is really great and produces impressive images right out of the box. The viewing angles are also great with the curved display.
Dell is offering a multitude of picture settings with this monitor. Apart from the usual brightness, contrast and gamma settings, there is seven other picture presets – Standard, Multimedia, Movie, Game, Paper, Color Temp, and Custom. These are intended to offer you the best-tweaked mode for a range of situations.
To conclude, this 34″ monitor offers a great UltraWide experience. With great color reproduction, users dealing with photography or editing would soon get a liking for this one.
Pros
Great color reproduction
Many presets that offers best settings for different occasions
Range of ports offer great connectivity
Ergonomic freedom with VESA support
Cons
Blacks could be better
Not the best speakers
3. LG 34UM58-P 34″ 21:9 UltraWide Full HD IPS Monitor
Be it in the television segment or the computer monitor, LG has been a favorite name for all sets of users alike. The brand has produced good products consistently across so many ranges over the past few years that the name itself appears to evoke a sense of security while you're in the market for something.
Another strong point about the company is their reasonable price points, and that is the case about LG's 34UM58 monitor too. While the previous entries hovered around the $1000 price point, you can buy this monitor for under $350.
Coming to the specifications, the monitor comes with a 34 inch IPS display with a full HD resolution of 2560×1080. It has an aspect ratio of 21:9, which is usual for all UltraWide monitors and has a refresh rate of 75 Hz. It also has a response time of 5ms. Delving into the connectivity, this monitor has a couple of HDMI ports only.
The LG IPS panel is quite always a safe deal, which is why other brands have used LG's IPS from time to time. The IPS is great on this one too, and offers a good color reproduction which covers over 99% of the sRGB spectrum. The monitor also has great viewing angles, and everything looks crisp and detailed with the resolution.
The availability of Split Screen 2.0 is surely another striking feature of this monitor. You can customize the UltraWide layout for multi-tasking by resizing and keeping multiple windows on the screen simultaneously. It offers multiple options such as the double window or 4 picture in picture options.
The on-screen control is another great addition, especially considering the price range. It hosts all essential controls such as volume, brightness, picture mode presets which can be dealt with one click mouse control.
The 5ms response time in 75 Hz monitor isn't something you can boast of but is a decent deal for gamers in this price bracket. The company has also managed to include a preset Game Mode that supports first person shooter or RTS preset mode. Additionally, there is a Black Stabilizer that you could set to which reveal superior detail in dark scenes, and Dynamic Action Sync feature (similar to Nvidia's Gsync) for smooth, fluid gaming experience.
To conclude, LG's 34UM58 is a great deal if you are into professional photography or graphic designing. Although this isn't the best monitor in the list, it is an ideal choice for people who don't want to shell out around $1000 for a 34 inch monitor.
Pros
Good LG IPS panel
Split Screen 2.0 with multiple options
On-screen control adds up to a friendly UI
Preset Game Mode for improved gaming experience
Nice reviews from customers
Great budget pricing
Cons
Not QWHD, Full HD monitor resolution in 34-inch screen
No inbuilt speaker
Lacks in connectivity
4. VIOTEK GN34C 34″ Curved Widescreen Gaming Monitor
Viotek is an online virtual warehouse for tech products. In contrast to the other segments of the present monitor market, the race for the best 34-inch monitor is the one easier to compete in and make a name. This is where the VIOTEK GN34C comes in. It is the only curved monitor from the company in the 34-inch range, and they are offering it at an aggressive price tag to get a hold of the market.
Moving on to the specifications, the monitor has a 34-inch curved screen coupled with a resolution of 3440x1440p with 21:9 aspect ratio. Underneath lies a VA panel with LED backlight. It comes with a 100Hz refresh rate with 4ms response time and has a dynamic contrast ratio of 20,000,000:1.
VIOTEK hasn't compromised on connectivity. The monitor comes with dual-link DVI, HDMI and DPI ports, which lets you use it as your regular computer monitor, plug it into old media players or new gaming consoles without any issue at all.
Coming to the aesthetics, the monitor is an UltraWide 34-inches with white, rather visible bezels on the sides. It is apparent that VIOTEK hasn't tried to play around with the bezel-less format that is quite popular among other manufacturers. This is possibly why they've come up with white bezels. On the other hand, if you're hooked on to the matte black or metallic looks, this selection might be a deal breaker.
The UltraWide screen lets you multitask with ease. It is also suitable for gaming enthusiasts, media lovers or users professionally into photography or graphics work. The 100Hz refresh rate is a good plus for gamers. Moreover, the monitor comes with AMD's FreeSync technology, which eliminates visual lag or screen tearing, making your gaming experience hassle free and engaging.
VIOTEK has also included the much-needed PIP functionality that lets you split your screen, and use multiple screens. You can switch between two or more multiple tasks effortlessly. The company has even gone a step further to include a built-in feature that combats blue light which is responsible for eye strain and fatigue. This feature will really come as a boon if you're someone who needs to sit in front of your monitor for long periods.
To conclude, this monitor can be a great deal because of its cheap price. The wide screen will surely help you whether you're playing your favorite RPG or working on a complex spreadsheet. VIOTEK has given considerable attention to all departments in this product and the implementation of AMD FreeSync helps you enjoy your monitor with lesser lag and more clarity. With FRS / RTS optimization, this can be one of the best ultra-wide monitors for gaming.
Pros
QWHD display
AMD's FreeSync technology to eliminate lags
100 Hz refresh rate with great dynamic contrast ratio
PIP functionality
Inbuilt technology to reduce eye strain
Great budget pricing
Cons
Not bezel-less display
No inbuilt audio
5. Samsung S34E790C 34″ Curved WQHD Professional LED Monitor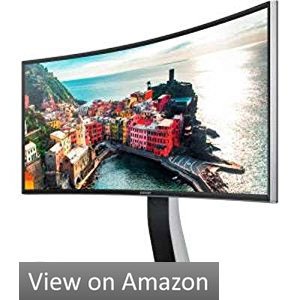 Samsung is another desirable name when it comes to PC components. Their high-top performing and quality products, reasonable pricing along with a knack for innovation have really set them apart in the competitive market. The S34E790C is another announcement of their philosophy.
For users interested in a big, immersive experience, Samsung has left no stones unturned. The S34E790C is built in such a way that it fills your Field of View (FOV) quite nicely. It is a 34-inch UltraWide screen which is curved around your eyes for ultimate viewing experience. It comes with a resolution of 3440×1440 coupled with an aspect ratio of 21:9.
Coming to the built, the monitor is well designed. It has a thin, almost non-existent glossy black bezels on a sleek monitor stand with ends in an extending base. This is in a brushed back texture. The monitor comes with height adjustable, ergonomic tilt functionality. You need to note that swivel isn't required on a curved display as it already covers the field of view.
Connectivity wise, Samsung hasn't included a DVI port but has recompensed that sufficiently by adding on a 4 port USB 3.0 hub, 1x display port and 2x HDMI ports. It also has a headphone port although the monitor already has dual inbuilt speakers.
Underneath lies a Samsung VA panel that offers a QWHD resolution, 60 Hz refresh rate and standard 4ms fast response time. You may grumble about the absence of IPS display but Samsung has managed to provide a very good color and contrast on this one. Samsung states that the panel is capable of covering 99% of the sRGB color spectrum and 76% of the Adobe RGB gamut. It might not really be at par with premium displays but the monitor manages to produce good bright colors and dark blacks. The contrast performance is really good while gaming too.
The controls and response time was decent and gaming is a decent experience on this one. There might be a slight issue of interlacing during some of the fast paced games but that is not really a deal breaker because there's a powerful backlight that delivers measured uniform brightness and Samsung's color gradation was impressive too. Playing movies and media on this one is a wonderful experience altogether. There are two magic bright modes – the cinema mode and the dynamic contrast mode.
To conclude, if you're looking for premium looking monitor with a good overall performance, Samsung really delivers with this monitor. It sells for an attractive price which is going to appeal gamers as well as professionals. Gaming performance is really well despite the minor flaws and you'll not have any complaints about movies and other media. Moreover, Samsung is a trustworthy brand is the market and provides quality after-sales services.
Pros
Impressive QWHD resolution
Consistency in image quality
High catching, vivid colors
Great connectivity options
Balanced overall performance
Attractive pricing from a trusted brand
Cons
Some minor interlacing or blurring during games
No IPS display is a compromise
HP has been coming up with a sophisticated range of PC components over the years. As it stands, most of the manufacturers in this segments have come up with their own range of 34-inch curved UltraWide monitors, and Envy 34c is HP's player of that race.
You get a beautifully crafted 34-inch curved panel with the usual 21:9 aspect ratio. The monitor comes with a QWHD resolution of 3440×1440. The company has used an SVA panel for this one and it has a refresh rate of 100Hz, coupled with an 8ms response time.
Out of the box, the monitor looks really futuristic with the UltraWide screen balanced on an H-shaped stand. It has a massive form factor, and the inclusion of the DTS speakers on both sides of the screen, adds even more to its width. Their color factor and design is oriented in such a way that you'll only notice the speakers when the screen is on. HP hasn't tried to make it bezel-less and the monitor comes with rather thick black bezels. The rear has a semi-glossy white finish with a big HP logo in silver. This experimentation with two different colors has paid off really well for the company as it gives the monitor a real premium aesthetic.
Coming to connectivity the HP Envy 34c comes with one HDMI port and 3x USB 3.0 ports. These are USB C ports, which means you can use the monitor as a video output from a PC or a laptop, and at the same time charge a phone or a tablet.
HP has used an SVA panel for this one, which unlike normal VA panels use a better light valve conditioning to block backlight in low or zero signal conditions. It uses the Vertical Alignment (VA) technology to deliver accurate colors and inky blacks. It also delivers reasonably good grayscale performance. The colors are rich, and the curving on the screen provides excellent viewing angles.
Coming to audio, you can expect some very robust performance with the 2 DTS speakers. There is no hint of any distortion whatsoever, even if you play them in highest volume. There's a tiny wheel on the bottom left of the monitor which is the volume control and makes it really easy. If you would need a more specific sound output, HP has also included a 3.5mm sound output for external speakers.
If you are a hardcore gamer, the 8ms response rate (12ms without the overdrive function) is really a turn-off. You may notice screen tearing from time to time. Moreover, the monitor doesn't support either Gsync or FreeSync. This monitor isn't really made for high-core games, but mid or low ranges can be played with no real issues.
To conclude, HP's Envy 34c can be one of the best 34-inch monitor for work or businesses. The UltraWide screen coupled with the QWHD resolution and a good contrast will easily let you multi-task with 3 screens of text or browser side by side. The monitor is also the first certified Skype for Business curved monitor and you'll get the best Skype call experience on this one. However, if you're in the market solely looking for a monitor for hardcore gaming, there are better choices available in the market.
Pros
Great aesthetics, massive form factor
Dual DTS speakers and excellent audio performance
SVA panel for good contrast and overall picture clarity
Best tweaked for business with Skype for Business certification
Cons
8ms response time is not suitable for gaming
No Gsync or FreeSync
Asus has been long known for their sturdy, top performing PC components. With the Designo series, the company has added the style factor into their products. The monitors look really attractive and artistic, against the company's previous model that performed equally well but that wasn't the best looking monitor.
The Designo MX34VQ is a splendid looking 34-inch UltraWide monitor with a really sophisticated exterior design. It comes with a relatively thin bezel and is also really sleek in design and measures only 18mm at the edges.
Heading on to the specifications, this monitor has 34″ screen with 21:9 usual aspect ratio. Underneath lies a VA panel with 100 Hz refresh rate and 4ms gray to gray response time. The contrast ratio on this one is 3000:1. The screen has 1800R curve and has 178 degrees wide view technology. There is also a built-in 8W speaker with the monitor.
Coming to connectivity the monitor has 3x HDMI 2.0 ports and a DisplayPort 1.2. There is no USB hub on this one, however, the company has included a headphone jack in case you don't want to use the built-in speakers. Given the present day and age, including a USB 3.0 wouldn't have hurt, but Asus makes up for that lack by including the Qi wireless charging facilities with this device. If you have a gadget that supports Qi wireless charging, you can just place it on the circular band and it will start charging it. However, this charging port is non-removable and non-adjustable so you can only use it while on the desk. Surprisingly, Asus hasn't included a VESA compatibility with the monitor either.
The Asus Designo MX34VQ comes with a 34-inch VA panel with a contrast ratio up to 3000:1. You can expect inky blacks and decent grayscale performance from this monitor. The color performance is quite good on this one as Asus claims that it covers 100% of the sRGB gamut. Images appear vibrant and with consistent saturation. However, when it comes to uniformity the monitor lacks a bit towards the edges, which unnoticeable given its curved screen.
Gaming performance is really good on this one. Images appeared to be crisp and smooth, given to the high resolution and refresh rate. Moreover, the monitor is also FreeSync certified so the frame rate shutter will be solved without any issue, giving you a great gaming experience.
To conclude, Asus Designo MX34VQ performs well overall. The striking resolution, 1800R curved screen, and 100Hz capable panel offer a good movie and media experience. Gaming experience, except some really fast paced ones, are flawless and immersive, especially with the inclusion of FreeSync.
Pros
100 Hz refresh rate & 4ms response time
Immersive gaming experience
Great color reproduction
Qi wireless charging
FreeSync certified
Cons
No USB ports
Not VESA mount compatible
Lack of IPS panel
8. LG 34UM68-P 34″ 21:9 UltraWide IPS Monitor with FreeSync
It is perhaps no surprise that LG's name appears twice when we're listing monitors. The company has really carved this niche for themselves with their top notch screens – both televisions and PC monitors.
The 34UM68-P is similar to the previous LG34UM58 monitor mentioned in this list. It is a budget 34-inch UltraWide bezel-less display. This is suitable for both work – like professional photography or editing and gaming. More so because of the inclusion of the FreeSync with this one.
Coming to the specifications, the screen is a 34 inch IPS panel display with a full HD resolution of 2560x1080p at 21:9 aspect ratio. It has a refresh rate of 75 Hz coupled with 5ms response time. Connectivity wise you get 2x HDMI ports and 1x display port. LG hasn't included any USB port on this one. The monitor has VESA compatible holes.
A QWHD or 4k resolution looks best on a 34-inch screen but the 2560x1080p resolution does a decent job here. The pictures look crisp and clear. The IPS panel with the curved display and wide viewing angles creates an immersive viewing experience that is great for media enthusiasts and gamers alike. With the 5,000,000:1 dynamic contrast ratio, 5ms response time and the FreeSync technology included you'll experience a vivid and lag-free media and gaming.
The 34UM68-p supports on-screen control and split screen 2.0, just like the previous LG monitor on the list, making multitasking really a great experience on this one.
This is one of the best 34 inch monitor for Mac mini or Macbook pro. It also sports a separate Game Mode that assures optimal settings and viewing for various categories of games like first person shooter or real time strategy games. There is also a separate Black Stabilizer that reveals excellent details in dark scenarios.
To conclude, this is a monitor that gamers would love. Paired with AMD Radeon graphics cards you can make ultimate use of the FreeSync which will blow away any issues of screen tearing or flickering. The colors and brightness too are excellent and suitable for photographers and image editors. With the PIP screen split technology included, it can be great for office use too. Considering LG's price point, this is a great deal.
Pros
Stylish bezel-less wide screen
FreeSync technology and 5ms response time for great lag-free gaming experience
LG's IPS panel that offers vivid colors and dark blacks
Game Mode presets
Budget pricing
Conclusion
Keeping in mind that you are in the market for the best 34-inch UltraWide monitor in 2018, we've listed 8 of the best ones available right now across different price ranges. Premium monitors are not really for everyday use unless you are into a lot of multitasking or hardcore gaming, so the monitors that are in the higher range of our price brackets are for uncompromised UltraWide experience. However, the lower budget ones are fair deals if you are on a tight budget. We solely hope that this list helps you choose the best one in your budget.