There are many options for gaming monitors out there – from budget monitors to luxury models with extremely high price tags. With the large number of choices and the overly saturated market, it can be hard to narrow down good options. In this article, we list some of the best 240Hz gaming monitors in 2021 and break down their features while highlighting their advantages and disadvantages. We hope that our in-depth reviews will help you pick the gaming monitor of your dreams!
With a 27 inch screen, 1ms response time, and 1080p resolution, this monitor is one of the top gaming monitors out there.
Speed
One of the main attractions of the Alienware 27 is its great speed – with the latest IPS (in plane switching) Technology, it eliminates lag. It has a 1ms response time, removing blurs and making sure the player enjoys responsive and fast gameplay.
The monitor incorporates AMD FreeSync Technology into the graphics card. Doing so, it ensures crisp images that don't affect time.
View
Angles aren't a problem with this monitor since the IPS Technology makes sure that the screen is never washed out or blurry. The images are always crisp and show up true-to-color. The 240Hz IPS panel makes sure that gameplay is smooth.
Despite these advantages, one major downside is that the contrast is low – this results in black looking like grey in the dark. Dark images in a dark room will not be ideal on this monitor.
Design
With Legend Industrial Design, the Alienware Monitor is designed to fit seamlessly into your space. The stand has an ultra-thin leg design so it can tuck under the keyboard, saving valuable space on your desk. For a clean and aesthetically pleasing look, it eliminates clutter by providing a space for cables to pass through in the stand. It also has quick-access ports underneath the stand.
Keeping in mind individual requirements and preferences, the height is adjustable and the monitor can freely swivel and tilt, making sure that every user can customize the position to their preference.
Lighting
AlienFX is a customizable lighting system which enables immersion into the world of the game. The user is able to download different themes for various games and customize lighting to go with the action in the game as shown on the monitor.
The monitor also has a matte coat which prevents reflections, making it suitable for playing in brighter rooms.
Resolution
Although the screen size is excellent, the resolution of this monitor is only 1080p. This is a good resolution, but with a 27 inch screen, a higher resolution is expected. However, being a gaming monitor, the focus in on speed, refresh rate and gaming experience. As such, the resolution generally takes a back seat to response time and smoothness.
Pros
Solid build
Large screen
No lag, great speed
Space-saving stand
Customizable with tilt, swivel, and height adjustment
Matte coat helps with reflections
Customizable lighting
Images are true-to-color
FreeSync support
Cons
Expensive compared to other similar models
Low contrast
Does not support HDR
Low resolution for the size
This 24.5 inch monitor boasts a smooth and responsive experience. Not to mention, it provides high-quality crisp images.
Speed
With FreshSync technology, the game refreshes quickly and is very responsive. This results in great speed, eliminating lag. In fact, image retention is eliminated altogether which holds up in testing.
The monitor shines when it comes to speed, making this its biggest selling point. The responsiveness is very impressive and will serve well when watching fast-paced shows or sports and playing fast-paced games. Additionally, the input lag is minimal, around 3.7 ms.
View
This monitor focuses on providing the user with the best visual experience possible. It has 20 levels of Color Vibrance options. This enables the user to choose the quality of color that they want.
Design
The special Shield design provides an adjustable angle and is designed for customization according to preference. The stand is also adjustable so the monitor height can be changed according to the user's needs. For added convenience, this can be achieved using just one finger.
The stand is also small and takes up little space. However, it is still sturdy and supports the monitor well. Although made of plastic, the stand is certainly of high quality and is sure to last the test of time.
Additionally, cable management is well thought out, with holes for cables in the stand for a neat look. Controls are found on the bottom right of the monitor. They stick out for ease of use and provide good feedback.
Lighting
The Black eQualizer ensures total visibility in extremely dark screens, enabling the user to see clearly. This is done without overexposing the brighter areas. There is also a 'Low Blue Light' option available if the user wants the image to be warmer.
The monitor's LCD frame also ensures that reflection does not distract users, and thus keeps users immersed in the world of the game. Since the brightness of the screen is so high, the monitor can overcome glare and perform well in bright settings.
However, this monitor also has poor contrast – in fact, it is below average. This may take away from its other features. As a result of the poor contrast, dark rooms will cause blacker areas on the screen to come across as grey.
Resolution
All games have different settings that suit them. As such, the monitor comes with different options so that the user can switch to the game mode that they require at the touch of a single button.
The monitor is a generous size at almost 25 inches but does not boast high resolution. It maintains the 1080p resolution. That is the standard resolution in monitors but it is not ideal. A 4K resolution would be preferred, but as long as gameplay is excellent with 240Hz refresh rate and great response time, this can be overlooked.
Pros
FreeSync support
Affordable
Highly responsive
Low blue light option
No image retention
20 levels of Color Vibrance
Adjustable monitor
Cable management design
Sturdy stand
Cons
Lower resolution
Poor contrast
At 24.5 inches, with a fast response time of 1 ms, this monitor prides itself on smoothness and rich colors.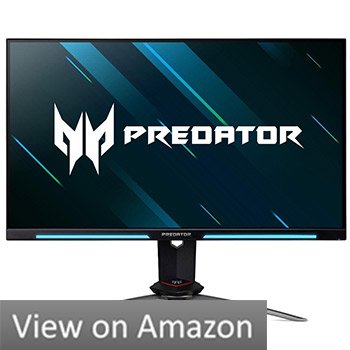 Speed
This monitor boasts a buttery-smooth playing experience with NVIDIA G-Sync which gets rid of screen tearing and reduces stuttering. The 240Hz refresh rate ensures the shortest time for rendering and reduces input lag. This results in a seamless gaming experience.
View
One of its main attractions is the emphasis on quality color. Settings such as dark boost lend credit to this claim, ensuring that every threat is seen and taken care of. The IPS (in plane switching) Technology optimizes color quality and ensures consistency from all angles.
It also brags VESA Certified Display, assuring customers of quality contrast as well as extremely accurate colors and vibrancy.
Design
Its ergonomic design is built for comfort and customization. With the options to adjust height, tilt, and swivel, each player can find their perfect position. Additionally, the monitor can be removed from the stand for easy wall-mounting.
Furthermore, Acer Predator is built with a special Zero Frame design which eliminates the bulky frames for a sleek finish and more space on the screen. A clean space is kept in mind with a cable management hole in the stand.
Lighting
Its special consideration of lighting ensures little fatigue and the ability to play for longer periods of time without straining your eyes. The monitor uses special EyeProtect Technology with a blue-light filter, low dimming, and no flickering to make sure that the player is comfortable at all times.
However, the contrast is average with darker environments rendering blacks grey.
Resolution
As is the case with other gaming monitors on this list, this monitor also excels in speed but falls short in terms of resolution. It uses the standard 1080p resolution which is not bad but also not exceptional. For the size, a higher resolution is expected.
However, it should be noted that for those interested in serious gaming, speed will likely trump resolution when it comes to specifics.
Pros
Great response time at 1 ms
High refresh rate, ensuring speed
Vibrant colors
EyeProtect Technology including blue-light filter, dimming, and no flickering
Cable management hole and sturdy stand
VESA Certified Display
G-Sync for smoothness
Zero Frame design
Ergonomic design with adjustable height, swivel, and tilt
Cons
Low resolution
Average contrast
The Samsung CRG5 is a 27 inch, curved gaming monitor. It boasts complete immersion and lightning-fast speed.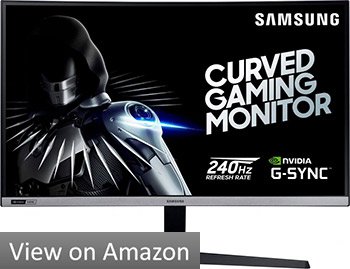 Speed
The 240Hz refresh rate gets rid of lag, ensuring quick speed. This, combined with the NVIDIA G-Sync, makes sure that the image is crystal clear with no tears, lag, or stuttering. As such, it provides a smooth gaming experience. The response time is only 4 ms.
View
The 27 inch screen is 1500R curved. It allows the player to completely immerse in the game and play with increased concentration.
With color accuracy from all angles, this monitor has excellent view quality.
Design
The base is extremely lightweight, and the stand is customizable with the tilt being adjustable. However, unlike other monitors on this list, it doesn't have other adjustable features. For those who want these features, a separate stand will have to be purchased.
Lighting
The contrast on this monitor is high, ensuring clarity even in darkness. With stark differences between black and white, the monitor provides multiple greys in between to make maximize clarity. A black equalizer is also included.
With multiple settings, lighting, color, contrast, and other features can be optimized for any game.
It is also equipped with an Eye Saver Mode whereby blue light can be reduced, resulting in a warmer image, less eye strain, and longer playing time. Special technology also eliminates flickering which further reduces eye strain while also eliminating distraction.
Resolution
Although extremely smooth when it comes to motion, the resolution lacks here. With a screen size as big as 27 inches, the 1080p resolution is not just average but comes across as a major disadvantage. This is especially noticeable since the contrast is so high.
However, since it is a gaming monitor, those intending to use it for those purposes will probably overlook the resolution for its fast refresh rate, color accuracy, and extremely high contrast.
Pros
Great speed and refresh rate
Curved screen
Color accuracy
Great price for the quality
Excellent contrast
Lightweight base
Comes with Eye Saver Mode
Cons
No USB ports
Not as adjustable as other monitors
No built-in speakers
Low resolution
With a large 27 inch screen and 1ms response time, this is among the top choices on our list.
Speed
Speed is one of the best-selling points of this monitor with a 240 Hz refresh rate and an IPS panel. The NVIDIA G-Sync also gets rid of tearing and ensures a great gaming experience. It promises extremely smooth gameplay which eliminates stuttering. The low input lag is said to have drastically improved the in-game experience.
View
Another selling point is the dark boost, a black-level adjustment to ensure more clarity. The advanced color settings boast IPS (in plane switching) Technology to make sure color performance is premium and consistent from every single angle.
Design
Aiming to provide comfort, the monitor is adjustable and customizable – players can adjust the height, swivel, and tilt, to find their unique, ideal position. The stand can also be removed completely for wall mounting.
Another note-worthy design feature is the Zero Frame design which slims down the frame, resulting in an almost frameless experience and opening up more space on the screen. The stand also includes a cable management hole to ensure the removal of undesirable clutter and encourage an organized surface.
Lighting
Designed to reduce eye strain and combat fatigue, the monitor includes options such as low-dimming technology, a special 'comfy view', and a blue-light filter to ensure a warmer image. It also claims that its EyeProtect System eliminates flickering, helping the user stay alert and comfortable which results in longer playing time.
The contrast, however, is average and not ideal for playing in dark environments, since blacker colors can come across as grey.
Resolution
The resolution is a standard 1080p which is decent but nowhere near good enough for the size of the monitor. While it can do, especially when the emphasis for gamers is on speed, it would be better for it to include 4K resolution.
Pros
Extremely fast speed and refresh rate
Response time of 1ms
Black level adjustment
Adjustable monitor
IPS technology maximizes color performance
Zero Frame design
Cable management hole
EyeProtect Technology
Cons
Lower resolution
Average contrast
Conclusion
Today's market consists of a lot of options for high-quality 240Hz monitors. Many of these options are affordable or mid-range while maintaining excellent quality and not compromising on speed or game play.
The list is proof that expensive does not always mean better. One of the most impressive monitors on this list is the Samsung 27″ CRG5 Gaming Monitor which has a large, curved screen, excellent contrast, high speed, and a number of lighting options. Although not as flexible as some other monitors in terms of adjustments, it is by far the best when it comes to contrast and screen. Its worth every penny.
Hopefully, this round up of the best 240Hz gaming monitors in 2023 narrows down your choices and helps you make a decision. At the very least, we hope that it guides you in terms of what you should expect and features you should look out for. If you end up choosing any of our picks, we can guarantee that you will receive a quality product that will improve your game play!