ASUS is gradually becoming a company which is giving headaches to companies like HP and Dell with its innovative and mesmerizing products. ASUS Designo MX279H is one such frameless monitor with immersive experience. It comes with 27-inch display which is an ideal size for gamers as well as professionals. Its thin bezel design is also suitable for multi-monitor setup.
The overall look and feel of the product is modern and you will be definitely sold at first glance. It is manufactured with such attention to details that finding a flaw in this beautiful piece of technology is a very difficult task. Still, we will try our best to convey all pros and cons of this monitor to our readers in this review. Let's review this beast and see what it has in store for us.
Design
This monitor is a part of ASUS Designo series and as the name suggests, monitors in this series are given special attention to design. This is one of the reasons that it is not easy to find a flaw in its ultra-thin design. You have to give credit to ASUS where it is due for giving us a product which is perfect in design from every angle.
This 27 inch monitor is almost bezel-less with only 0.8mm thick bezel. Products with such a thin bezel are very rare in the market. The back stand is sturdy and wouldn't wobble easily even if you kick your desk in anger or frustration. The downside of the stand is that it can be tilted up and down at -5°/20° angle but you can't do height adjustment. Controls are located at the bottom right side of the display. These are a bit touch-sensitive which can result in selecting menu options which you didn't intend to select.
Display
With ASUS Designo MX279H, you get full HD display with 1920 x 1080 resolution. Although, full HD display is good enough but we feel that for 27 incher, they could opt for 2560 x 1440 resolution. It would be nice but for this price point we can't complain much. The addition of AH-IPS LED display with 178° viewing angle makes sure that display and images are crisp and vivd even if you are viewing it from side-angle. Furthermore, it has a matte screen which is a big plus for gamers because you wouldn't get any reflection or glare with it. This Monitor lacks Gamma adjustment but we have to say that this monitor handles darker details smartly even though it comes with IPS panel.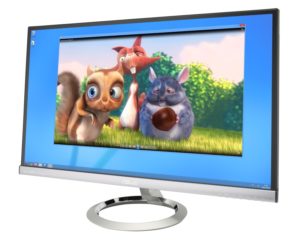 It has ASUS Splendid Video Intelligence Technology built-in which will automatically optimize image quality. It is a really attractive feature because you will no longer spending your precious time on adjusting color, brightness, contrast and sharpness for best possible image result.
There are 8 different Video Preset Modes which you can set according to the type of content you are watching. These modes are sRGB, Scenery, Theater, Standard, Night View, Game, Reading and Darkroom Mode. These can be very helpful in different environments. For example, if you are using Game mode, brightness level will increase to remove shadows. Similarly, scenery mode will improve contract for more sharp images. You can also customize these options to suit your needs. In addition, 80,000,000:1 ASUS Smart Contrast Ratio will dynamically improve display contrast in order to provide you with images which are closer to life.
Performance
ASUS Designo MX279H is a very good monitor performance-wise for casual users, gamers and professionals. The AH-IPS edge-to-edge LED display delivers excellent color accuracy even from different viewing angles. Full HD 1920×1080 resolution is good enough for most of your entertainment needs. 60Hz refresh rate and 5ms response time is not very appealing for pro-gamers but it is decent enough for casual gamers. It comes with ASUS Trace Free technology which removes traces and ghosting images.
One additional advantage of buying ASUS Designo MX279H monitor is inclusion of Bang & Olufsen built-in speakers. You must be aware that not many monitors come with built-in speakers and even if they do, they aren't loud enough. These 3W x 2 stereo speakers come with 5Wx 2 Amplifier which are loud enough for most of your entertainment needs. These are louder than most of the monitor speakers but don't expect them to create a sonic boom for you. These can't compete with good quality external speakers. It uses SonicMaster sound optimization technology to deliver best quality sound experience. The inclusion of these speakers is a plus as it will save you from extra cost of speakers and also troublesome extra space and wiring.
This monitor doesn't have VESA mount. You need to buy a separate adapter if you want to mount it.
Specifications
Display: 27″ LED with IPS Panel and 0.80mm bezel
Resolution: 1920×1080 (Full HD)
Viewing Angle: 178°(H)/178°(V)
Response Time: 5ms
Refresh Rate: 60Hz
Brightness(Max) : 250 cd/㎡
ASUS Smart Contrast Ratio (ASCR) : 80000000:1
Stereo Speakers : 3W x 2 Stereo RMS
Ports: 2 HDMI, VGA
Pros and Cons
Pros
Its thin profile attractive design and full HD IPS display provides excellent mix of class and performance.
Speakers of this monitor are quite loud with stereo sound.
Stand is very sturdy.
Price is quite decent.
It has 3 years warranty which means that your investment is safe for long time.
Cons
It doesn't have higher bandwidth display-port.
Stand height adjustment functionality is not present.
60Hz refresh rate and 5ms response time is not ideal for gamers.
Lack of USB ports.
Conclusion
ASUS Designo MX279H is a great monitor in terms of design and performance. It has a very thin bezel and really nice LED IPS display. Good quality stereo speakers are an added bonus. Some buyers have reported backlight bleeding in their product review but it is a rare issue in some of the monitors. Most buyers were happy and didn't face such issue after buying it. The refresh rate and response time is not ideal for game lovers but if you are not a professional gamer then you can go ahead and buy thisMX279H frameless monitor without giving a second thought.
Our Rating
[wp-review]