AOC is an old company from Taiwan but it has always suffered tough competition from its rivals like Dell, HP and ASUS. Lately, they have upped their game significantly and fighting toe to toe with these tech giants. AOC i2267FW frameless monitor is a testimony to this fact as this is one monitor which can compete quite well with other companies offerings.
AOC i2267FW can give hard time to the competition in terms of design, performance and price. In fact, price is its strongest suit. If you are getting better price for this, then it doesn't mean that they have compromised on other important aspects of monitor like design, display, performance and specs. They gave equal attention to these aspects as well while manufacturing it. In this review, we are going to cover these aspects in detail. We are not saying that this is a perfect product but it is an attractive product keeping in view its price and features you are getting. This is a complete package for you. Now, we are going to review this product. After reading it, you would be the best judge on whether this product is worth buying or not.
Design
This 22-inch black and silver finish monitor comes with sleek and ultra-thin design. There are almost no bezels on top and side so it is an ultimate candidate for bezel-less monitor. Bezels are only 2mm thick and give borderless appearance. This means that you can easily use this monitor for dual monitor or multi-monitor setup but there is a catch. It has about 0.5 inch of black line on both sides of the display. Some people would not like this hindrance in multi-monitor setup. Buttons to adjust settings are present at the lower right of the back panel.
We feel that AOC could have given more attention to its stand. It is not terrible wobbly but it can be a bit of an issue if you have a wobbly desk. Moreover, you can't adjust height with this stand. You can detach the stand if you want and this feature might be the reason for its lack of firmness. You can tilt it up to 5 degree forward and 23 degree backward which is decent amount of tilt angle but may not be enough for some people. i2267FW is not VESA mountable out of the box. You will need to buy separate VESA adapter if you want to mount it.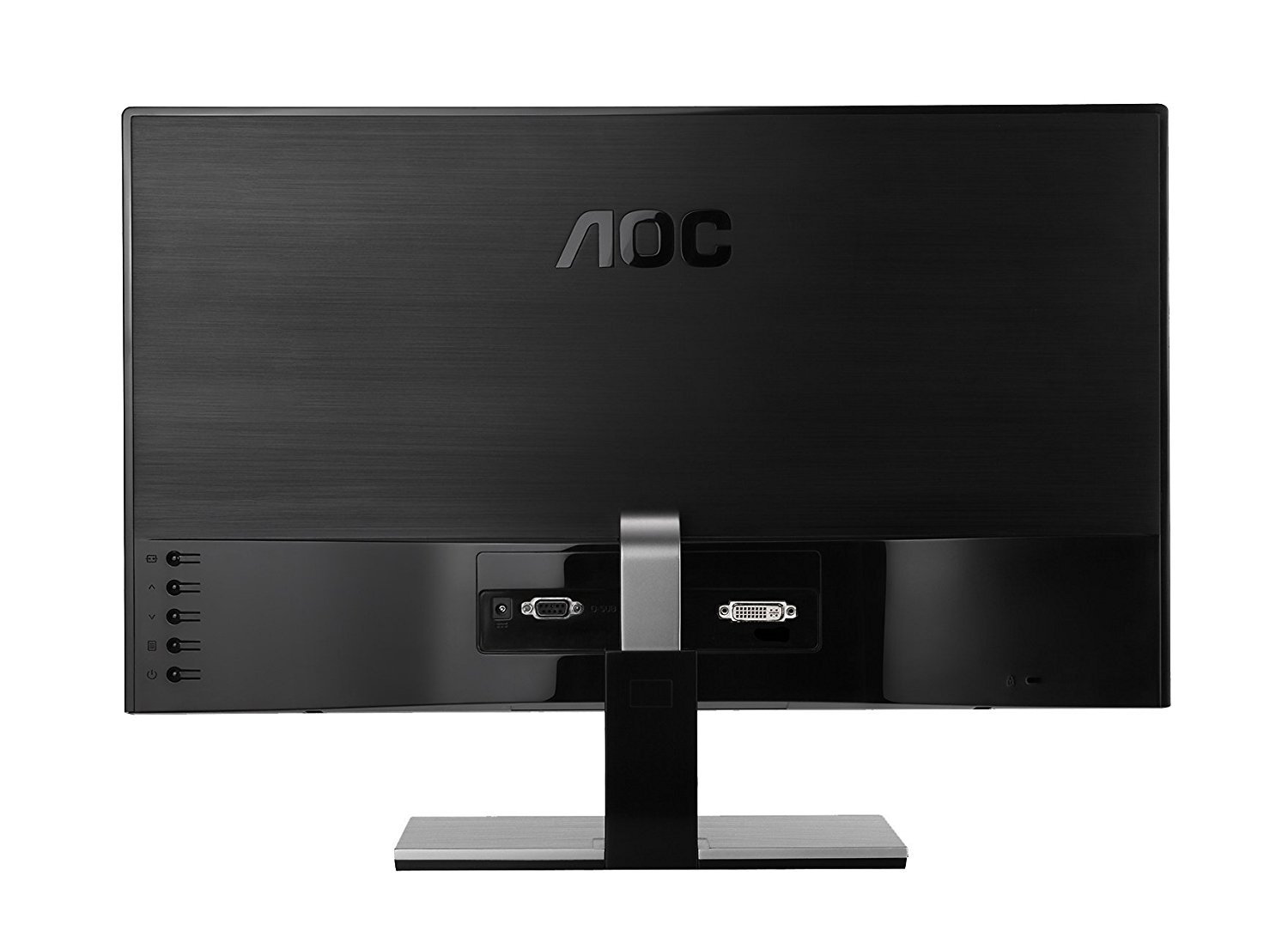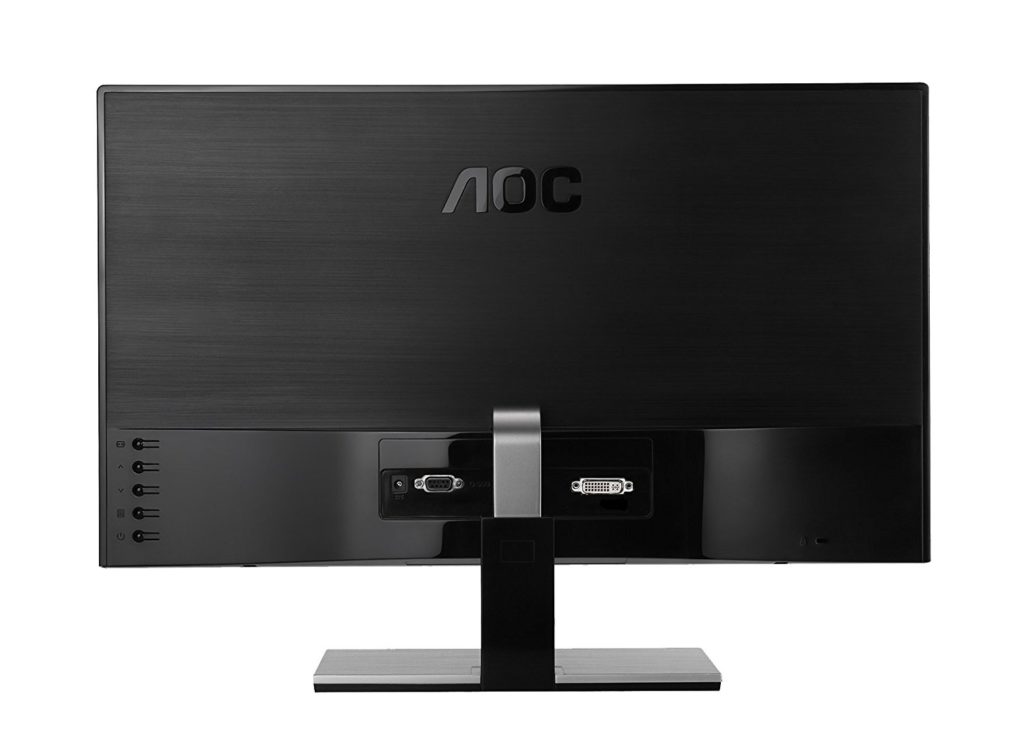 Display
AOC i2267FW monitor comes with 22-inch LED screen and IPS panel. It is great that this product comes with IPS panel because it provides accurate colors from all viewing angles. AOC FlickerFree technology is incorporated in this product to avoid strain on your eyes. If you are someone who likes color accuracy in monitors and want to spend your money on an inexpensive monitor then it is a great deal for you.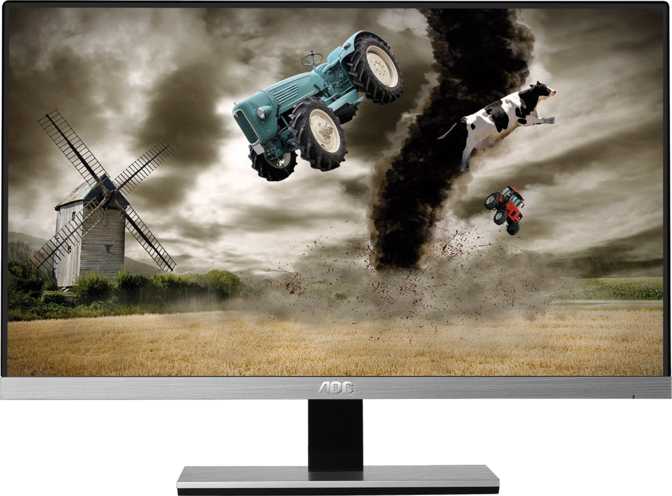 You also get a full HD display with 1920 x 1080 resolution. Although, world is moving towards 4K monitors but to be fair, most of the content we watch these days comes in full HD resolution and you can't expect 4K display at this price point either. Another good thing about its display is matte anti-reflective coating. This will prevent its screen from glare, smudges and fingerprints.
Performance
60Hz refresh rate, 5ms response time and 50,000,000:1 dynamic contrast ratio aren't the kind of specs which will impress many professional gamers but these specifications are good enough if you don't play games daily and don't do graphics intensive work. You don't need to be disappointed because we have said before that for almost the same kind of capabilities, its competitors are charging more price and price is the strongest suit of this budget friendly monitor. If you factor-in full HD resolution, IPS display, more than decent refresh rate and response time to avoid input lag and tearing, then it is a very good investment.
AOC i2267FW comes with built-in speakers but they are below average. You will need to buy external speakers with it. We can't comprehend that why they added internal speakers of this quality when most of us would be buying a pair of external ones.
The big downside of i2267FW is a lack of HDMI port. It does come with VGA and DVI-D port but we feel that AOC missed the trick by not providing HDMI port which is present in almost all monitors which come in the market. It means that you will not be able to connect it with number of external devices. You can solve this issue by using DVI-D to HDMI adapter but you will need to spend a few extra bucks for this.
Specifications
Display: 21.5″ LED with IPS Panel and 2mm bezel
Resolution: 1920×1080 (Full HD)
Viewing Angle: 178°(H)/178°(V)
Response Time: 5ms
Refresh Rate: 60Hz
Aspect Ratio: 16:9
Brightness(Max) : 250 cd/㎡
Dynamic Contrast Ratio: 50,000,000:1
Speakers : 2W x 2
Ports: VGA, DVI-D with HDCP ports
Pros and Cons
Pros
Design is modern with minimal bezel on top and side of the screen.
Excellent color accuracy from all viewing angles.
Flicker-Free technology puts less strain on your eyes while playing games and doing work.
It is one of the best budget monitor for the type of features you are getting.
Cons
It doesn't have HDMI port. You can solve this issue with DVI-D to HDMI adapter.
Internal speakers are not of very good quality.
Stand is flimsy and you can't adjust the height.
60Hz refresh rate and 5ms response time may not be enough for professional gamers.
Lack of USB port.
Conclusion
AOC i2267FW is a very good budget monitor. It is the best way to describe this product. Apart from small issue with stand which can be solved by placing it on a stable desk and no HDMI port, this monitor has all the ingredients of a great product if you keep its price in your mind. It is a really nice offering from AOC in terms of design and display. If you are on a budget, then you need to look no further than AOC i2267FW. We are sure that you will not be disappointed with it.
Our Rating
[wp-review]