If you are a programmer, your monitor will play an important role in translating your work. A top-notch monitor will make your programming and coding much more effective and, thus, is a solid investment to make.
Many people think that all monitors are almost the same, but only programmers know their true value and difference. There are different monitors for different purposes such as gaming, programming, and entertainment. Programming is one of the most popular jobs and if you're a programmer, you'll need an advanced monitor for programming and writing codes effectively. Picking the right monitor for programming purposes is not very difficult but is a bit tricky. This post will help you in choosing the best monitor for programming and coding and will also list some of the top products available for this purpose.
Best Programming and Coding Monitor – Our Top Picks
| Monitor | Display | Resolution | Panel | RT | Ports | |
| --- | --- | --- | --- | --- | --- | --- |
| LG 32MA68HY-P | 32" | 1920x1080 | IPS | 5ms | HDMI, VGA, DP, 2 USB 2.0 | |
| Dell U3818DW | 38" | 3840x1600 | IPS | 5ms | 2 HDMI, DP, 6 USB 3.0, USB-C | |
| ASUS MX27UC | 27" | 3840x2160 | AH-IPS | 5ms | HDMI, DP, USB-C, 2 USB 3.1 | |
| LG 34UM88-P | 34" | 3440x1440 | IPS | 5ms | 2 HDMI, DP, 2 USB 3.0, 2 Thunderbolt 2.0 | |
| Dell U2415 | 24" | 1920x1080 | IPS | 6ms | 2 HDMI, DP, mDP, MST, 5 USB 3.0 | |
| LG 32UD59-B | 32" | 3840x2160 | VA | 5ms | 2 HDMI 2.0, DP 1.2 | |
The LG 32MA68HY-P is a 32-inch monitor and has a full HD display. It is very affordable and has many input options. The monitor is very thin at the top and gets compact at the bottom where there are many ports and the primary electronics. Here are its important features:
Features
This LG monitor offers amazing input versatility as it supports HDMI, DisplayPort, D-Sub, and two USB 2.0 ports. As a programmer, you'll need to browse the web, spreadsheets, documents and emails and this monitor will offer the perfect multitasking options. It features Screen Split 2.0 which allows the user to open multiple windows at once. The IPS display technology of this monitor offers the best image quality as well. It offers sharp colors and good viewing angles to the user.
The LG 32MA68HY has a very high display quality and is ideal for any programmer who needs a large screen with an IPS display. The monitor is quite inexpensive and the only thing that is missing is 4K. If you want dual monitors, you can easily use this monitor to set it up. We hope you won't feel uncomfortable with the 32″ wide screen as it has a split screen feature too.
Pros
It offers multitasking because of the split screen feature.
It provides easy adjustment options for color, brightness, and contrast.
This is definitely one of the cheapest 32 inch monitor in the market.
Cons
It comes with 200×100 VESA mount holes. Stands for these dimensions can be found only after extensive research.
Built-in speakers are not present.
2. Dell U3818DW 37.5″ Screen LED-Lit Monitor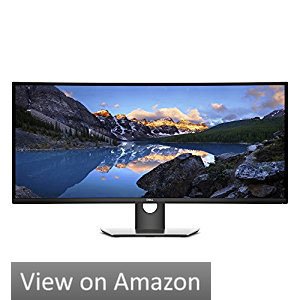 The Dell U3818DW is an UltraWide monitor, and it is perfect for programmers. It has a beautiful design with a matte gray look and is very stylish. This 38-inch monitor has a dual stage design that has inner panel borders and a thin outer layer of plastic. It can support all types of modern connectors, and this makes it an ideal one.
Features
The Dell U3818DW offers two slots for HDMI, a DisplayPort 1.2, four USB 3.0 upstream and two USB 3.0 downstream ports. USB-C port is also available to connect 2017 Macbook Pro and other peripherals. If you want to listen to something, you won't be disappointed because it has 9-watt built-in speakers. It has an IPS panel with an amazing 3840×1600 resolution and thus, it is ideal for programmers. It also boasts a 5ms response time and a refresh rate of 60 Hz which is really impressive.
The text and images on the screen are very clear and crisp as well. There are multiple connectors that make it easier to connect various peripherals simultaneously. Dell U3818DW is overall an amazing monitor for programming as it has a very high screen resolution with excellent response time and refresh rate.
Pros
Large 37.5 inch screen helps in improving your productivity.
IPS panel with 99% sRGB coverage makes sure that you get true colors from any viewing angle.
Integrated speakers are very powerful.
It allows multiple connectivity options to connect latest peripherals.
Cons
Price is on the higher side for some people.
Lack of adaptive-sync for gamers.
The ASUS Designo MX27UC is an elegantly designed monitor and uses a 4K UHD screen that is intended especially for programmers and coders. It is packed with amazing features and is available at an affordable price too.
Features
The 27-inch Asus monitor has an amazingly high resolution, that is, 4K UHD (3840 X 2160) and an angle of 178 degrees which is quite wide. It uses Asus Eye Care technology that reduces fatigue and makes it comfortable for programmers and software developers to view the screen for long hours. This technology is equipped with blue light filter and flicker-free backlight which is TUV Rheinland-certified.
The monitor has a frameless design and the base is inspired by a sundial with an elegant icicle gold finish. The design has nothing to do with programming, but anything stylish is pleasing to the eyes, no matter what your job is. This monitor comes with one HDMI, DP 1.2 and USB-C port along with two USB 3.1 charging ports. Integrated speakers are present too for fulfilling your entertainment needs. For programming, this monitor is perfect as it offers a sharp display with good contrast ratio and colors.
Pros
Its IPS panel 4K resolution delivers high quality text and images which will make programming a breeze.
The edge-to-edge display can be very useful in multimonitor setup.
Cons
Height of the stand is not adjustable.
It is not compatible with VESA mount so you might need to invest in some other adapter.
4. LG 34UM88-P 34-Inch 21:9 UltraWide QHD IPS Monitor with Thunderbolt
The LG 34UM88-P is an UltraWide monitor and offers nice display with 99% sRGB. If you're a programmer, you'll love this setup as it will broaden the horizons and offer more aspect ratio to you. It has an amazing image quality and delivers great performance for programming and coding.
Features
The LG 34UM88-P has a WQHD resolution and has many different types of ports available for connectivity. The display has an aspect ratio of 21:9 and produces sharp and crisp images, making it ideal for all programmers. If you are a spreadsheet wiz, you'll find this monitor to be amazing.
The size of the monitor is 34 inches, and the resolution is 3440×1440 pixels, which is perfect for viewing long text and codes on the screen without putting stress on the eyes. This monitor has a flat panel display and is perfect for someone who wants a wide-angle screen with high-quality images. It also uses an AH-IPS panel which produces beautiful colors and vibrant images. 34UM88-P is not short of connectivity options. It offers two HDMI, one DP and two USB 3.0 ports. Two thunderbolt 2.0 ports are also present to seamlessly connect your Macbook Air or Pro as an external display.
Pros
The size of the monitor is huge, so you won't even need a dual monitor setup.
It has FreeSync technology for smooth gaming experience.
You can easily multi-task on it with Screen Split 2.0.
It produces high-quality images and there are various adjustments for the height too.
Cons
The weight of this product is a bit high so mounting it with VESA can be troublesome.
Its wide stand covers large amount of area on your desk.
Dell's UltraSharp U2415 is a 24-inch monitor with amazing IPS panel and multiple ports for connectivity. The monitor has a factory-calibrated display and presents gorgeously sharp images for all types of tasks.
Features
This Dell monitor has a 24-inch size and is perfect for those who want a dual or triple monitor setup for programming. It has a very thin bezel with a thickness of only 6.9mm. This narrow bezel is really helpful, especially for a multi-monitor setup for programming. This is because when you place two or three monitors side by side, you'll get a borderless view and an amazing programming experience.
Its IPS display is better than TN panels and thus, it produces more accurate colors and sharper images. The viewing angles are also wide at 178 degrees. The brightness and contrast of this monitor are ideal as well, and the backlighting is quite uniform. The response time of this monitor is 8ms and input lag is minimum. It has multiple connectivity choices with two HDMI, one DP, mDP and 5 USB 3.0 ports.
Pros
It has a perfect bezel less design for multi-monitor setup.
Beautiful IPS display and flicker-free backlighting.
Cons
Scaling for aspect ratio of 16:9 is not supported.
6. LG 32UD59-B 32-Inch 4K UHD LED-Lit Monitor with FreeSync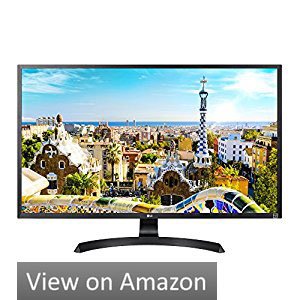 The LG 32UD59-B is a UHD 4K monitor that measures 32 inches. The monitor uses the latest technology and a height-adjustable stand for ease of use. This monitor is also perfect for programmers as it has the ideal 4K UHD resolution which is recommended for long tasks such as software development.
Features
The performance of this LG monitor is outstanding as it delivers accurate colors and crisp images. The colors are always consistent, and they are better than the full HD resolution. The Black Stabilizer technology used in the monitor makes it easy to view the monitor in low light conditions and make the screen brighter so that it can be viewed easily. There are lots of on-screen controls for easy and quick access. The split screen technology is also ideal for multitasking, especially for programmers who can easily perform various tasks of writing and viewing codes simultaneously. It is equipped with two HDMI and one DP 1.2 port.
Pros
The split screen technology is very handy for programmers.
The dynamic action sync minimizes the input lag and improves the performance.
Cons
The color shift mosaic can be troublesome for some people.
How to Choose the Best Monitor for Programming?
Buying a new monitor for programming is a bit challenging as there are so many factors to consider. You can't just read the reviews of a particular brand and go for it. Instead, you have to do thorough research and determine your needs and then make an informed decision. After reading this buying guide, you'll be able to know what to look for in the best monitor for programming and coding. Following are the factors that should be considered before choosing a monitor:
Setup
The first thing to consider is the setup of the monitor. Many programmers and coders prefer a dual-monitor setup because they need more flexibility. Setting up more than one monitor is now an easy task, and you can do it yourself at home. If there is a setup consisting of multiple monitors, programmers can enjoy their work more and increase their productivity too. If you have a dual-monitor setup, you can use one monitor for coding and the other one for testing.
One of the most popular arrangements among all programmers is a setup with two or three 1080p monitors. These monitors are cost effective too and can carry a good load of programming stuff. If you have a good budget, you can create a setup of 1440p or 4K UHD monitors to increase your efficiency tremendously.
Resolution and Screen Size
You can easily open many windows on any type and size of monitor, but the problem starts when you think about the clarity or quality of the screen. Hence, another important factor to consider is the resolution and screen size of the monitor for programming and coding. A good monitor will allow you to read the screen without any discomfort or eye strain. If we talk about the screen size, any monitor with a size of 24 inches or more is the best as it keeps the eye position at a perfect level.
To get the best results, you should match the screen size with its resolution because only that way will you be able to get accuracy and efficiency in your results. Following are some preferred screen resolutions and sizes:
FHD (1920 X 1080) 24-inch monitor
WQHD (2560 X 1440) 27-inch monitor
4K UHD (3840 X 2160) 32-inch monitor
It also depends on your budget and available space. If you can't afford a dual-monitor setup or don't have much space available, you can buy a single 32-inch monitor with 4K resolution. If you just started your career and need a monitor for learning the basics of programming, you can do well with a dual-monitor setup with 1920×1080 pixels. For professionals, we always recommend 4K resolution or 2560 x 2160 resolution with a dual- or triple-monitor setup.
Connectivity
As a programmer, you'll need to connect your device to a large number of peripherals. Hence, you should always look for a monitor that supports all the standard ports. The most important port that you should look for in a monitor is the HDMI port which will allow you to connect to all types of laptops or computers without any difficulty. Other commonly used ports are the DVI, VGA, and display ports. The display port is a new one which allows you to connect multiple monitors using a single port and can also support 4K at 60Hz.
Color Accuracy and Viewing Angle
You should never compromise on the display panel as it will give you great viewing angles and an improved color accuracy. A twisted nematic (TN) display is affordable and energy-efficient and has a low response time, but it has a narrow viewing angle and the color reproduction isn't too great either. On the other hand, IPS or in-plane switching display has better color reproduction, a wide viewing angle, and good response time and thus, it is now more commonly used by programmers. Hence, if you're looking for a monitor for programming and coding, you must go for IPS monitors.
VA panels are another type of display panel. They are in the mid-range and are not easily available. These panels offer amazing contrasts and sharp colors to the viewers, and the viewing angles are good too. The only downside of this type of panel is that it has a very slow response time and can result in viewing lag. These panels can cause a bit of trouble to programmers.
Monitor Stand
Another important thing to consider is the monitor stand. Most programmers ignore this factor, but it plays an important role in programming and coding. If you are going for a dual or triple monitor setup, we will recommend a rotating monitor with a compatible mount. Many programmers feel more comfortable with using a vertical position because it provides good space for long coding. We will discuss more about vertical monitors in the section below.
Input Lag and Refresh Rates
The refresh rate is measured in hertz and indicates how many frames you can view on the screen per second. The best values for refresh rates are 60 Hz, 120 Hz, and 144 Hz. A refresh rate less than 60 Hz is not suitable for programming. You can watch movies and play games with a refresh rate less than 60 frames per second, but when it comes to programming and coding, it gets a bit difficult.
A 60 Hz monitor is ideal if you want to use it for writing in programming languages such as C, C++, Java, Ruby, Objective-C, and Python. Other monitors with a refresh rate of 120 Hz or 144 Hz are more suitable for gamers.
Input lag is the time which a monitor takes to render the input that can be viewed by you. For example, if you move the mouse, it will be viewed by your eyes in a few milliseconds as the movement of the cursor. This is a very important factor and can affect the work of a programmer significantly. We recommend going for a monitor with an input lag of 20 milliseconds or less.
What Are Vertical Monitors?
Vertical monitors are also called portrait view monitors and are the best for coding as they make it easier for the programmer to write and read codes. Every programmer's needs and preferences vary, but most prefer a vertical view because it is very beneficial. This portrait style allows the programmer to view more lines of codes at once on the screen. In the horizontal view, it gets difficult to view the lines of codes because they are too lengthy and put a lot of strain on the eyes.
The vertical monitors are best for programmers as they enhance the performance and create less stress on the eyes. Also, these portrait view monitors provide a good view of the data and content on websites and various computer apps. While landscape monitors can make webpages look fragmented, the vertical ones make them appear more compact and pleasing to the eyes.
Is 4K Resolution Necessary for Programming?
4K is now a common term when we talk about TVs and monitors. By 4K resolution, we mean that there will be more pixels on the screen, which will result in a sharper and higher resolution image and will be nothing like you have seen before.
Some programmers prefer a 4K screen resolution because it offers an increased viewing size even if you're using a single monitor. You can have a sharp and crisp image even if you have multiple windows opened on the screen, so there's no detail that you would miss. If you don't want a setup with multiple monitors, this resolution is great for you. However, the only downside is that such a resolution will not work if your system is not using advanced or up-to-date hardware. If your hardware and system are outdated and cannot support such a high resolution, your 4K monitor won't be up to your expectations.
A 4K monitor has high system requirements and sometimes, you'll need an advanced graphics card to run the monitor properly. Also, all the components and content related to this technology are not available easily. You will have to take all the factors into account before opting for a 4K monitor.
Conclusion
The features of a monitor play an important role in the performance of a programmer and can increase the productivity significantly. If you are looking for a monitor which produces less strain on your eyes and is perfect for long hours of working and coding, choosing from one of above mentioned monitors will be a good choice.
All the monitors listed here are equipped with the latest features and have the best resolution and display to produce a clear and crisp image. Also, the screen split feature and bezel less display are good for multimonitor setups and are, thus, ideal for all programmers. With these monitors, you can improve the performance of your programming as these are the best monitors for programming and coding.