Investing in a high-end monitor is highly recommended for a graphic designer. The world of graphic design is a demanding one, and it is only growing with the speed of technological advancement. The more technology advances in the realm of high resolution, sharp imagery, and screen size, the more competition there would be in this field.
Whether you're a graphic designer, photo editor, or professional photographer, you would know how important it is to have an excellent monitor. More and more freelancers are now working remotely to offer their services on their own terms. It is, hence, all the more important for them to have the best high-performing equipment for their use.
However, there are now several options for quality monitors on the market today. With the high demand for graphic designing and the best photo editing, it can become difficult to settle upon a monitor to fulfill your needs. Thus, a decent amount of research is necessary in order to make the best decision.
The proper research is also necessary because a monitor of such a high caliber is not at all cheap to buy. It can be quite heavy on the pocket, so not many people can afford to purchase them on a regular basis.
| Monitor | Display | Resolution | Panel | RT | Ports | |
| --- | --- | --- | --- | --- | --- | --- |
| ASUS PA329Q | 32" | 3840x2160 | IPS | 5ms | 4 HDMI 2.0, DP 1.2, mDP 1.2, 5 USB 3.0 | |
| BenQ BL2711U | 27" | 3840x2160 | IPS | 4ms | 2 HDMI, DVI-DL, DP 1.2 | |
| ViewSonic VP2785 | 24" | 3840x2160 | IPS | 7ms | 2 HDMI 2.0, DP, mDP , 5 USB 3.1 | |
| BenQ SW271 | 27" | 3840x2160 | IPS | 5ms | 2 HDMI, DP 1.2, 5 USB Ports | |
| NEC PA322UHD | 31.5" | 3840x2160 | IPS | 10ms | 2 HDMI, 2 DVI-D, DP, 5 USB 3.0 | |
| BenQ PD2710QC | 27" | 2560x1440 | IPS | 5ms | HDMI 1.4, DP 1.2, mDP 1.2, 4 USB 3.1 | |
| BenQPV3200PT | 32" | 3840x2160 | IPS | 5ms | HDMI 1.4, DP 1.2, mDP 1.2, 3 USB 3.0 | |
Buying Guide
Since it can be very difficult to comb through the monitor options available today, we've made things a bit easier for you. Here's what to look out for when searching for the perfect monitor to enhance your graphic design work:
Accuracy
Resolution
Ergonomics
Ports and Slots
Cost
Color and grayscale should be the top most priority when you're looking for a monitor for graphic design or photo editing. You basically need a screen that would display colors as they are in reality. For this, you would require the most high-end and cutting-edge technology possible.
The features you are looking for here are a ten-, twelve- or fourteen-bit lookup table. These would give you billions, if not trillions, of colors for a smooth and vibrant display. The monitor should also cover at least 99% of the Adobe RGB color space.
Graphic designers often have to manipulate the settings on their monitor in order to gain some special effects. For this, a calibrator is a good tool to have. However, even the factory settings on most high-end monitors are good enough for most. A third-party calibrator may be a separate purchase if your monitor does not come with one.
You should also take a close look at the IPS panel of the monitor under consideration. It should be able to display varying shades of gray, no matter how light or dark they are. This would eventually allow you to work with all kinds of highlights, shadows, and other details in the content you work with.
A good IPS panel would also be able to offer you a wide viewing angle. No matter which way you'd look at the monitor, it would give a clear, vivid, and vibrant image.
The more pixel resolution there is in a monitor, the better it's suited to graphic designing and photo editing. This would give you a way to focus on the detail in your work. UHD monitors are able to give the best possible resolution on the market today.
Spending hours in front of the screen is unavoidable in the life of a graphic designer or photographer. Such professionals have to make sure to take care that their body is not adversely affected by this situation. The most common problem faced by excess staring at a screen is eye strain. This could lead to dizziness, fatigue, blurred vision, weak eyes, and worse. Low blue light technology and flicker-free screen might be a necessity for you if you have a history of eye problems or just want to be on the safe side.
Graphic designers also put a lot of strain on their hands, neck, and back. Sitting for long periods of time and manipulating equipment all day every day is quite a task.
In order to deal with all the issues, the monitor you buy for graphic designing needs to have the proper ergonomics in place. This means that it should have a stand where you can adjust the height and angle of your monitor. You should, for instance, be able to lean back in your chair and tilt the monitor forward in order to keep working while resting your body a little.
The panel of the monitor should also be able to swivel enough to provide a comfortable working position for you. One feature that comes in really handy is screen pivoting. This allows the designer to shift the screen to a vertical position. This makes viewing pictures, images, logos or video in portrait mode easier and much clearer. Additionally, this feature is very handy for working on websites, long documents, and even social media.
Unless you regularly have a large number of pictures to upload, download, and transfer, you don't really need a card reader slot. You may want to look for one if your computer's other ports are hard to reach. With such a slot, you can simply put your graphics card in the screen itself and start managing the files you require. This would mean that you don't have to go to your regular computer or laptop every time you need something taken out or put into your computer system.
USB ports, of course, are a necessity. The more you have and the faster they can transfer data, the better. These ports really come in handy for putting in your pen drives, thumb drives, USB cables, etc. You can even charge your devices through a USB port on a monitor.
Some high-end monitors may be less heavy on the pocket than others. However, graphic designers would have to invest quite a bit if they want the monitor of their dreams. Be aware that monitors best suited to graphic designing and photo editing are for professional use and would cost more than regular ones. Not only would their size be much larger than normal monitors, but they would also have several extra features.
These features and add-ins would mean that the price is only going to go even higher. A better display and resolution would be reflected in the added numbers on the price tag.
Of course, this is not to say that the most expensive item would be the main goal for a graphic designer. The best purchase for you would ultimately depend on what you want to achieve with the monitor. There's no sense in paying for features that you aren't going to use. However, professional photo/video editors, graphic designers, etc. may want to start looking from the very high end of the price range.
Looking around and doing a bit of comparative shopping could save you a few bucks here and there. However, it is not recommended that you compromise on the quality of your work by settling for a less accurate color space or a lower resolution. You want to keep your reputation positive for the market out there, especially if you're a freelancer.
There are obviously several more factors one should consider when buying a mentor of this caliber. These include screen size, in/out ports, and the space you have. Below are some of the best monitors coveted by graphic designers, photo editors, and professional photographers these days. We've also listed some of the pros and cons of these monitors as well as their specs in order to help you reach the right decision.
Hopefully, the discussion below would help you purchase a monitor that would last you a long time and help out in your professional efforts.
1. ASUS PA329Q 32″ 4K/UHD IPS Monitor
If you are a professional content creator, you would adore the widescreen on this monitor. It also features a 4K UHD panel with a 99.5% Adobe RGB color space. This ensures that your colors always stand out just where you want them to be. Any graphic designer or editor would also greatly benefit from the swivel, pivot, height, and tilt options available when they acquire this offering from ASUS.
ASUS is also generally a highly preferred brand for graphic designers, whether they are regular employees or freelancing professionals. With the 3840 x 2160 display, you can't go wrong with purchasing this monitor for all your working needs.
Pros
Several color parameter profiles for easy graphic designing, which can be accessed through a hotkey.
The screen is flicker-free with low blue light technology, so the users' eyes are not adversely affected.
Cons
Users may have to change the settings in order to get the best performance for DisplayPort.
The control buttons are on the back, making them difficult to manipulate.
2. BenQ BL2711U 27-Inch IPS 4K Monitor
This monitor has an extremely high resolution, so it should be perfect for the best graphic designing, photo retouch, and related tasks. It measures a full 27 inches and has a Dynamic Contrast Ratio for the best kind of accuracy in color.
With this purchase, one can use Animation Mode and CAD/CAM. This is paired with a high level of detail in each image. The Rec.709 Optimal Color Precision makes sure of that.
For switching between modes and devices, there is an OSD controller and a USB hub. It also boasts 2 3W speakers and is compatible with Windows 7, 8, 8.1 and 10.
For easy viewing, this BenQ monitor has high adjustability in terms of its height, stand, and sensor. The sensor can protect your eyes, even when you've been working overtime on super-long projects. This ergonomic display also has zero flicker and low blue light technology, which can be customized for maximum eye protection.
Pros
This monitor is equipped for a wide viewing angle in both the vertical and horizontal planes.
There are 1 billion+ colors in the monitor which can exactly reproduce colors in images and/or photos.
Cons
The speakers are not for professional use but good enough for casual viewing and listening.
Some customers have reported that it takes multiple tries to work one button.
This monitor has a screen size of 27 inches and an HD resolution of 3840 x 2160 pixels. It is well-equipped to meet the standards of any professional photographer, video/photo editor, graphic designer, or reviewer worth their salt. It boasts a very thin, sleek, and contemporary look. This makes it appealing for its aesthetics as well as its performance.
This monitor has the DisplayPort technology along with USB 3.1 C ports. Add in the HDMI feature, and you have a beautiful addition to your equipment at home or work.
To make things easier for the user, ViewSonic has calibrated this monitor for a Delta E<2 value and the best possible color accuracy it could manage. The uniformity of the displayed color would make a designer or editor's job very easy. If your job is to create content, this monitor also has features to make this task super simple.
Pros
The 3.9 trillion colors give great depth to every kind of hue and shade.
A modern ergonomic design allows the user to stay at a healthy height and eye level.
Cons
The location of the power button on the touchscreen is such that it can be pushed accidentally.
You might need to get a separate adaptor for it to work on some laptop models such as Toshiba.
4. BenQ SW271 27-Inch 4K PhotoVue Photographer Monitor
This 27-inch monitor with UHD resolution lets you really get into the details of any image, graphic, picture or video. It has a wide range for sharpening the brightness on anything you view. The AQCOLOR technology and 99% Adobe RGB color coverage pair nicely with the hardware.
This monitor is also calibrated for showing the exact vibrant colors you have taken photographs of. The USB provided would enable you to transmit both data and video signals as and when you need them. This makes for easy personal calibration.
The aesthetics of the product are also highly defined and very sleek. It is, hence, convenient to place in any room or office. The screen is matte rather than glossy, meaning it is more like a Samsung computer or phone than an HP laptop or a MacBook. There is a wide and vivid color palette available for sharp details and accurate rendering.
Pros
The matte screen enables one to see the colors as they really are, resulting in less eye strain.
A hood with a flocked interior does away with excess reflections and reduces exterior light.
Cons
Older versions of hardware and cheap sensors may not work.
A calibrator is also not included, so you would have to do the calibration manually.
5. NEC PA322UHD 31.5″ LED-Lit Monitor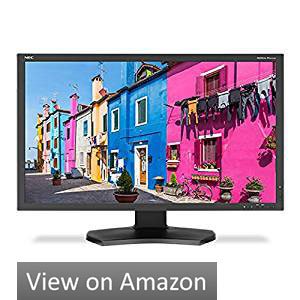 The performance on this screen size of 31.5 inches stands at a contrast ratio of 1000:1. It also boasts a 4K resolution at 3840 x 2160 pixels. The UHD Native resolution and 350 cd/m2 brightness are just two more of its attractive features.
The fourteen-bit 3D programmable lookup tables are internal and perfect for any kind of calibration. The screen display modes include "Picture by Picture" and "Picture in Picture." There are five picture modes in total, which also include the more common CAD/CAM, Darkroom, and Animation modes.
This monitor has an IPS panel and a wide LED white backlight. The Adobe 99.2% display offers smooth and vibrant colors.
Pros
Various modes are valuable for enhancing productivity by displaying two/four screens at once.
MultiProfiler software gives users direct control over any of the picture modes.
Cons
Quite expensive, so not for graphic designers on a budget.
Your video card would need to handle 4K resolution in order to be compatible.
6. BenQ PD2710QC 27″ IPS Designer Monitor
This monitor may be on the higher end of the price range, but it has some unique offerings. It comes with a docking stand that has its own power brick and several additional ports. The screen size also offers a wide viewing angle. This monitor is compatible for use with Windows 7, 8, 8.1, and 10.
The QHD resolution is 2560 x 1440 pixels, and the image detail is 109 ppi. There are at least three display modes, which include Animation, CAD/CAM, and Darkroom. There is consideration for possible eye strain. Hence, the low blue light technology and flicker-free features are built-in to reduce eye problems as much as possible.
It is possible to charge your laptop, mobile phone, tablet, or any other USB device through the docking station. The rate of transfer for the USB is up to a whopping 5 Gbps. An allowance for daisy chaining would enable users to extend a screen through more than one screen display with the help of DisplayPort. A maximum of four displaying devices is allowed with the daisy chaining technology. This sync would enable you to view your desktop easily.
Pros
The docking station offers a separate power source in the form of a power brick.
The docking station also provides additional USB and Ethernet cable ports.
Cons
The stand for this monitor doesn't swivel. There is adjustability in the height but not the angle.
The monitor's buttons are on its back, making them difficult to reach and operate.
7. BenQ PV3200PT 32″ IPS Post-Production Monitor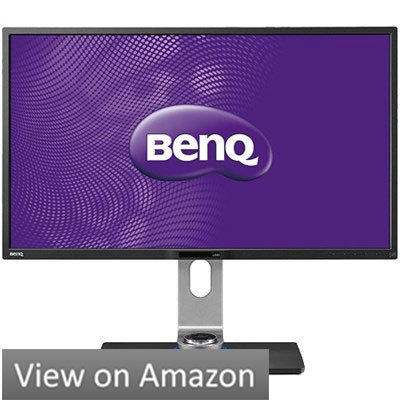 This is a humongous monitor that has a screen measuring 32 inches. It also has a resolution of 3840 x 2160 pixels. The UHD resolution and IPS technology make working with this monitor a breeze. It also has a 100% Rec.709 and a hardware calibration that assures color accuracy right from the factory.
The Palette Master Element color calibration software offers a wide range of colors that make images seem as real and detailed as possible. There is also a brightness and uniformity feature which allows you to view the images in a smooth manner. You can use this monitor with the best laptop for video editing.
The refresh rate of this BenQ offering is 60 Hz, and users can manually change it to 75 Hz. It also offers a 10-bit panel. The height of this product is nineteen and a quarter inches from the base to the very highest point on the monitor.
Pros
Customers are highly satisfied with the color saturation and color accuracy on this monitor.
This device is also reported to warm up quickly and be ready for operation faster than others.
Cons
The monitor is not just very wide but also quite tall. It, hence, requires quite a bit of space.
The resolution is not completely 4K, which may be a problem for professional photo editing.
Conclusion
The monitors under discussion above have quite a hefty price tag. However, if the reviews and specs are to be believed, the cost of such a purchase is well worth the product you get. With the best monitor for your profession, you would be able to complete your work much more quickly and have high-quality results. This could help you further your career by leaps and bounds and enable you to cover the monitor's cost very quickly.
It is not advisable to rush a purchase of this sort. A lot hinges on your choice, so make sure that your monitor of choice is compatible with other equipment you already possess. You may also have to prepare to purchase some other equipment in order to get the peak performance that your monitor promises. It is not necessary that the most expensive purchase would be the best for you, so be sure to know just what you want and seek out the monitor with those attributes.
Not all the monitors above are equal, and neither do they all cater to every aspect of graphic design, photo and video editing. Some may be better equipped to handle nuances in color, while others may be better suited for gaming. It is best if one acquires the monitor that is bested suited for its intended use.