Do you really think that your daily needs of web browsing, reading and gaming will be fulfilled with monitor that has an average display and large bezel. You don't want these things to distract you while you are using your computer. You need something that is pleasant to your precious eyes. It is not okay to have a monitor that costs below $50 and then expecting the best frame rate along with excellent Bezel-Less looks. In plain nerd terms, that's blasphemy.
To help you out, there are thin Bezel monitors in the fray from various manufacturers which can help you to step up your game and enable you to extract the maximum entertainment for every dollar that you spend on the product.
Best Bezel-Less or Thin Bezel Monitors in 2017
| Monitor | Display | Resolution | Panel | RT | Ports | |
| --- | --- | --- | --- | --- | --- | --- |
| Dell U2415 | 24" | 1920x1080 | IPS | 8ms | 2 HDMI, DP, mDP, MST, 5 USB 3.0 | |
| ASUS MX279H | 27" | 1920x1080 | AH-IPS | 5ms | 2 HDMI, VGA | |
| HP 24ea | 24" | 1920x1080 | IPS | 6ms | HDMI (with HDCP), VGA | |
| AOC I2267FW | 22" | 1920x1080 | IPS | 5ms | VGA, DVI-D with HDCP ports | |
| LG 24MP88HV | 24" | 1920x1080 | IPS | 5ms | 2 HDMI, D-Sub | |
| AOC i2777fq | 27" | 1920x1080 | IPS | 5ms | HDMI, HDMI MHL, DP, VGA | |
| Dell S2716DG | 27" | 2560x1440 | TN | 1ms | HDMI, DP 1.2, 4 USB 3.0 | |
| Asus VC239H | 23" | 1920x1080 | AH-IPS | 5ms | HDMI, DVI-D, D-Sub | |
| Acer R240HY | 24" | 1920x1080 | IPS | 4ms | HDMI, DVI with HDCP, VGA | |
| Lenovo 65C8KCC1US | 23" | 1920x1080 | IPS | 7ms | HDMI, VGA | |
What are Thin Bezel or Bezel-Less Monitors?
Making a monitor as thin as possible is a new trend which is getting very popular with time and also because of technology advancement. When we use the term "Bezel-Less" here, it doesn't mean that these screens have 0mm frame. This term is usually pointed toward monitors who have 3mm or less border size around the screen. Many companies also use edge-to-edge, and frameless design terms for these kind of products. Some monitors in the market do haven less than 1mm bezel but there is no such thing as zero bezel monitor at the moment.
Thin bezel monitor look more elegant, stylish and appealing than its counterparts. It also helps you in concentrating more on what is present on the computer screen instead of diverting your mind to what is around it. They are also preferred in multi-monitor setup. Slim bezels give your setup a modernize look. Another added advantage is that if you are a gamer or designer, you can concentrate more on your computer screens instead of large frame between the middle of two monitors.
Best Bezel-Less Monitors – Buyer's Guide
Considering the fact that there are lot of bezel-less monitors in the market, we would do our best to list some of the best Bezel-less monitors that you can find in 2017. We would list the important features of the product, thereby helping you to circumvent the problems of looking at a prolonged list of such monitors.
Thin bezel monitor is an important part of multiple monitors setup and many gamers prefer it to keep their concentration only on what is going on in the game. Many professional people may know a lot about this kind of stuff, there are a lot of people who would want to enter the fray, but do not know where to start the journey. This selection of top picks will not only help professionals and gamers but also programmers, video editors, graphic designers and an average joe who has a dream to buy thin bezel monitor to do everyday tasks like web browsing, social networking, watching movies and using Microsoft Office.
This is the reason why we have listed and reviewed some of the Best Bezel-less Monitors that you can find on the planet earth. We are not sure about what aliens are using. They may be using 0.000001mm displays with no edges.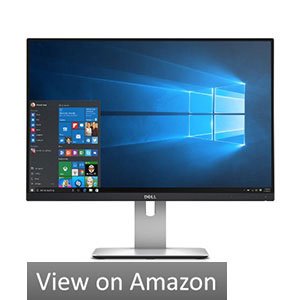 The first product that we have in the list is the Dell Computer Ultrasharp U2415 24 inch Screen LED Monitor. Dell, a company that not only produces excellent products, but continues to involve new technical features into each and every new line of products have been able to outdo themselves with this thin bezel monitor. It is definitely amongst the most popular choices for professional gamers, and has also featured in a whole lot of lists for the best Bezel-less Monitor in the market.
There are some obvious things that you need to know about the Dell Computer Ultra sharp U2415 24″ Screen LED Monitor. For instance, the Bezel-less viewing enables you to make it a multiple monitor setup that provides a vertical resolution that is capable and available for any kind of monitor setting. However, it is ideal for the 16:10 setup of the monitor.
Features such as fully adjustable tilt, excellent height adjustment pivoting that can be done clockwise as well as counterclockwise on a 90° angle enables you to place the monitor side-by-side without any problems in the viewing.
This Dell U2415 monitor can be connected seamlessly with any other peripheral without having to compromise on the quality of the picture. A very high current USB 3.0 charging port provides an enormous amount of power to the monitor for charging capabilities, which also end up charging the DP 1.2 multi-stream transport ports.
The one compromise that you would not see with the Dell no bezel Monitor is the color depth and ratio. It has over 16.78 million colors which enable you to view pictures, movies and play games with an enormous range of color explosion happening in the screen.
So, what are its obvious problems? The on-screen display has been pretty frustrating for people. Most of them have found out that the input selection menu does not have the AutoDetect option. Therefore, if the user happened to be using a different machine when using the screen prior to using it in their house, they would have to manually input all the data necessary for the monitor to the display.
The other problem with Dell Ultra Sharp U2415 thin bezel monitor is that there is no scaling that can be done to the current 16:9 support; it can only be done with 5:4 and 4:3. There are also more volume controls to the OSD apart from the 3.5 MM output jack. That is not becoming of Dell, particularly when people are more than willing to pay top bucks for such a wonderful product.
Pros
Amazing edgeless viewing due to thin bezel setup enables you to get the perfect vertical resolution and makes it ideal for multiple screen resolutions.
Extremely good build quality that has full tilt, swivel and proper height adjustment done clockwise and counterclockwise.
It can be seamlessly connected to any other peripheral necessary for all your work and entertainment needs.
Very good quality output in terms of picture and gaming.
Cons
No output jack other than 3.5 MM in the OSD.
No further scaling can be done apart from 16:9 scaling support.
On-screen display does not have AutoDetect feature.
2. ASUS Designo MX279H 27″ Frameless Monitor (0.8mm Bezel)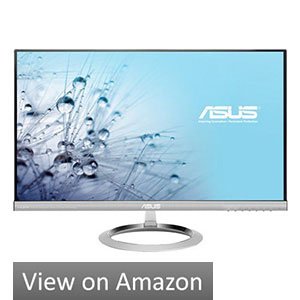 ASUS is a company that is the benchmark of providing some of the best-known gaming devices. They have gaming mouse, branded desktops, and now the ASUS Designo MX279H 27″ Full HD Frameless Monitor simply extends into that particular genre. Yes, it may sound aggressive, but the company has now been looking forward to a new line of products that would go and emerge as the best product for any gaming -related paraphernalia that they would like to target. With that aggressive design mind, let's have a look at one of the thinnest bezel monitor in 2017.
On the offset, you could say that this 27 inch LED display has one of the best frameless designs with less than 1mm bezel which provide for an edge to edge brilliant viewing pleasure. Its breathtaking design has very thin bezel of only 0.8mm. The wide-angle viewing also enables people to game properly and not have any kind of problems while looking at graphic conducive gaming.
The new and improved video intelligence technology which Asus calls SplendidPlus can automatically optimize the video and image quality and provide it with intelligent color which in result also leads to a greater increase in contrast and sharpness. With a sharpness and contrast ratio of 80,000,000:1, this dynamic display contrast can deliver images that are lifelike.
This thin bezel monitor also comes with sound optimization technology from SonicMaster which was developed in tandem with Bang & Olufsen for the best immersive audio that you have ever heard.
The most pleasing part is its rapid replacement three-year warranty, which also includes two way free shipping. This is a win-win situation for people that find themselves with a faulty product and having to foot the bill for delivering the product to the replacement unit.
The other good thing about the ASUS Designo MX279H 27″ Full HD Frameless Monitor is that it also features dual HDMI and VGA ports to handle multiple device connections without any frame rate issue.
However, while there are a lot of advantages to the use of Designo MX279H 27″, a few niggles do remain. Most users have complained that the backlight has a few problems, particularly when working with darker settings. Moreover, some of them have also faced problems with a dead pixel in the monitor, most of which has been attributed to manufacturing defects and have been changed.
Pros
Bezel-less seamless viewing that provides for excellent widescreen entertainment for the needs of common people.
Bang & Olufsen audio systems that make the monitor a quintessential entertainment product.
Multiple connections to various devices can be achieved with dual HDMi and VGA ports.
An excellent three year replacement warranty along with a two way free shipping is provided with this product.
Cons
Backlit related problems continue to plague this model.
3. HP 24ea 24-inch FHD Monitor with Built-in Audio
When we think of computers, HP comes to mind. This is a company that has been around for decades, and the kind of technology that they bring to the picture is astounding at the very least. Well, the HP 24-inch thin bezel monitor with Built-in Audio is also one of the best monitors to go for in 2017 with bezel-less technology. Let's have a look at some of the good things about the monitor.
The presence of IPS technology enables you to view the computer monitor from any angle possible. With the ultra-wide viewing pleasure of 178°, you would be able to find the best seat possible from all corners of the house.
The monitor has been enabled to connect to VGA and HDMI ports for excellent high definition quality. The design is sleek and compatible with almost any furniture that you have in the house. Moreover, it also comes with a single connection that leaves you a lot of room for a wonderful computing experience.
Without the bezel, the monitor looks astounding, and provides a very wonderful widescreen display to make it seem extremely large. There are no issues with clarity as it contains the antiglare panel as well as a dynamic contrast of 10,000,000:1 contrast ratio in order to provide a vivid imagination of immense amount of colors. You can also get quick access to all the ports for easy control, and the user control feature is pretty easy to use.
The proper OSD settings can be tuned according to the needs of the user.
With all these benefits, there are still a few issues that hound the HP 24ea. This monitor is not perfectly optimized for gaming. It lacks features like the 144Hz refresh rate as well as VESA adaptive sync which you can find in any quintessential gaming monitor. If you are not into this kind of stuff, then you can buy it without a second thought.
Pros
Bezel-less widescreen entertainment solution can be found in this monitor which is extremely vivid and wonderful to look at.
The presence of HDMI and VGA port connectivity ensures that you can get high definition quality viewing underway without any compromises on the quality issues.
The user settings are quickly adaptable and extremely easy to use. The monitor is also pretty good to look at without the presence of any Bezel.
The motion handling as well as the response time was extremely fast on this product when compared to most of the other gaming monitors in the market.
Cons
This monitor does not have 144Hz refresh rate, which is quintessential for any gaming monitor.
It does not have VESA adaptive sync, which makes it a tad bit different from any other gaming monitor that you find in the market.
4. AOC I2267FW 22-Inch Class IPS Frameless/Slim LED Monitor
AOC has been making quality products for quite a while, but the benchmark of their computing paraphernalia starts and ends with high quality monitors. This company has been around for quite a while and has been releasing a lot of good products in the monitor category, some budget, and some extremely well in terms of pricing and features provided. According to DigitalTrends, they have also launched curved monitors recently.
With the AOC I2267FW 22-Inch Class IPS Frameless/Slim LED Monitor, the company has hit the jackpot in providing one of the thinnest bezel monitor that money can purchase for people with a limited budget.
This thin bezel monitor comes with a 22 inch display that has extremely good brightness along with 5ms response time and 60Hz refresh rate. These are decent benchmarks for people that would like to undertake proper gaming without the need to worry about refresh rate.
The essential IPS panel has been included in this product in order to make the appearance of the image look lifelike and wonderful from all viewing positions. It also has an ultra-narrow bezel which can provide it a seamless borderless appearance without causing any problems to the model and the design.
It also comes with a detachable multipurpose stand so that it can be used for photo frame applications. The aspect ratio of 16:9 is definitely amongst the standard issues for monitors, and works out pretty well for this product in question.
However, this budget monitor also brings with it a few issues. For example, there is no HDMI port, therefore high quality display of movies and gaming may not be possible. Moreover, there is no VESA mount compatibility so you will need to buy a separate adapter with it.
Pros
Excellent Bezel-less design ensures that this product is well worth the money spent.
The presence of 1920 X1080 full high definition resolution enables wonderful picture and viewing capability for people using this monitor.
The IPS panel provides a consistent image appearance; the presence of 2mm ultra-narrow bezel ensures that it comes with a borderless appearance.
Cons
The AOC I2267FW 22-Inch Class IPS Frameless/Slim LED Monitor does not have any HDMI port, thereby making high definition content a standard in this monitor.
Stand is a bit flimsy but a stable desk can solve this issue.
It is not VESA mount compatible out of the box. You can buy separate VESA adapter in order to mount it.
5. LG 24MP88HV-S 24″ IPS Monitor (2.5 mm Bezel)
When it comes to technology, you can never leave out LG. Even in the year 2017, they are still going strong. They have been the behemoth of technology for quite a while, and the products that they have brought to the world of computing are something unparalleled in the current context. So, it goes without saying that the new LG 24MP88HV-S 24″ IPS Monitor is something that everybody can trust, and it is a product that is well worth its money.
One of the good things about the LG 24MP88HV-S 24″ thin bezel monitor is the fact that it comes with full HD IPS display. This enables you to watch some of the best entertaining movies, playing games and simply edit images without having to worry about the display ratio or even the color combinations. With the Infinity display of 2.5 MM bezel, you get a seamless bezel-free monitor which looks astounding, and has a wonderful sleek design to back it up.
The sRGB is over 99%, making it astounding when it comes to the color display and impeccable image editing features. The on-screen control is also split 2.0 making it easy to use and not creating any type of problems for amateurs in computing. For essential features like watching in the dark, it has the black stabilizer. For people reading e-books, it also has the reader mode.
A few problems plaguing the LG 24MP88HV-S 24″ IPS Monitor are basically external. The stand is flimsy and the power button keeps on flashing even when the monitor is on standby. The ports are also not auto switching; therefore, the monitor would not automatically switch to another video source in case there are two displays in use.
Pros
Full high definition thin bezel IPS monitor makes it a wonderful product for entertainment purposes.
The 2.5mm narrow bezel provides an infinity display to this product.
On screen split control enables you to multitask effortlessly and not come across any issues whatsoever.
Cons
The number of features provided in contrast with the cost is somewhat not compatible with the general public.
The stand which is used for the LG 24MP88HV-S 24 inch IPS Monitor is not good, and the monitor has a noticeable amount of movement.
The ports used in the monitor are not auto switching; therefore, it creates problems when there are two or more display screens used in a single system.
6. AOC i2777fq 27-Inch Class IPS LED Monitor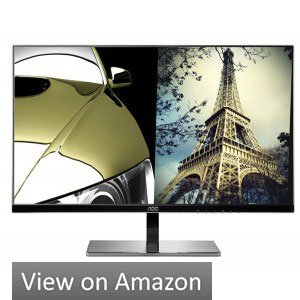 AOC continues to help us understand what it takes in order to bring out good quality computer products in the market with a relatively small budget. Their latest entrant in the market, the AOC i2777fq 27-Inch Class IPS LED Monitor is amongst one of the classiest monitors that you can find. It has wonderful HD resolution that can wow your pants.
With 27 inches IPS LED monitor, AOC has gone full throttle in terms of providing features in this display. It also has the extra narrow bezel in order to make it look like a borderless monitor. The aspect ratio of 16:9 has become a standard for this product and it supports over 16 million colors to make your images pop up in the screen.
The brightness as well as a response time of 5ms makes it a wonderful product for all your entertaining needs. This thin bezel monitor let you watch movies, play games and undertake any design work without any problems in the output. Proper connectivity in the form of VGA ports, HDMI as well as a display port can also be found in the monitor itself.
The best thing about the AOC i2777fq 27-Inch Class IPS LED Monitor is the fact that it has slim design speakers and can also be wall mounted to make it your entertainment station as well as your computer monitor at the same time.
Notwithstanding everything positive about the AOC i2777fq 27-Inch Class IPS LED Monitor, a few people have also experienced flashes in the screen within a few months of purchasing it. This is one problem that needs to be tackled by the manufacturer.
Pros
A narrow bezel makes this product look without any borders, providing high definition images.
Slim speakers that are integrated very beautifully with the monitor ensures that you get the perfect sound output necessary to enjoy gaming and watching movies.
You can connect other sources of HD entertainment with the HDMI port and the VGA port.
AOC has provided a 27 inch monitor with IPS and LED integrated into it.
Cons
Some buyers have complaint about occurrence of flashes in the screen.
7. Dell S2716DG Gaming Monitor 27″ TN LED Monitor
Dell has brought about a revolution in products that have created a lasting impact in the gaming industry. The kind of technology that they have integrated into each and every product has brought about a lot of change in how people look at gaming accessories. Their premium computing brand, Alienware is amongst one of the most highly regarded computing devices for laptops and PCs that you can find in the world. Well, with the Dell Gaming Monitor S2716DG 27″ TN LED Monitor they have been able to bring about an enormous amount of change in how convenient gaming can go under way.
With this WQHD monitor, you will be able to conveniently switch from your gaming to your PC or to your gaming console with the help of a HDMI port, along with an audio line-out. The monitor comes with DP 1.2 connector in order to support graphic cards which are compatible with this standard and also for multi-monitor setup.
With a lag time of only 1ms, gaming has never been this good for professionals. Wonderful response time from the panel with NVIDIA G-Sync support and excellent clarity of full WQHD display is going to give goosebumps to the gamers. 
When it comes to the resolution, there is nothing better than the 2560 x 1440 ( 1440p ) which is offered in the Dell S2716DG 27 inch Monitor along with 144Hz refresh rate. The 144hz refresh rate of this thin bezel monitor will make sure that your gaming experience is ultra smooth. In terms of looks, the monitor has a glossy black panel and a narrow bezel. The end product looks exquisite and definitely adds to the interior decor of the room.
The stand is robust; therefore, it should not create any kind of moment when you are gaming vigorously. Swivel and tilt mechanism works flawlessly. It is VESA compatible so wall mounting will not be a problem.
The only issue with this 2560×1440 resolution beauty is the cost, which is not at all pocket friendly for most gaming enthusiasts.
Pros
The HDMI port in this monitor ensures that you can seamlessly transition between your gaming needs, as well as your PC or to your gaming console.
You will be able to enjoy a wonderful gameplay with 1440p resolution, 144hz refresh rate and 1ms response time.
Excellent quality is a given with this product.
Cons
The cost is a bit more than anticipated for a lot of people that consider themselves to be gaming enthusiasts.
8. Asus VC239H Slim Bezel Black 23″ Monitor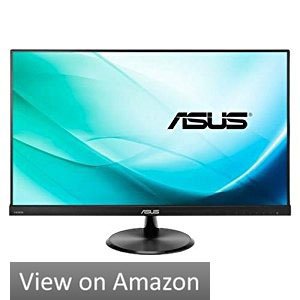 ASUS is a name to be reckoned with, a name that has been around for quite some time. By becoming a premier establishment in producing good quality gaming products, ASUS has created a niche for themselves in this sector. It is with the Asus Slim Bezel Black VC239H 23″ Monitor that they have been able to seal the deal when it comes to monitors and everything that revolves around the output of image and proper gaming. This super thin monitor is amongst one of the most coveted items in the market, and continues to draw a lot of attention to how proper gaming monitor should be.
It has the latest stereo speakers as well as a signal input consisting of HDMI and DVI-D for extremely good output of high definition quality. The resolution of 1920 X 1080, along with a proper contrast ratio maintains the best possible gaming extravaganza that you could possibly want in this monitor.
The monitor comes with the latest IPS technology that provides 178° wide-angle view which means that you can watch the screen from any angle and anywhere in your room. We are not saying that it is the best monitor out there but it gets the job done. Its colors are accurate and you can't complain about viewing angles. When it comes to design, thin bezels are also there to server you.
Apart from all the bells and whistles, ASUS also presents you with a rapid replacement warranty which is valid for three years since the purchase of the product.
Pros
The 1920 X1080 resolution of this thin bezel monitor is more than perfect for most of your gaming needs.
The 5ms response time is something that has become a norm for gaming enthusiasts, and this monitor definitely brings it to the picture.
The presence of stereo speakers and signal input enables you to enjoy music and play games as well.
A rapid replacement solution for a warranty of three years will be provided by the company to ensure that there is no inconvenience in using the product.
It has the inclusion of the IPS technology with wide-angle viewing that makes it ideal for people to watch movies from any angle of the room.
Cons
Stereo speakers are not very loud and some people might want to buy external speakers.
9. Acer R240HY bidx 24″ IPS Widescreen Monitor
Acer has slowly been creeping into the market, providing a good quality product at a cheaper cost than most of its competitors. While this particular approach has landed them within the coveted fold of good quality computer manufacturers, it has also led to a few problems along the line. They have had to contend with bad press, and even worse products that would be rejected by the general public. They have recently announced monitors at CES with eye-tracking and amazing refresh rates up to 240Hz. It means that they are continuously evolving and innovating as a company.
However, it is with the Acer R240HY bidx 24″ IPS Widescreen Monitor that they would like to redeem themselves and ensure that they can hitch their way into the bandwagon of being considered as some of the most esteemed computer manufacturers.
The Acer R240HY bidx 24″ IPS thin bezel monitor provides a full HD 1080p IPS screen that enables you to watch movies and not come across any problems in the viewing angle on the quality. The 24 inch is only a standardized quantity while the original length stands at 23.8 inches. However, there should not detract you from purchasing this wonderful product as it has a lot of other features to offer.
It has 178° viewing angle that makes it possible for you to view all your entertaining features from all across the room and not find any laxity in the quality of the output. Moreover, due to the zero frame design, it ensures that you can get frame to frame viewing pleasure, thereby possibly enabling the product to look wonderful.
The product also comes with a 15° adjustable stand, something which is unheard of in most of the monitor purchasing units. Therefore, this USP is something that works out in favor of the Acer R240HY bidx 24″ IPS Widescreen Monitor.
The other thing about Acer R240HY bidx 24″ IPS Widescreen Monitor is the fact that it supports VGA, DVI and HDMI ports making it a wonderful product to have for all your entertainment needs.
Even with the amount of features that have been provided, there are a few people who are complaining about the backlight bleeding which has been present in a lot of monitors. It is noticeable in the dark when you are viewing some dark image. However, it is not a big issue, and can be definitely looked over in case you want a product that is superb in its function and does not come at a higher cost than its competitors.
Pros
The presence of Flicker-Less technology ensures that there is no flickering on the screen, enabling your eyes to remain concentrated on the image without causing any substantial damage to it.
An ergonomic design with proper tilting at 15° enables you to get the best possible sight of the entertainment on your monitor without any niggles.
The eco-friendly display which also emphasizes the recyclability and waste reduction also comes with an energy Star certification and is free from any kind of mercury.
The zero frame design ensures a wonderful visual experience that is devoid of any boundaries and also ideal when you have dual displays side-by-side.
Cons
Backlit bleeding is a problem in most monitors, and it has created some issues with the users.
10. Lenovo 65C8KCC1US 23″ FHD LED-Lit Widescreen Monitor
Lenovo may be the last name on the list, but it is definitely not the least favorite. At 23 inches, the Lenovo FHD LED-Lit thin bezel Monitor is amongst one of the most widely used products that you can find in the market, pertinent especially to the gaming populace. There are a lot of good things to be said about this product, some of which include the borderless full HD feature, enabling people to look at image in a new light. The outstanding display that is without any kind of borders also provides excellent entertainment for those looking at widescreen viewing.
The presence of IPS technology also brightens the image, even when there is a low light situation. The premium aluminum stands makes the product look sophisticated, and can also be easily removed for any kind of VESA sync that is to be done. Moreover, the panel size comes with a display resolution of 1920 X 1080 pixels, which is all the more a norm for most of the people looking at proper gaming.
Unlike Acer R240HY, there is no backlight bleeding problem in this Lenovo offering. 75Hz refresh rate keeps things smooth and price is also very reasonable. Most of the people with budget would definitely want to buy this product.
Pros
The absence of any Bezel makes it one of the best bezel-less monitor that you can find in the market today.
IPS technology provides stunning visuals even at display angles that are pretty wide from the screen.
The presence of the aluminum stand ensures that the monitor looks premium, and can be easily removed for any kind of VESA sync that is to be done.
With a pixel resolution of 1920 X1080, this might be the perfect monitor for all your gaming needs.
Cons
There is only one HDMI and VGA port.
Motion sickness might be a problem, as there are a lot of users that have complained about it.
Conclusion
Admittedly, there are a lot of choices for you to look at when you think about frameless monitors. Well, we have done our best to ensure that you have a look at some of the best bezel-less or thin bezel monitors that are currently available in 2017. This list covers all kind of people. If you are on a budget, AOC I2267FW or Lenovo 65C8KCC1US can be a good choice for you. If you want to buy one for gaming then Dell S2716DG is here to serve you. Professionals can go for Dell Ultra Sharp U2415 or ASUS Designo MX279H because of their quality specifications.
We hope that you have a look at the choices in front of you, and exercise due discretion when purchasing such a vital product for your professional and entertainment needs.